When you ponder fishing for rainbow trout, you immediately think about British Columbia, and the myriad lakes and streams associated with the Great Lakes.
The very last place you'd imagine catching belly sagging rainbows of world record proportions, would be in dusty, dry southern Saskatchewan.   But trust me, dusty, dry Saskatchewan, especially gigantic Lake Diefenbaker, is the place to be.
And that is where Russ Sutherland, aka "Suds", a faithful Outdoor Canada reader, has set his sights come June.  Suds sent me the following e-mail recently, and I am sure his questions echo what is going through the minds of many other trout anglers these days.  So, it is worth sharing Suds' question and the answer.
To start, Suds writes:
"Dear Gord, I have read many of your articles on fishing over the years. They are always interesting, and have helped me become a more successful angler. Many, many thanks.
I live in Alberta and plan on fishing Lake Diefenbaker in Saskatchewan this June and hope to target trout.  I need some help, as this is a very large lake and we have a week to 10 days. Where do we start?  What would be good lures for trolling?  Would appreciate your thoughts.
Thanks again for your time.  Suds"
Now, I don't have a lot of experience fishing Lake Diefenbaker for rainbow trout, which is to say, I have none at all – although the giant trout and the lake have long been on my "bucket list".
Fortunately, however, my good buddy and long standing Saskatchewan fishing guide, Jeff Matity, has plenty of knowledge and time on the water.
"I don't know how many more years that population of diploid and triploid trout have left," Jeff told me, explaining the giant, fast growing trout that anglers have been catching in Lake Diefenbaker are actually "escapees" from commercial pen nets set in the lake.  "But, now is as good a time as any to go for it.  I think Suds has a shot at a monster with that much time to fish.
"From a boat, June is one of the best times to locate trout in the back bays, coulees and shallow water areas.  During the day, casting #10 Husky Jerks, Blue Fox Strobe spoons and Mepps Syclops spoons in silver/blue tones is the proven strategy."
Interestingly, Jeff says it is best to fish as many of coulees as possible, during the day time, so you can learn the areas in order to come back to fish the night bite.  That is when the "MOGOMBO" rainbows, as he calls them, come out to play.
"I can only assume Suds and his buddies are putting in this amount of time in order to cross paths with a 20-plus pounder," Jeff says, "so by fishing during the day, he can learn how to navigate the water safely and go from coulee to coulee after the sun goes down, looking for surface activity.
"Once in a bay, use your electric trolling motor to quietly move along, casting your baits, looking for the "magic moment" when the giant trout push a school of ciscoes to the surface.  When that happens you can lay waste to them.
"The surface will begin with an area of "nervous" water, which will then switch to individual ciscoes jumping, before an all-out feeding frenzy with the rainbows breaking the surface like dolphins, tearing the ciscoes to pieces. This only happens at night, however, so to get in on the action you have to be there after the sun goes down."
Wow, talk about an interesting pattern.
But Jeff says there is another option that anglers should consider.  That is fishing the tail waters below the dam that forms Saskatchewan's mini Great Lake.
Jeff says the key areas to target with the same spoons, jerkbaits and spinners are the eddies and he notes, "This is where all of the world record rainbows have been caught.  In other words, in the South Saskatchewan River below the dam and not in Diefenbaker Lake itself, as has been reported in the media."
So, there you have it, Suds.  Keep this good advice in mind and I am betting you'll hook into at least one "moogator" like this 30-inch by 24-inch giant that Jeff's buddy, John Salamon, caught and that tipped the scales at 20-pounds 5-ounces.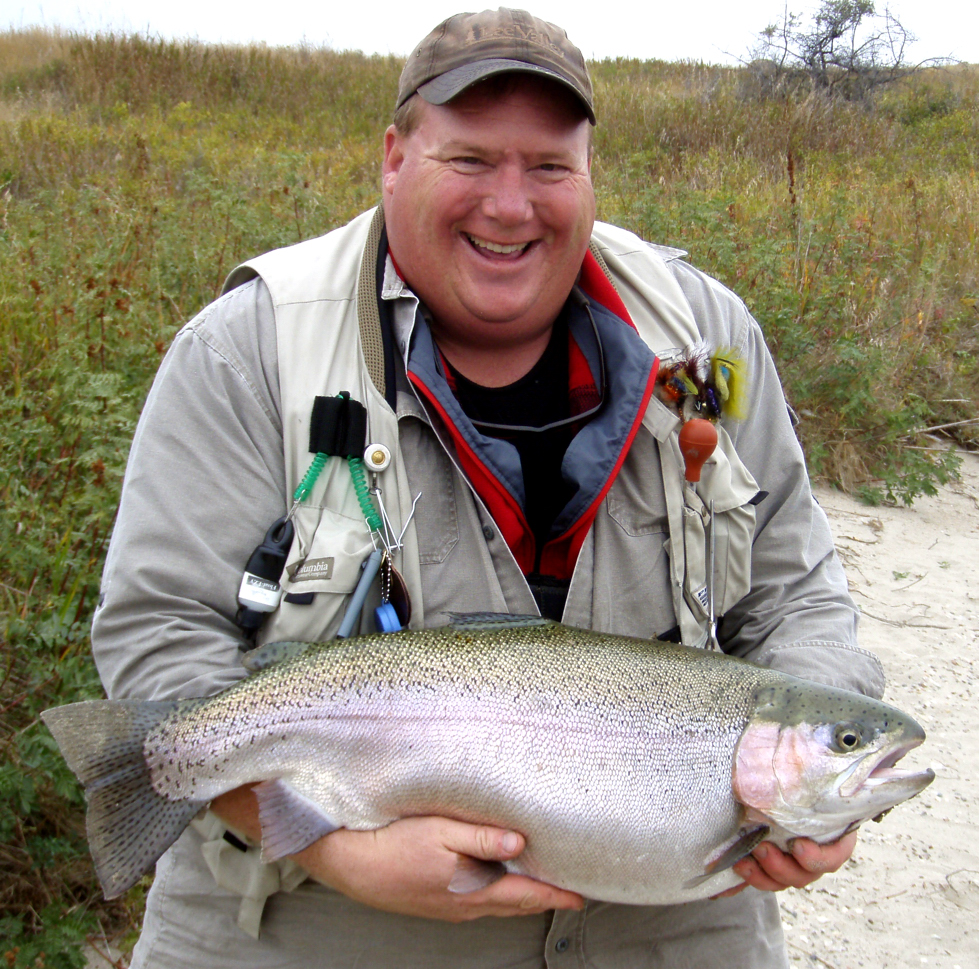 To make the catch even more impressive, John caught the fish on a Bunny Strip Zonker fly, using an 8-weight fly rod and reel spooled with a full sink line.  And he caught the giant rainbow below the powerhouse dam, in 15-feet of "heavy water", at high noon.
Wow … it makes you want to start planning a trip to Lake Diefenbaker as soon as possible, doesn't it?