Manitoba honkers
Life doesn't get much better than this
Have you ever laid on your back, in the dark lonely cool before dawn, in a layout blind surrounded by duck and geese decoys on a freshly harvested barley field in Manitoba?
If you haven't, trust me, you have not lived.
It is where I found myself on the weekend, flanked in nearby similar blinds by my daughter Jennifer, grandson Liam and good friends Lorne and Charlie Ross, who, although they share the same last name aren't related.
Well, I take that back because they are connected in a sense—they both have duck and goose DNA running through their veins.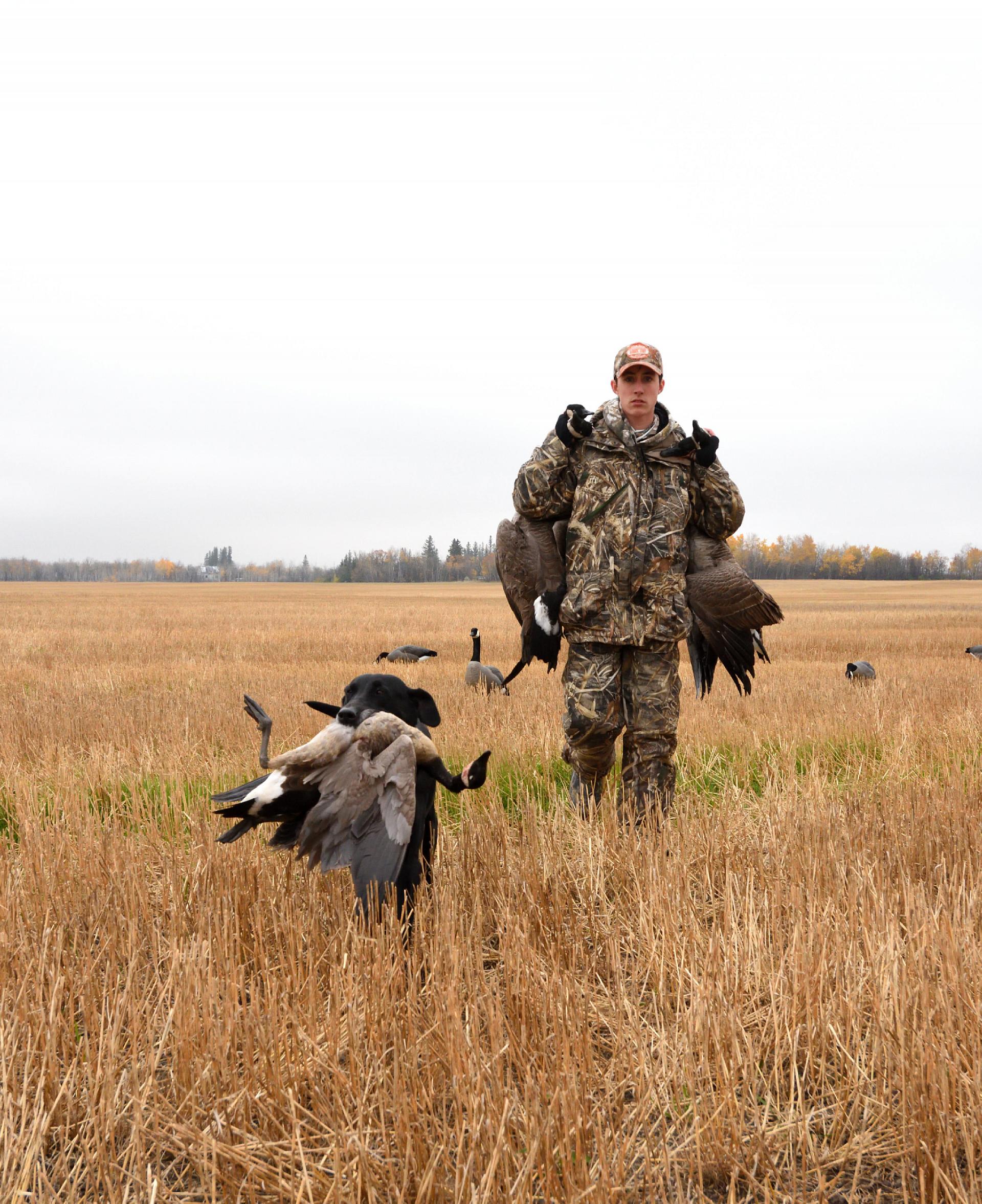 Lorne is also the coach for the Manitoba Junior Trap and Skeet team and to say that he is a good shot is like saying that Sidney Crosby knows how to score goals.
As a matter of fact, several years ago, Lorne and his family were vacationing over the Christmas break in Hawaii. He did a Google search to find some of the things that were going on there while the family was vacationing, and discovered the Honolulu Open Skeet Championship was taking place. So, he packed his favourite Perazzi shotgun, entered the competition and walked away with the trophy.
Charlie, on the other hand, is addicted to ducks, geese and Labrador retrievers (talk about the trifecta) the same way I am addicted to fishing. There aren't enough hours in a day to satisfy the urge. Charlie also has a huge enclosed walk-in-trailer attached to the back of his half-ton (I'm betting he doesn't take it off from September to December) and it is loaded with duck and geese decoys, as well as layout and grass-thatched pop up blinds.
He also has four Labs— we hunted with 11-year old Pink, who was named after the singer—and it was just such a joy to watch Charlie and Pink work together as a team.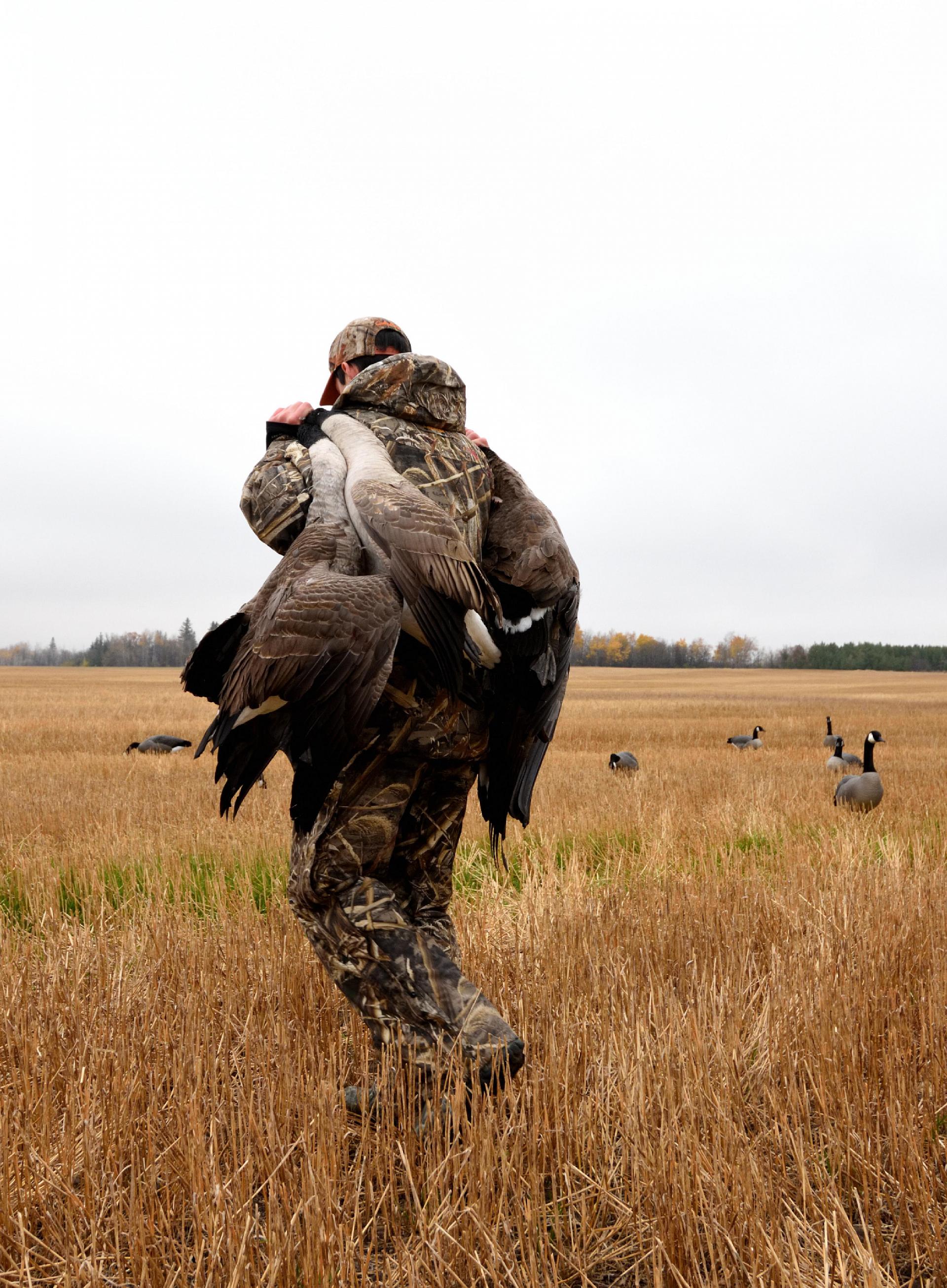 As a matter of fact, as soon as Charlie would start calling to an approaching flock of Canadas, Pink would begin whimpering in her grass covered kennel because she knew what was coming and couldn't wait to fetch up the birds.
Talk about excited.
And while we're on the subject, it was 15-year-old Liam's first ever waterfowl hunt. He has harvested deer in his young hunting career ,and more ruffed and spruce grouse than many hunters twice his age, but he had never before shot a duck or goose.
So, wouldn't you know it, the very first Canada to come into the decoys on Saturday morning was a lone single honker.
Charlie spotted it first and encouraged it in with a quiet pleading honk or two. The big bird turned it head sideways a couple of times to inspect the spread, cupped its wings and no one except Liam picked up a gun or muttered a word, until Lorne finally said, "Okay, Liam, take him."
Liam sat up in his layout blind, took perfect aim, squeezed the trigger a single time and the goose folded in mid-air like a paper cup. It was outdoor magic.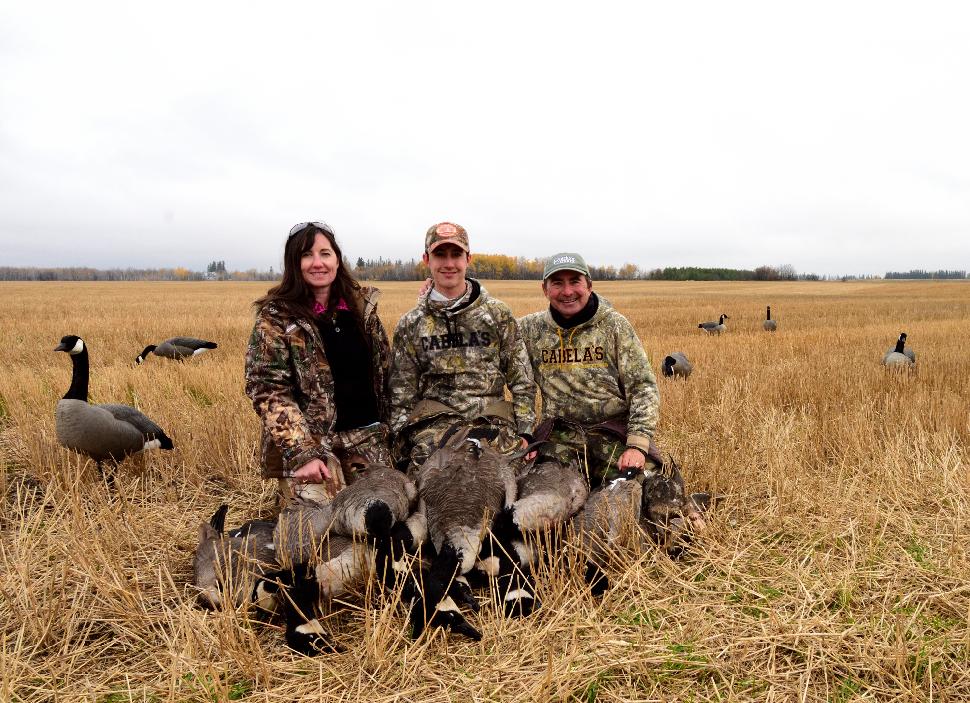 And the hunt got better and better as the day went on.
There are extraordinary numbers of geese in central Manitoba right now—some have speculated close to one million birds in and around the city of Winnipeg alone. And since the geese have so many fields to feed upon, and relatively few hunters to disturb them, the birds have adopted bankers' hours. As a result, instead of the action being concentrated at first light, it actually peaked between 8AM and 9AM, with flocks of 20, 30, 40 or more Canadas flying over top of us, around us and into our set up at any point in time.
By 10 most of the birds had vacated the waters upon which they had roosted overnight, and settled onto one of the massive wheat and barley fields to feed. It was our signal to pack up the decoys, reload Charlie's trailer and head back to Lorne's farm house to enjoy the best buttermilk pancakes that you have ever tasted. Did I mention they were stuffed with Saskatoon berries picked from the tree in his front yard, and smothered in maple syrup that Lorne taps from the trees sheltering his house?
When we finally pushed ourselves away from the kitchen table, we headed back outside to clean the birds, grab an hour's nap, watch the Winnipeg Jets beat the Carolina Hurricanes at the MTS Centre, go to bed and then do it all again the very next morning.
Gawd, we live in an amazing country.