There was a product at this year's ICAST show that I wanted to tell you about before I folded up my tent and headed for home.  In fact, I wrote the following at 6:00 in the morning, in the Orlando, Florida airport, as I waited to board the plane for the flight home.
I figured when I arrived in Toronto, I'd have plenty of time to finish it up and make any any last second changes, but our plane developed a "mechanical issue" which caused us to sit on the runway for two hours.  That meant I only had 45 minutes to clear customs in Toronto, check back in for my flight to Winnipeg and then make the 3 hour drive home to Kenora.
So, on the assumption that it is better late than never, let me tell you about the new lipless crankbait developed by the folks at LiveTarget who are renown for their incredible life-like finishes.
If you recall last year, LiveTarget introduced the "BaitBall" series of lures impregnated with amazingly detailed minnows so that a single lure looked like a densely concentrated school of fish.
This year, Grant Koppers and his LiveTarget team have taken the concept a step forward and incorporated a school of smaller "yearling" fry, so there are almost twice as many minnows now packed inside each of lure.
But that is only half the story.
I was lucky enough to be among the very first anglers to get in on the amazing winter walleye fishing, almost a decade ago now, on Lake Winnipeg for giant trophy size fish.  It is quite possibly the best trophy ice fishing for walleyes anywhere on the continent.
And the best way to catch them has been using a lipless vibrating crankbait, which I've detailed many times in the pages of Outdoor Canada Magazine.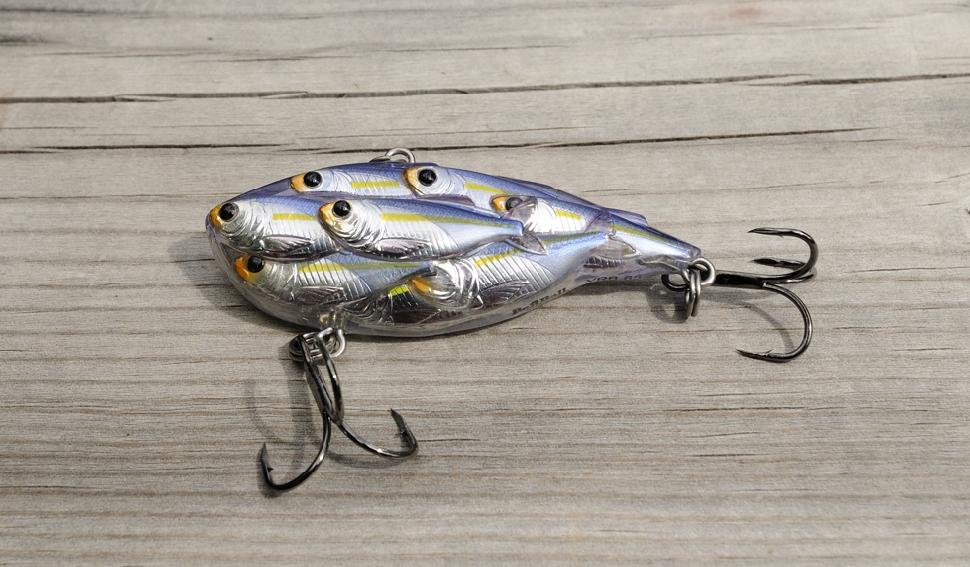 Well, according to buddy Richard Brouwer at LiveTarget, a select group of top ice anglers from North Dakota discovered last winter that if you removed the bottom hook from a LiveTarget BaitBall minnow lure and attached a dropper line with a weight on the end to the hook hanger, so that it looks like a drop shot rig, you could slay the giant walleyes swimming in Lake Winnipeg.
In fact, the technique proved to be so good, the anglers pleaded with the LiveTarget folks to incorporate the "bait ball" concept into a lipless crankbait, which they have now done in spades with the new "Yearling" series.
Trust me – if you ice fish for walleyes, lake trout and northern pike, you're going to want to get your hands on one of these new lipless crankbaits before the ice fishing season rolls around this winter.  It is like fishing with a school of fry below your hole so that you can first attract the fish with the size, shape, noise and vibration of the lure, but then trigger them into biting by the amazing life-life finish.