NEW BLOOD
We must recruit more young hunters to avoid a conservation crisis
Hunters bring in new hunters. It's the old standby recruitment strategy that's been around as long as the spear. Unfortunately, this archaic succession plan is not keeping up, and modern-day hunter numbers are in a tailspin. Let's pause to grieve the now empty duck blinds built in the waterfowling heydays of the 1970s, for example. The old-school wingshooters (my dad was one of them) were simply unaware of the onus placed on their shoulders to bring in the next flock of waterfowlers and duck stamp collectors. As a result, I believe we could reach a conservation crisis.
Through their outdoor passion, hunters contribute to conserving marshes and shorelands that support biodiversity, capture carbon and help prevent floods. But fewer hunters means fewer dollars for the likes of Ottawa's already underfunded migratory bird stamp program, which pays conservation bills. In the wake of climate change and the more-homes-built-faster mantra, we simply need to find creative ways to recruit more new hunters to our ranks. The good news is, governments and hunting organizations are already aiming for such higher-calibre ideas.
WAIVING OF FEES
Free migratory bird hunting permits for youths aged 18 and under, introduced last year by the Canadian Wildlife Service, is perhaps the single-most progressive new move toward waterfowl hunter recruitment. This try-it-before-you-buy-it plan is the big-picture thinking the hunting community needs right now—more so than once-a-year programs such as the Waterfowl Heritage Day. I'd like to see this approach also applied at the provincial level for youth hunting licences.
No doubt, the feds in charge of migratory bird hunting see the potential trajectory. Losing sales that they never had to begin with is a smart move to possibly recruit new lifelong waterfowl hunters—the only hope to restore funding to Wildlife Habitat Canada's oversubscribed conservation grant program. (By the way, the price of the duck stamp has not changed in 32 years, so seasoned hunters can't cry foul about getting nickel-and-dimed.)
EASE OF ENTRY
Busy family schedules and tight budgets often stop hunting in its tracks before it can even be discovered. Online hunter education courses now offered in most provinces smash those barriers, however. Say goodbye to languishing on a hunting course waiting list, and to the pain of trying to replace instructors who are retiring in droves.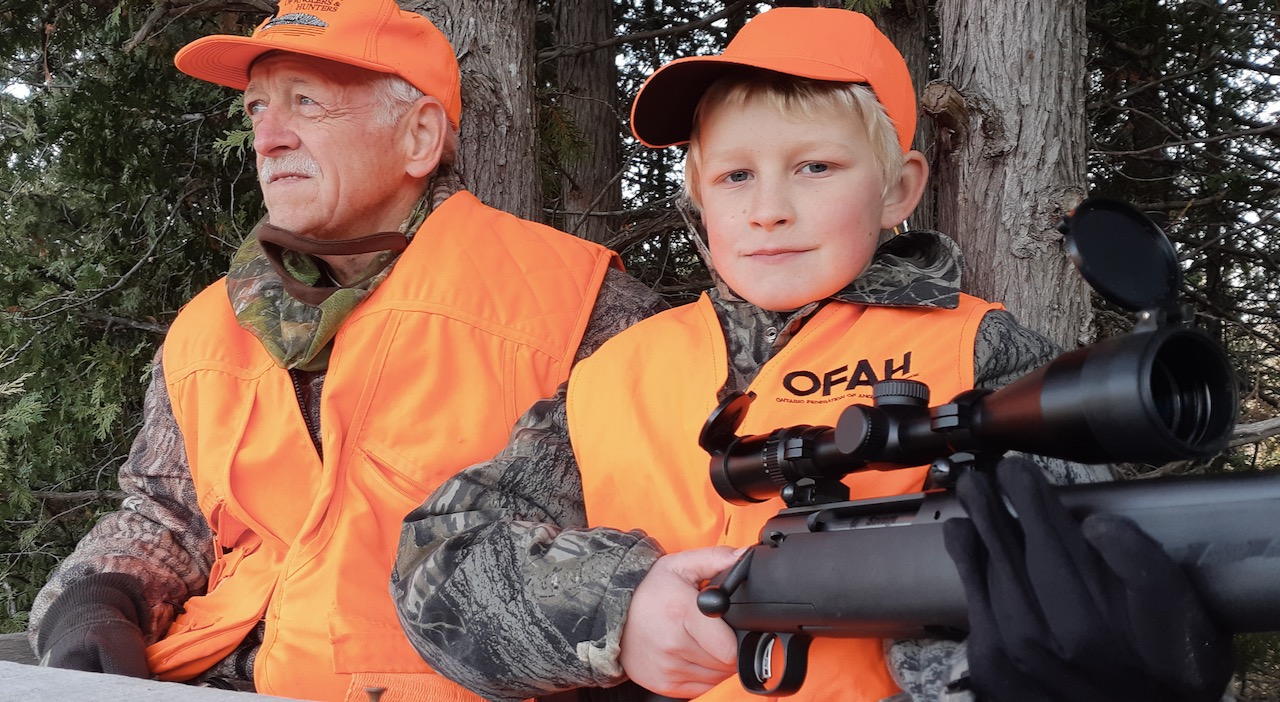 My youngest son, for example, completed Ontario's hunter education program and passed the exam online from his bedroom—conveniently between his hockey and school schedules—for just $60. Such fast and affordable services for busy families will surely help move the needle on hunter recruitment. In fact, I think it will ensure a growth rate the hunting community hasn't witnessed since the legal hunting age was lowered from 15 to 12 in some provinces.
CULTURE OF INCLUSION
Signs that new hunters are welcome often surface during volunteer events at local gun clubs and so on, with photo ops for the dozen or so kids in attendance (many of whom already come from hunting families). Before these future hunters even get home, however, how many veteran hunters age out of the conservation ranks instead?
No, a net gain for hunting will take more than such one-and-done events that often only preach to the choir. The future of hunting needs to be focused on diversity and inclusion. We need to revolutionize how we market our hunting pastimes, and open the door to those who would have never considered the multiple opportunities hunting provides.
Despite the naysayers, what we need now are more once-impossible dreams, such as hunter apprenticeship programs, new hunting seasons, Sunday gun hunting, expanded archery opportunities, online hunter education, and tags available for purchase by apprentice hunters rather than them forcing them to share their mentors' tag.
I also think it's time to allow kids to get into deer and moose draw systems in my home province of Ontario. New hunters are just as qualified as any other accredited hunter, and in my deer woods, no one deserves a crack at filling a doe tag more than a young gun.
Touting the take-a-kid-hunting messaging only works when the hunting system we deal with is equally forward-thinking and ambitious. Meanwhile, new and veteran hunters alike need to support hunting organizations that have been fighting to make legislative headway for our outdoors future. Only then can we avoid a conservation crisis.
Eastern View is an opinion column. We invite constructive discussion of the various issues raised here.