Industry man
Walter Oster worked tirelessly to promote the outdoors
The outdoor world has lost one of its most prominent boosters with the passing of Walter Oster, who served for more than 26 years as chairman and CEO of the Canadian National Sportsmen's Shows (CNSS) until retiring in 2017. Just two months shy of his 80th birthday, Oster died peacefully on March 25 at Burlington, Ontario's Joseph Brant Hospital. His wife of 57 years, Mary, was at his side, along with other close family members.
"Walter's contributions to Canada's recreational fishing and other outdoor activities were simply amazing," says Kim Rhodes, president of the Canadian Sportfishing Industry Association (CSIA), of which Oster had been a long-time board member. "He was totally dedicated to the promotion of fishing to youth and the protection of anglers' rights in Canada."
Along with producing sportsmen's shows across the country, Oster also chaired the Great Ontario Salmon Derby and was deeply involved in many sportfishing and conservation initiatives over the years. In recognition of his contributions, the CSIA presented him with its prestigious President's Award last year.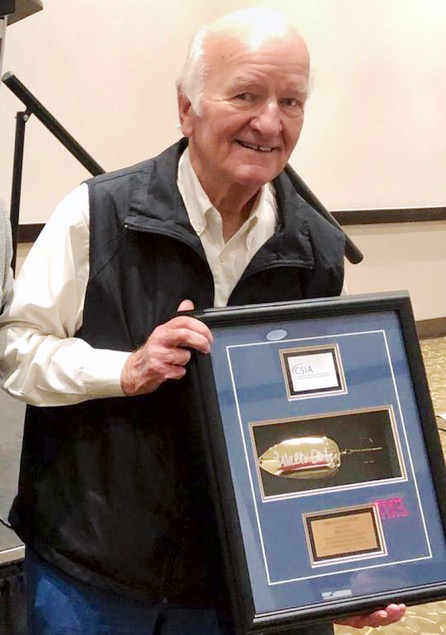 That honour no doubt made for a crowded mantel in the Oster home. In 2007, he received the Canadian Wildlife Federation's Roderick Haig-Brown Award for his conservation work, followed a year later by the R.G. Morgan Professional Conservation Award from the Ontario Federation of Anglers and Hunters. Then in 2014, Fisheries and Oceans Canada presented him with the coveted National Recreational Fishing Award.
Born King George Walter Ostapchuk, Oster was also a prominent figure in Ontario's hospitality industry. Before joining the CNSS, he built a construction company, founded a restaurant chain, developed a boutique hotel and partnered in two golf courses. For those initiatives and more, in 2008 he received the Lifetime Achievement Award for Tourism from the Ontario Tourism Marketing Partnership Corporation. On May 30, Oster's friends, family and colleagues gathered in Burlington to remember and celebrate what they fittingly termed his "life well lived."