Hardwater hacks
Panfish guru Pete Garnier reveals his top tips

Tip #1: Hang tiny baits
"No matter what you're trying to catch, I'm a huge believer that it's not what you present that determines your success, but how you present it." So says southeastern Ontario panfish guru Pete Garnier (above), who has completely eliminated live bait from his winter panfish program. Instead, he now relies almost exclusively on 1.1- and 1.3-inch Crappie Fry and Wiggle Fry soft-plastics from Angler's Choice.
[easy-tweet tweet="Ontario panfish guru Pete Garnier reveals his top #icefishing tips… and why he never uses bait" user="OutdoorCanada" hashtags="icefishingFriday, winterfun, panfish"]
"If I go five minutes without a bite, I alter some part of my presentation," says Garnier, noting that he always carries a good selection of soft-plastics in different colours, sizes and profiles. As for the jig, he says the shape is more important than the size or colour, or whether it's made of tungsten or lead. Namely, it comes down to choosing between a traditional horizontal-style jig head or a vertical teardrop-shaped one. He says he has seen the fish show a preference for one over the other on a week-to-week, day-to-day and even hour-to-hour basis.
The most crucial change Garnier makes, though, is the orientation of the soft-plastic. "The Crappie Fry is basically a minnow-shaped soft-plastic, and you would think that threading one on a horizontal jig is the only way to go," he says. "But when you rig it on a vertical jig so that it's hanging straight down, it does a bang-up job imitating a freshwater shrimp." All you have to do to trigger bull bluegills, jumbo perch and huge crappies, Garnier advises, is gently jiggle your rod tip to make the bait's tail quiver.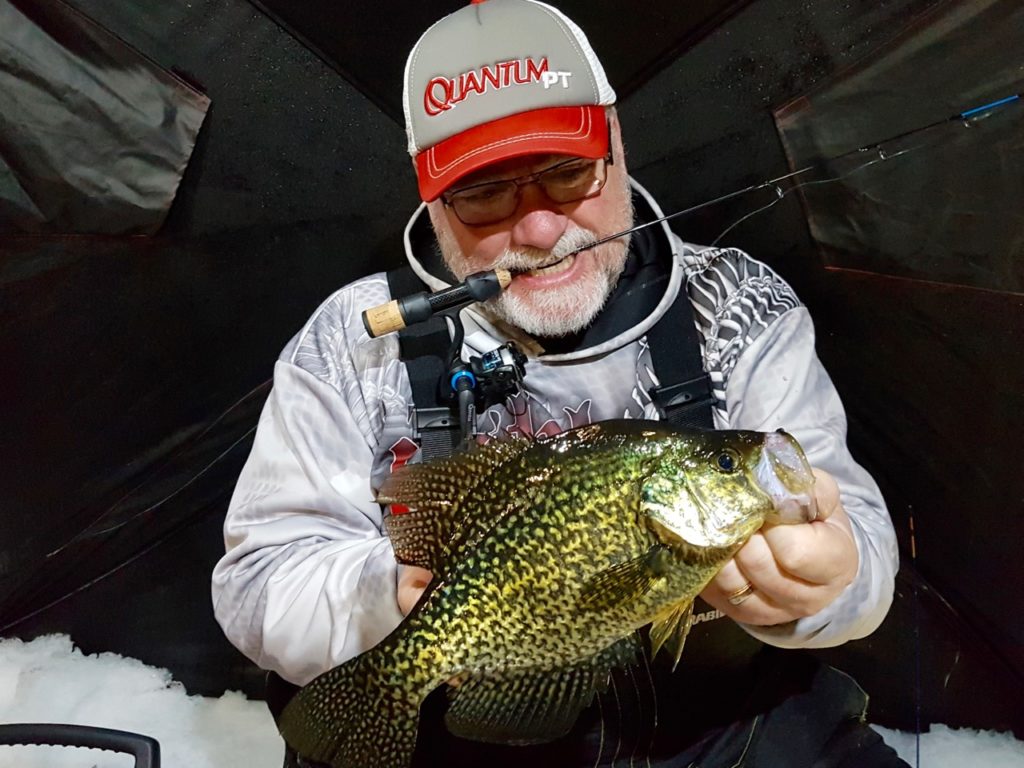 Tip #2: Manage your line
Pete Garnier says the biggest mistake hindering ice anglers is using line that's too heavy, old or twisted, because discerning fish detest a spinning lure. For trophy-sized pannies, he relies on three- and four-pound fluorocarbon, replacing the last 20 to 40 feet after every trip, depending on the depth that he's fishing. Line twist is inevitable, he says, but its impacts are magnified when you also use a small spinning reel. That's why he has switched over to in-line reels that minimize line twist and quadruple the life of micro ice lines.
Every Friday this winter we'll be sharing Outdoor Canada's top ice fishing tips for 2020. Check back regularly to learn about the latest tackle, tips and techniques for icing more walleye, perch, northern pike, lake trout, crappies and whitefish. And you can see all of this year's ice-fishing secrets at www.outdoorcanada.ca/2020icefishing.