Bulls of the barrens
A biologist and veteran guide shares his top tips for judging and hunting big-racked bulls
Aiming for tundra-dwelling caribou? Here's how to make the most of your hunt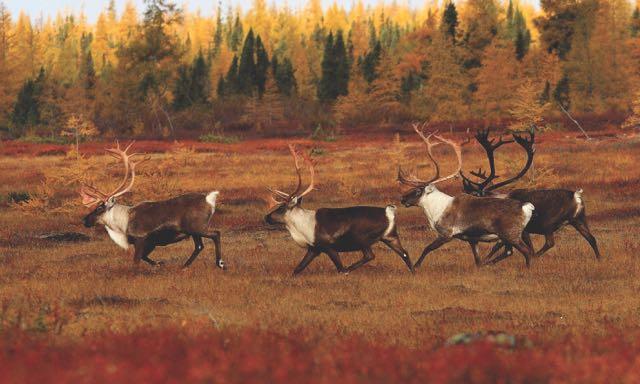 Two good bulls slipped down from an esker into a swampy stand of stunted tamarack and black spruce, then reappeared, slowly feeding and making their way toward us along a small, thin lake. This offered my client and me the time we needed to carefully glass and judge each animal, and by the time the bulls were still a kilometre out, we were satisfied they were big enough. It was a great opportunity, especially considering it was day four of a five-day hunt and my client still had two open tags.
Then seemingly out of nowhere, a monstrous bull appeared behind the first two, practically dwarfing them. I became weak in the knees, having instantly identified him as a true Boone and Crockett contender, big in all departments. One of the first two bulls was also of great interest, with double shovels and matching 9×9 point paddles up top. We felt confident the three animals would round the corner of the lake in front of us, so we quickly stalked our way into a suitable shooting position, hidden along the willow-choked shoreline. Moments later, the bulls appeared, the rifle barked and the rest is history.
As with wingshooting or fly fishing, it takes time and experience to master the art of rapidly judging and intercepting central Canada barren-ground caribou. The antlers are intricate enough to evaluate, after all—a task made that much tougher by having to select a trophy from among the masses of moving animals. The key is to know what to look for, and how to close the distance after identifying a shooter bull.