Bulls of the barrens
A biologist and veteran guide shares his top tips for judging and hunting big-racked bulls
Judging tactics
So, what do you look for? The answer, quite simply, is a beautiful bull caribou that makes you happy. Beauty is in the eye of the beholder, and in the end, it's about the overall experience, not inches of antler. That said, what avid hunter wouldn't love to connect with a giant trophy caribou? Sometimes, you know he's your bull the moment you lay eyes on him. More often, however, you'll need to evaluate all aspects of the antlers to determine whether the bull is a true trophy.
For central Canada barren-ground caribou, the Boone and Crockett Club requires a net score of 360 inches to earn all-time status in its record books. To confidently field judge a bull, you need to observe the rack both from the side and head on. From the side, you can inspect the top palm, brow palm and bez, and estimate the length of the main beam. From the front, you can gauge the antler spread, confirm the presence or lack of double shovels and get a better look at the bez. You want a bull with everything—some caribou only have good tops, while others only sport good shovels and bez.
When hunting selectively, it's not unusual to pass on dozens of migrating mature bulls before finding something truly special. When bulls form loose bachelor groups, comparing animals can be easy; if there are too many bulls, however, the situation becomes trickier. The same goes when the caribou are sparse and you can't compare bulls against each other. In either case, experience afield is invaluable.
Some hunters argue that caribou are scored unfairly, in that the actual amount of antler grown is not measured. Instead, caribou scoring follows criteria based on specific measurements and symmetry. As a result, a high-scoring trophy caribou on paper may not look overly impressive on the hoof. Conversely, other bulls may take your breath away, but as far as the record books go, they're low-scoring animals. So, if you're after a Boone and Crockett bull, here are the trophy antler characteristics to look for.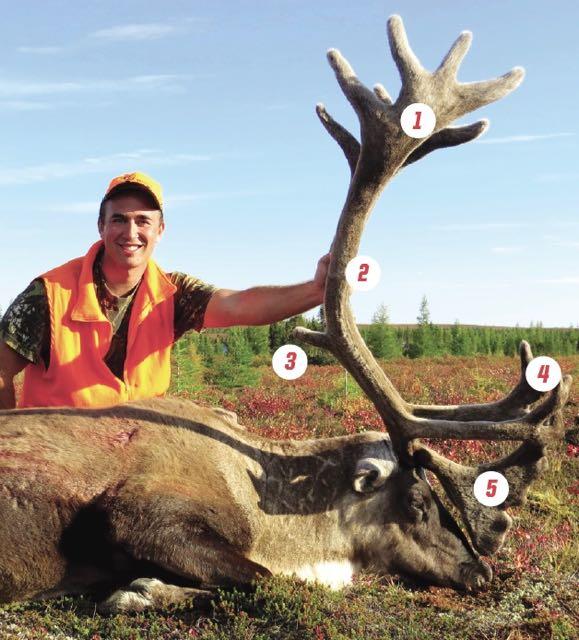 Top palms Ideally, you want six or more tall tines per side, along with stickers and lots of mass. Extra-long tines make for a good overall score, since only the last two tines on each side measured.
Beams Look for heavy beams forming an overall C-shape, which ensures good length in the 50-inch-plus range, and a wider, 40 inch-plus frame for the best score.
Rear points Ideally, the bull will have one rear point facing backward off each beam; they should be longer than five inches for an easy extra 10 or more points on the overall score. Many bulls are missing one or both of these back scratchers, so this is something to watch for.
Bez They should be at least 20-plus inches long, with at least five points on each. Ideally, you want more than 10 points or even an extra bez. Here, only the number of tines—not their lengths—impacts the score.
Brow palms Look for a bull with shovels taller than 15 inches, covered with as many points as possible. Most bulls only sport one large brow palm or two small ones, so big doubles will significantly boost the score.
Fuzzy perspecitve Bulls still in velvet pose some extra judging considerations. For starters, velvet antlers appear bigger and heavier, so when scoring, a percentage is penalized and adjusted for the additional "velvet inches." And as bulls shed their velvet, be careful not to mistake hanging pieces for extra points, drop tines or a third bez. Velvet also tends to pile up around the shovels, either making them appear much larger than they actually are or preventing you from properly evaluating them.