Bulls of the barrens
A biologist and veteran guide shares his top tips for judging and hunting big-racked bulls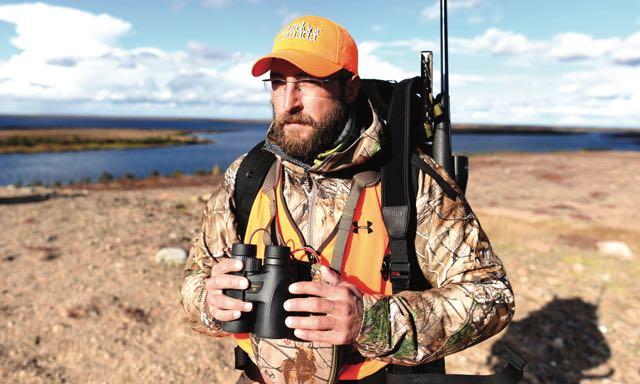 Essential gear
Think of yourself as a pair of walking eyes while judging bulls out on the tundra, so the main gear you'll be relying on boils down to optics, electronics and footwear. And once you've decided to hit the switch, you'll also need the right rifle or bow to finish the job.
Optics
You'll be spending hours each day staring through your binoculars, so I would rate them as your most valuable piece of gear. Indeed, consider yourself blind and helpless without them. Don't skimp on quality or opt for anything below 10X power. Shooting sticks make for handy bino rests, which are indispensable for intermediate-range glassing. Depending on the terrain or the number of caribou you're inspecting, a lightweight spotting scope of up to 40X power can help reduce the legwork; just ensure the set-up is mobile and can be used quickly.
Electronics
Along with analog maps, a rangefinder and a GPS equipped with local topographical maps can help when it comes to identifying natural funnels, planning successful stalks and making your way back to camp. Likewise, photos of bulls can help identify trophy-calibre animals, making a compact digital camera with a good zoom an invaluable judging tool. Spotting scopes equipped with smartphone adapters also work well.
Footwear
"All-terrain" is the magic word when it comes to footwear. Don't hamper yourself on a do-or-die stalk by having to avoid wet areas and rough terrain. Tall, waterproof boots with aggressive treads and ankle support allow for day-long tundra hiking and keep your feet warm and dry.
Rifle or bow
Keep it simple. Caribou aren't overly tough animals, and they'll go down quickly with a shot to the vitals. For rifle hunters, a well-placed .30-calibre round works perfectly; my advice is to bring your favourite, most seasoned hunting rifle from home. As for bowhunters, stick with an accurate set-up with kinetic energy above 50 pounds, along with proven broadheads, in anticipation of windy conditions and longer-range shooting opportunities.
Prior to guiding caribou hunters in the subarctic, Adrian Skok (pictured above) worked as a biologist studying both woodland and barren-ground caribou.