Duck schnitzel
Sehr gut! A delicious Austrian staple with a waterfowl twist
One of Austria's most celebrated dishes, schnitzel is simply a piece of boneless meat, pounded until very thin, then breaded, fried and garnished with lemon slices. Traditionally, the dish calls for veal, but why not change it up and use freshly harvested duck breasts instead? Top it off with this hearty green bean, mushroom and potato cream sauce, and your guests will be asking for more after every successful duck hunt. Serves 4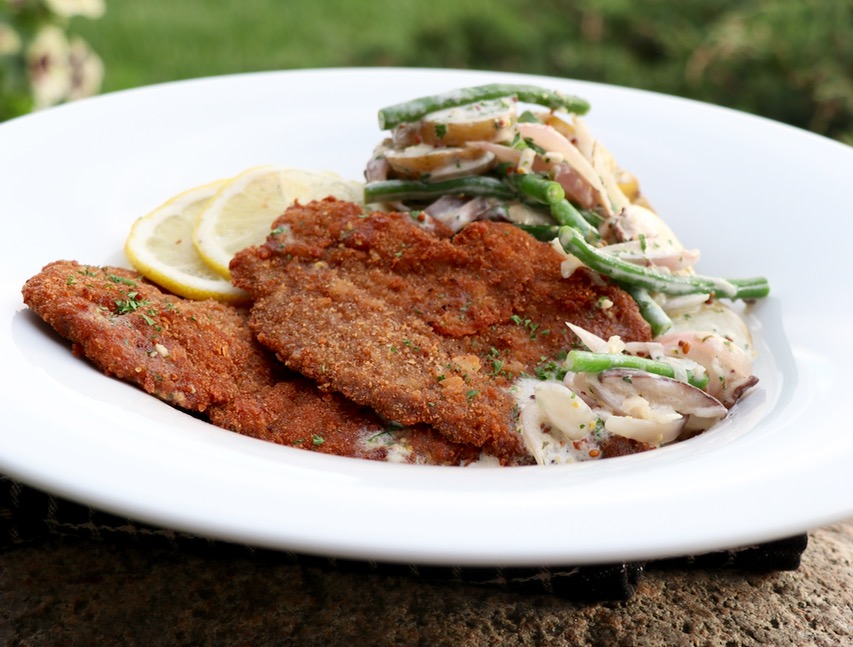 GARNISH SAUCE
1 cup green beans
12 creamer potatoes, sliced 1/4″ thick
3 tbsp salted butter
1 cup halved shiitake mushrooms
½ red onion, thinly sliced
cloves garlic, chopped
1 tbsp grainy mustard
Salt and pepper, to taste
1 cup whipping cream
Chopped parsley
SCHNITZEL
2 skinless, boneless duck breasts
Kosher salt and pepper
Salt and pepper to taste
½ cup flour
2 eggs, beaten
1 cup breadcrumbs
4 cups canola oil
In a small pot, separately blanch green beans and potatoes until tender. Cool in cold water, drain and set aside.
Melt butter in a frying pan over medium heat, then add mushrooms, onions, garlic and mustard. Sauté for 5 minutes. Add beans and potatoes, then season with salt and pepper.
Add cream, bring to a simmer for 5 minutes, then add chopped parsley. Keep sauce warm.
Slice each duck breast horizontally into two equal pieces, then place between two sheets of plastic wrap. Using a meat tenderizer mallet, evenly pound the pieces until they're 1/8-inch thick.
Season pieces with salt and pepper, then dredge in flour, dip in egg, and cover in breadcrumbs.
In a large frying pan, heat oil to 350°F and fry pieces until light golden brown (less than one minute). Serve immediately with garnish sauce.
To watch Chef Cameron Tait prepare this dish and others, go to www.outdoorcanada.ca/food.

FOR THE GLASS
White wine pairs well with duck, and the Okanagan Valley, B.C.'s Sandhill Chardonnay VQA, with its flavours of apple and yellow plum, makes an exceptional match for this recipe's creamy garnish sauce.