WALLEYE PRINCESSE
Surprise your guests with this gastronomic delight
RECIPE & PHOTO BY CAMERON TAIT
Walleye is one of the most versatile freshwater fish when it comes to culinary creations, making it a great choice for the classic "princesse" presentation, meaning to garnish with asparagus. Surprise your guests with this gastronomic delight, and you're certain to receive rave reviews. Serves 4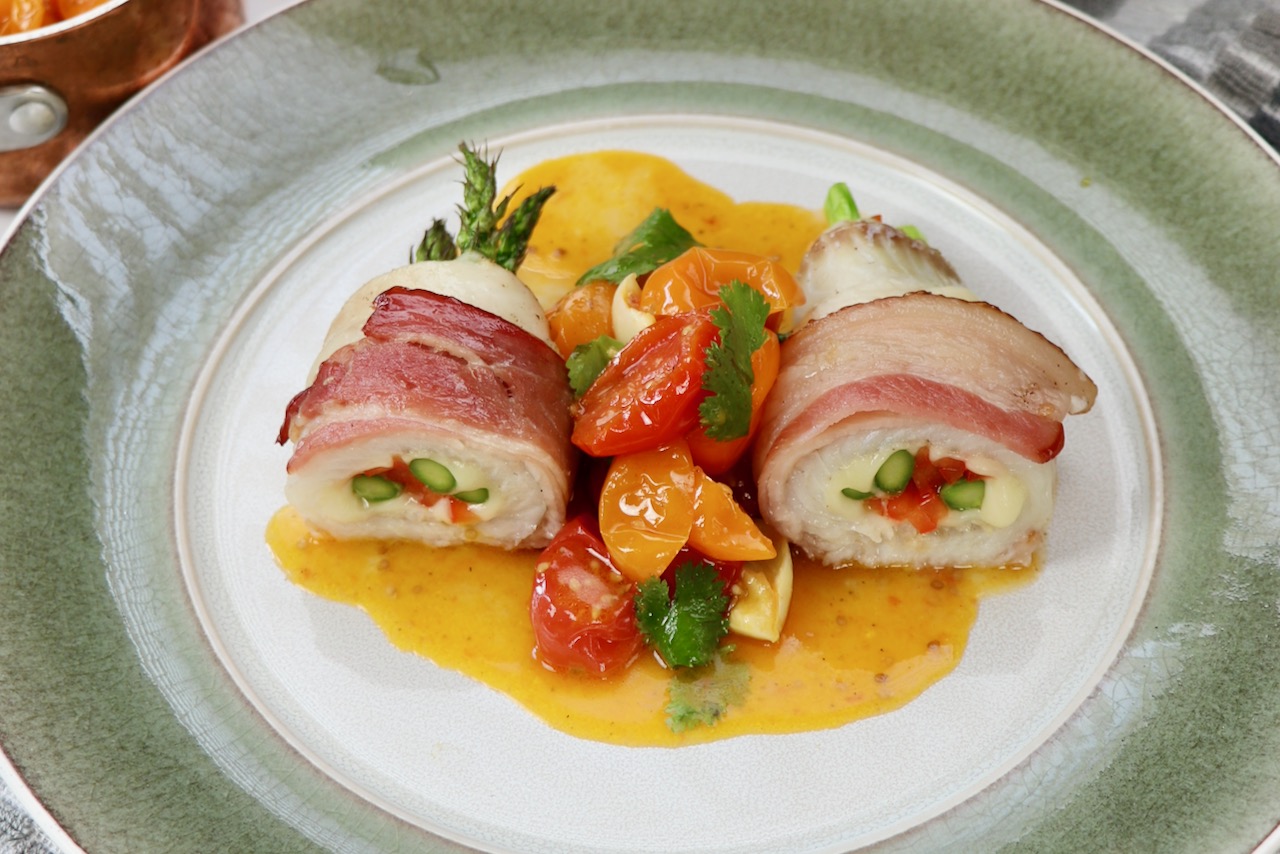 4 walleye fillets (3 to 4 oz each)
Kosher salt and pepper, to taste
4 slices provolone cheese
12 spears fresh asparagus, cut 6 inches long
1 red pepper, thinly sliced
4 slices bacon
TOMATO RELISH
3 cups halved heirloom tomatoes
2 whole garlic cloves
¼ cup olive oil
Pinch kosher salt and pepper
6 thin slices jalapeno, seeds removed
1 tbsp maple syrup
1 tbsp balsamic vinegar
1 tbsp roughly chopped flat-leaf parsley
Start with one fillet, cutting it in half lengthwise; butterfly each half, cutting it lengthwise 90 per cent through so it opens like a book. Slightly overlap the halves, and season with salt and pepper.
Lay 1 slice of cheese on top of the overlapped fillet halves, then place 3 asparagus spears and ¼ of pepper slices in the middle. Starting at the tail, tightly roll the fillet, cheese, asparagus and pepper together.
Lay one bacon slice on a cutting board, place rolled walleye on top and snugly roll together; use a skewer to hold everything in place.
Repeat the first 3 steps with the other 3 fillets.
Place all the tomato relish ingredients into a saucepan, bring to a simmer, then reduce heat to medium-low for 20 minutes.
Preheat oven to 375°F. Place the 4 walleye rolls on a parchment-lined baking sheet and bake for roughly 20 minutes.
Place cooked walleye rolls on individual plates, slice in half and serve with tomato relish.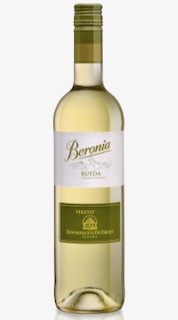 FOR THE GLASS
With its aromatic blend of peach, melon and fennel, Beronia's silken Verdejo from the Rueda region of Spain pairs well with this recipe's fish, cheese and asparagus. Serve well chilled.