Fast and furious
Psst! Wanna know a secret? Rip a spinnerbait this fall for non-stop smallmouth action. Just ask bass legend Kevin VanDam
Ripping retrieve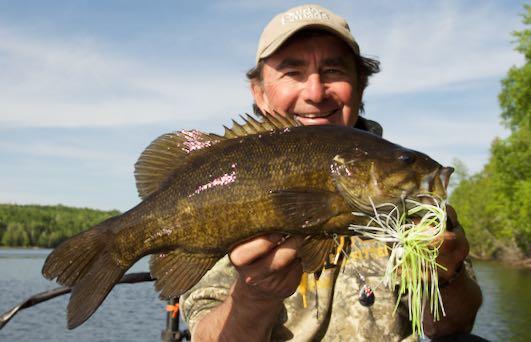 Part of the spinnerbait's autumn appeal lies in the way you present it. By burning it as quickly as possible just under the surface—so close the water sometimes bulges—the bass never get a good look at it. Instead, all they see, not to mention feel and hear, is an exciting explosion of sound and colour. To them, it's like a frightened school of shiners, smelt, ciscoes, perch, alewife or shad, shedding scales as they panic and crash into each other.
Smallmouth bass are one of the most inquisitive and belligerent freshwater fish species—if they're not starting a brawl, they're attracted to one. This underscores what may be the most overlooked strength of casting a spinnerbait for smallmouth. With most search lures, once you catch a fish or see one following, you typically switch to a slower, more refined presentation to mop up. Not so with the spinnerbait, as VanDam brilliantly demonstrated in winning the Summit Cup.
He criss-crossed Michigan's Grand Lake at a blistering pace, flinging a double-bladed spinnerbait over and around every shallow, isolated piece of structure he could find, looking for a winning pod of bass. Once he found the fish, he locked himself into position and burned the bait over their heads. This fired up the bass into such a frenzy that he was able to turn to the cameraman in his boat and call his shot, cast after cast after cast. It was spellbinding to watch.