Fast and furious
Psst! Wanna know a secret? Rip a spinnerbait this fall for non-stop smallmouth action. Just ask bass legend Kevin VanDam
Heavy metal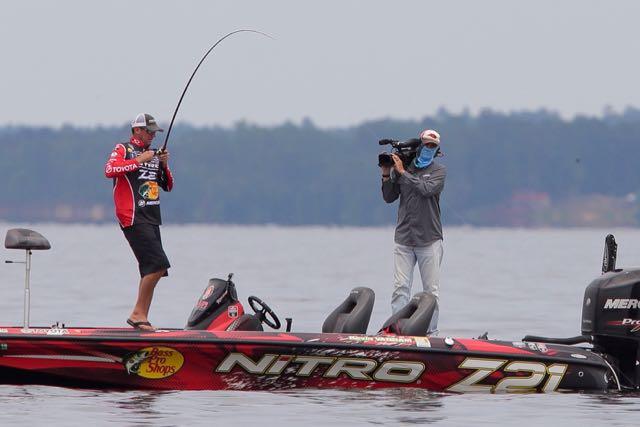 There's another impressive thing about VanDam's spinnerbait slam: the early-September morning had dawned sunny, hot and calm, but spinnerbaits generally work best on overcast, cool and windy days. That's because grey skies and surface disturbances help distort the appearance of the flashing, fluttering bait enough that the bass will come in hot to check it out. So on bright, calm days, you have to retrieve the spinnerbait as quickly as possible to achieve the same effect—and that's exactly what VanDam did (above).
But you can't just tie on any old spinnerbait and expect to sucker in the smallmouth. With this fall tactic, heavy metal rules. Even though he was in water shallow enough that he could have waded to shore, VanDam's spinnerbait of choice was a ½-ounce Strike King model (below). Why? By using a much heavier than normal spinnerbait, you can quickly retrieve it without having it rise up and break the surface of the water.
Not convinced? Try it yourself. First, make a long cast with a ¼-ounce spinnerbait and retrieve it as fast as you can using a speedy reel with a 6.6:1 retrieve ratio. The lure will either lift up and break the surface of the water—a spinnerbait sin—or you'll have to slow the retrieve to keep it below the surface. Next tie on a ½- or ¾-ounce spinnerbait and do the same thing. The difference will be startling: you'll be able to rip it back to the boat without it rising to the surface.
I'll never forget years ago when veteran pro Rick Clunn stunned the bass fishing world by becoming the first angler to ever win a major tournament by burning a spinnerbait just under the surface. Lonnie Stanley, founder of the legendary Stanley Lure Company, was fishing the same tournament on the St. Lawrence River in the Thousand Islands region, and he was beside himself. Why? Clunn was using one of Stanley's 3/8-ounce signature series spinnerbaits, and when Stanley tried to duplicate Clunn's magic, he couldn't. It was only after Clunn won the tournament that he spilled the beans; the crafty pro had removed the rubber core from a sinker and wedged it onto the spinnerbait's hook, making it weigh significantly more. That in turn let him retrieve it much faster without breaking the surface of the water.
There's no doubt about it—when fishing spinnerbaits for fall smallmouth, speed kills.