Scott Goudie's fishing hot spots
Goudie chases Atlantic salmon, char and sea-run trout all across Newfoundland and Labrador
For our 2016 Fishing Special issue, Outdoor Canada recruited a supergroup of acclaimed Canadian recording artists, who also happen to be hard-core anglers. And these fishin' musicians agreed to sing about their favourite Canadian fishing holes—74 in all. For the full list, see The Fishin' Musicians.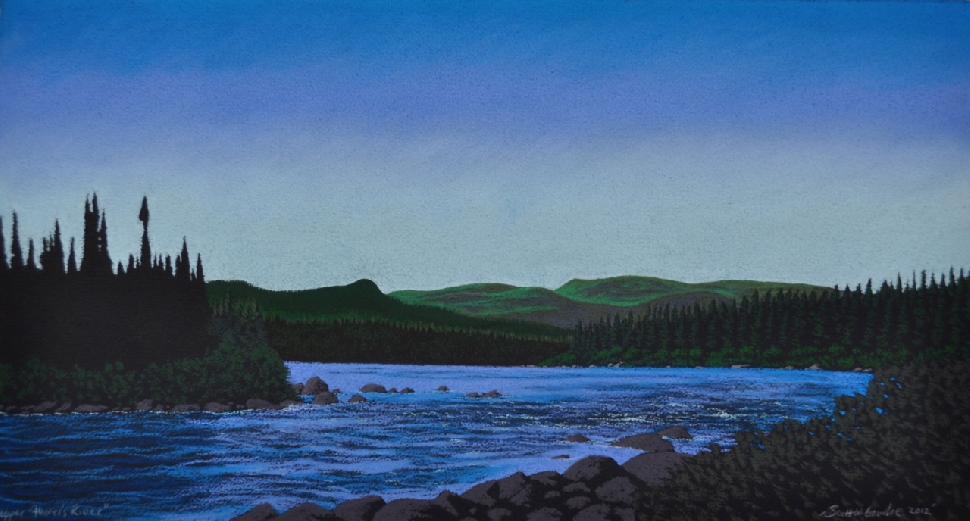 A mainstay of the East Coast blues scene, Scott Goudie of St. John's, Newfoundland and Labrador, specializes in acoustic slide guitar. He honed his craft during a year in Alabama in the early 1970s, studying with Johnny Shines, a contemporary of the legendary Robert Johnson. Later in the 1970s and into the '80s, Goudie criss-crossed Canada playing music, while also making a name for himself as a painter. His forté is landscapes, including the wilderness rivers he fishes (above, his painting Upper Flowers River); his work now hangs in both fine art galleries and fishing lodges. Fellow angler-guitarist Amos Garrett calls Goudie "a master-class salmon fly-fisher," and these hot spots show it.
Learn more: www.christinaparkergallery.com
Favourite fish: Atlantic salmon, sea-run trout
Favourite type of fishing: Dry-fly fishing
Favourite fishing song: Tie between "Fishing Blues" by Taj Mahal and "Gone Fishing" by Chris Rea
ADLATOK RIVER, NEWFOUNDLAND & LABRADOR
GPS: 55.021, -60.788
FISH: Atlantic salmon
WHY: Unique pools, gin-clear water
BEST TIME: Mid-July to September
BEST FLIES: Green Highlander, Bomber
EAGLE RIVER, NEWFOUNDLAND & LABRADOR
GPS: 53.545911, -57.474221
FISH: Atlantic salmon
WHY: Best river in the world!
BEST TIME: June to September
BEST FLY: Any fly, wet or dry
EXPLOITS RIVER, NEWFOUNDLAND & LABRADOR
GPS: 48.959, -56.025
FISH: Atlantic salmon
WHY: A 40,000-salmon run
BEST TIME: Mid-July to mid-August
BEST FLIES: Blue Charm, White Thunder & Lightning
FLOWERS RIVER, NEWFOUNDLAND & LABRADOR
GPS: 55.653, -61.485
FISH: Arctic char, Atlantic salmon
WHY: Huge salmon, lots of char in the upper pool
BEST TIME: August
BEST FLIES: Bomber, Thunder & Lightning
SALMONIER RIVER, NEWFOUNDLAND & LABRADOR
GPS: 47.186, -53.389
FISH: Atlantic salmon, sea-run brook trout
WHY: Scenic river, and easy to wade
BEST TIME: June to September
BEST FLIES: Blue Charm, White Thunder & Lightning