Seared Salmon
A healthy, easy-to-make dish for those lazy summer days
Not only is Pacific salmon flavourful and simple to prepare, it also has many health benefits. High in omega-3 fatty acids, vitamins and minerals, salmon gets even better when you pair it with fennel, kale and orange—now you have a dish that's also high in vitamins C and K, iron, calcium and antioxidants. How good is that? Remember, fresh salmon doesn't need to be cooked well done; instead, try it medium, and you will be pleasantly surprised. We used chinook in this recipe, but any Pacific salmon will work. Serves 2.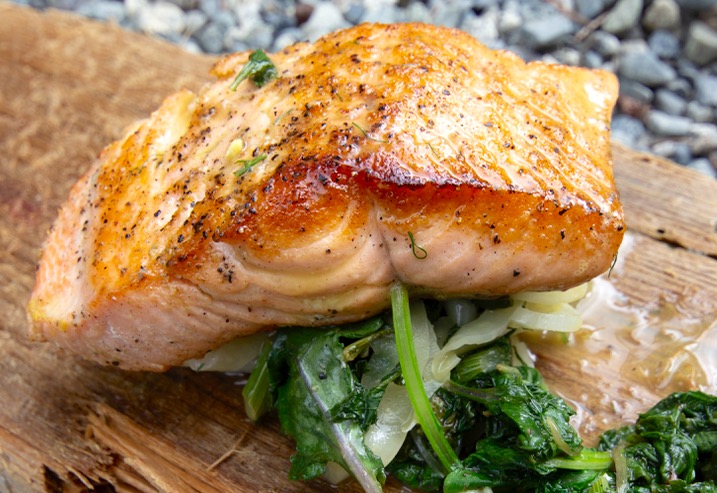 [easy-tweet tweet="This delicious Pacific #salmon dish from Chef @CameronTait92 is simple, flavourful and easy to prepare." user="OutdoorCanada" hashtags="wildfood, localfood, seafood, eatlocal"]
2 5-oz Pacific salmon fillets
Kosher salt and pepper, to taste
2 tbsp olive oil
1 cup orange juice
1 tbsp honey
1 cup fennel, thinly sliced
2 cups baby kale
Season salmon with salt and pepper on both sides. Add olive oil to a non-stick frying pan and set over medium-high heat.
When oil is lightly smoking, add salmon and cook for approximately 2 minutes or until light golden brown. Flip over and repeat.
Add orange juice and honey to pan, reduce heat to low and simmer for an additional two minutes, then remove salmon and place on a serving plate.
Add fennel and kale to the pan, simmer for three minutes on medium heat, then season with salt and pepper.
Place fennel and kale on the serving plate, drizzle with resulting orange and honey sauce, then serve.
To watch Cameron Tait prepare this dish and others, go to www.outdoorcanada.ca/food.

FOR THE GLASS
With its aromas of apple, pear and lemon, this bright, refreshing Pinot Blanc from Penticton, B.C.'s Red Rooster Winery pairs well with this fish dish. Serve well chilled to also bring out the crisp, clean notes of white currant and lemon ginger.