Spring action
Fishing, hunting, skiing and travelling—who has time to rest?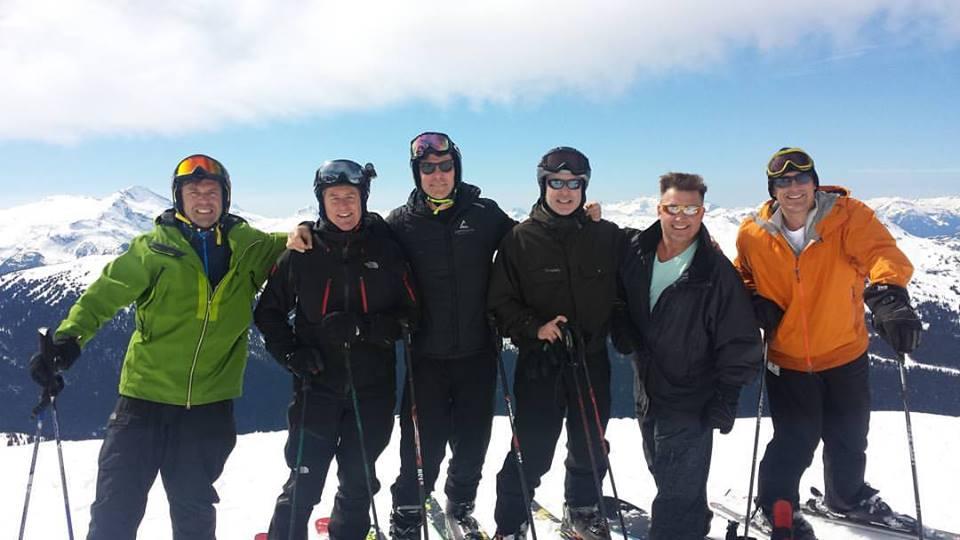 What a year so far! Actually, my outdoor pursuits really didn't kick into high gear until early April, thanks to a soggy winter here in southern Ontario that limited the ice-fishing opportunities (admittedly, I also had my nose to the grindstone at the office throughout the winter). In terms of cold-weather pursuits, it was a different story in Whistler, B.C., where my skiing buddies and I made our annual pilgrimage on April 6 to the action-packed World Ski & Snowboard Festival. (That's me above, third from the right, with just some of our 2016 skiing posse.)
Once again, this West Coast mash-up of art, music and sport didn't disappoint, with no end of events, demos, parties and exhibits. For me, the highlight was the live performance of Hamilton rockers Monster Truck (pictured below), who took the stage at the foot of the Blackcomb gondola—now that's what you call an après ski party. (If you like hard rock, but haven't heard Monster Truck perform before, do yourself a favour and click here.)
The skiing itself was also awesome, with plenty of snow still up top on Blackcomb Mountain. In fact, we could still ski out all the way down to the Longhorn Saloon & Grill (crate of Coronas, anyone?). I can't tell you how much vertical we got in over three days of skiing, but let's just say I sure got my skiing fix in for the winter—with a dash of cultural pursuits thrown into the mix courtesy of the WSSF. Many thanks to the festival organizers for putting on another great event. If you ski or snowboard, this festival is the place to be in Canada.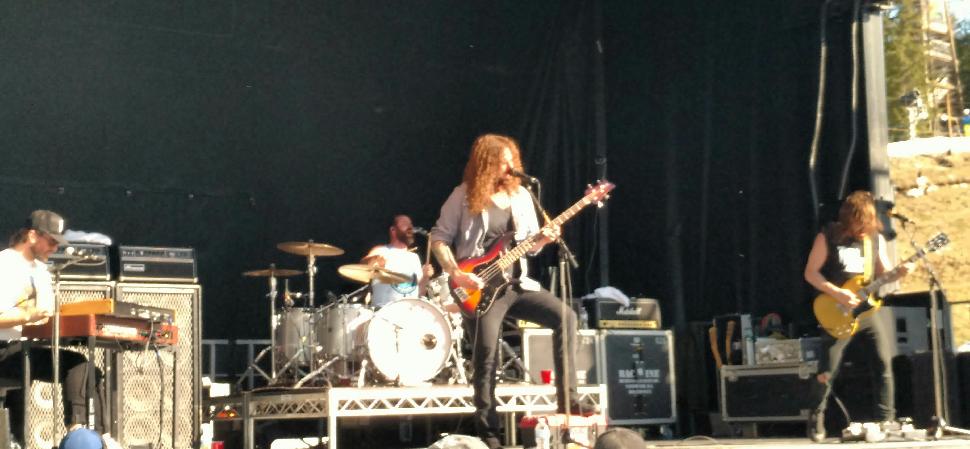 Fun fishing with B.C. Sportfishing Group's Tony Nootebos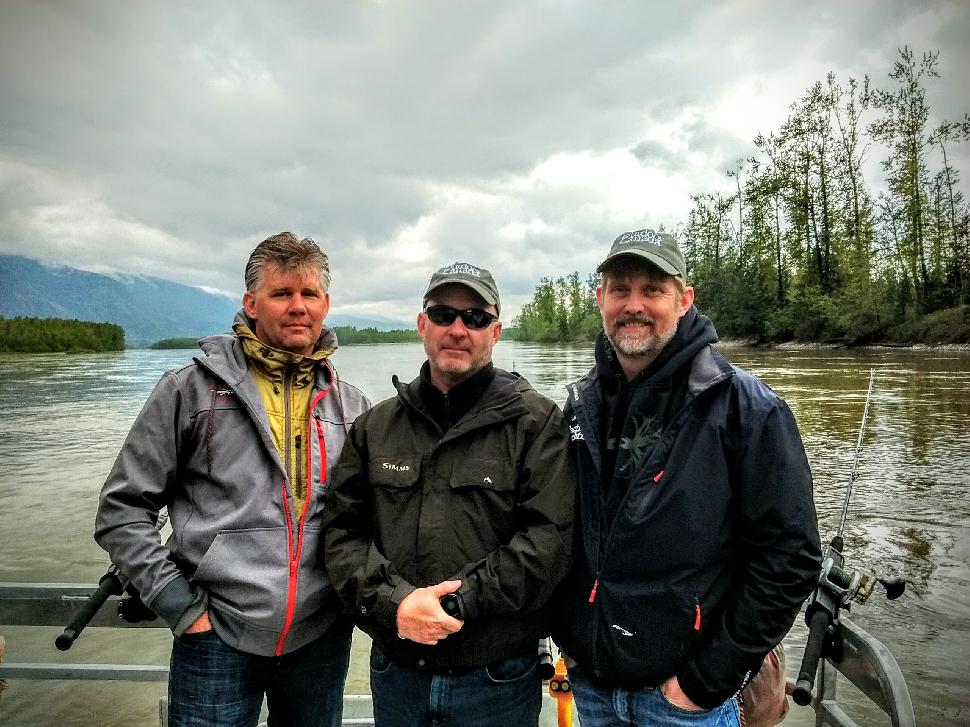 After Whistler, I parted company with my skiing buddies and headed down to Harrison Hot Springs to meet up with Outdoor Canada/Outdoor Canada West publisher Mark Yelic and my friend Tony Nootebos for a couple of days of leisurely fun fishing on the Fraser River and Harrison Lake. That's me in the middle, with Tony on the left and Mark on the right. (Special thanks to the Harrison Hot Springs Resort & Spa for hosting Mark and me.)
We spent the first day on the Fraser having some laughs, talking about life and family (the three of us are fathers) and, oh yes, fishing for white sturgeon. I can honestly say, the fishing was more of a backdrop, an excuse just to get outdoors and away from the noise of the daily grind. Sometimes, that's all the adventure you need. And sometimes, fate has other things in store and takes things up a notch. In my case, that meant landing my personal-best white sturgeon, an eight-foot two-inch beauty (pictured below, with me on the left and Mark Yelic on the right).
Of course, I wouldn't have caught that fish if it weren't for Tony, a guy who personifies the adventurous spirit, and not just on the water as an accomplished guide. He's also an adventurous soul when it comes to business, having built one of his province's largest and most successful guiding operations, B.C. Sportfishing Group, from the ground up. BCSFG celebrates its 20th anniversary this year, and continues to grow, having most recently acquired another well-known Fraser River operation, STS Guiding Service. Congratulations, Tony!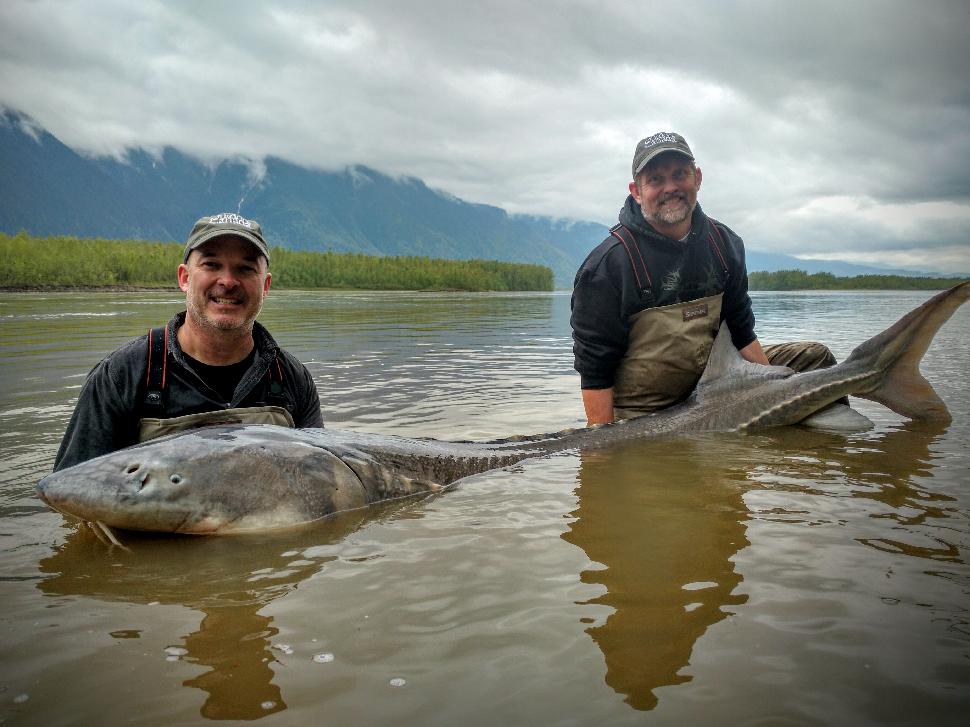 My first-ever visit to Cuba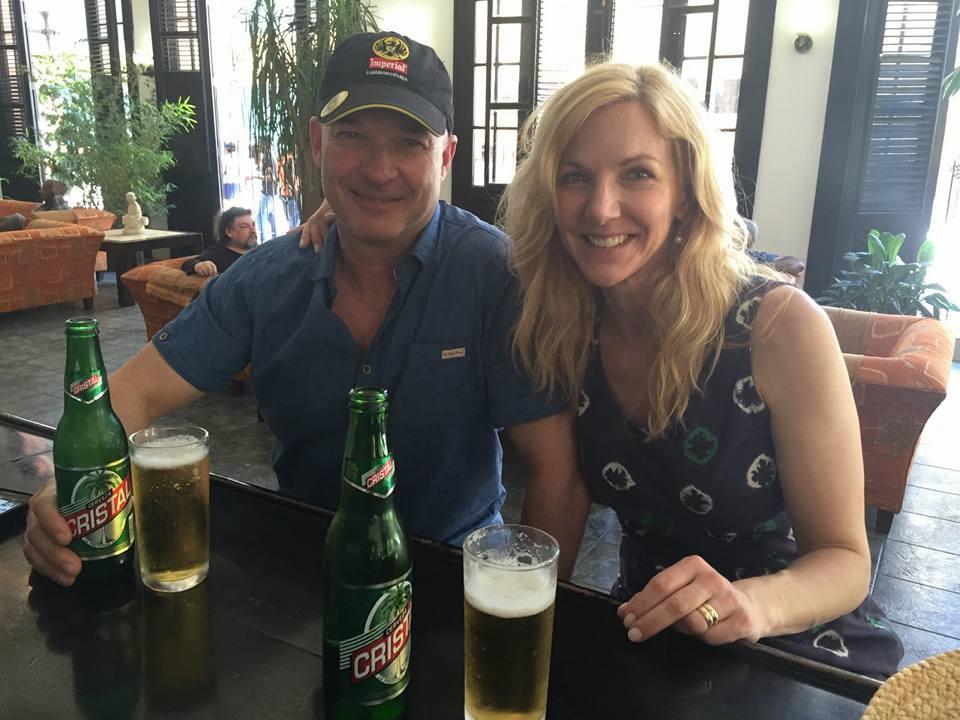 You'd think I'd be ready for a rest after all that skiing and fishing, but a day after returning to Ontario, it was back to the airport with my wife, Jackie Kovacs, for yet another adventure—our first-ever visit to Cuba. Since no outdoor pursuits were involved (unless you count quaffing rum-based concoctions on a beach), I won't get into too much detail about the trip other than to say we had a blast.
Never been? We stayed for a week at the Barceló Solymar Arenas Blancas Resort in Varadero, and I highly recommend it. But do yourself a favour and also take a day trip (at least) to Havana (that's Jackie and me, above, at one of Ernest Hemingway's haunts, the bar at Hotel Ambos Mundos). Also spend some time off the resort in the nearby town of Varadero. We found a gem of a place called the Beatles Bar (below), and spent two evenings there listening to an awesome live band covering the Stones, Hendrix, CCR, the Beatles and more. In short, we'll be back. And next time, I aim to go fishing!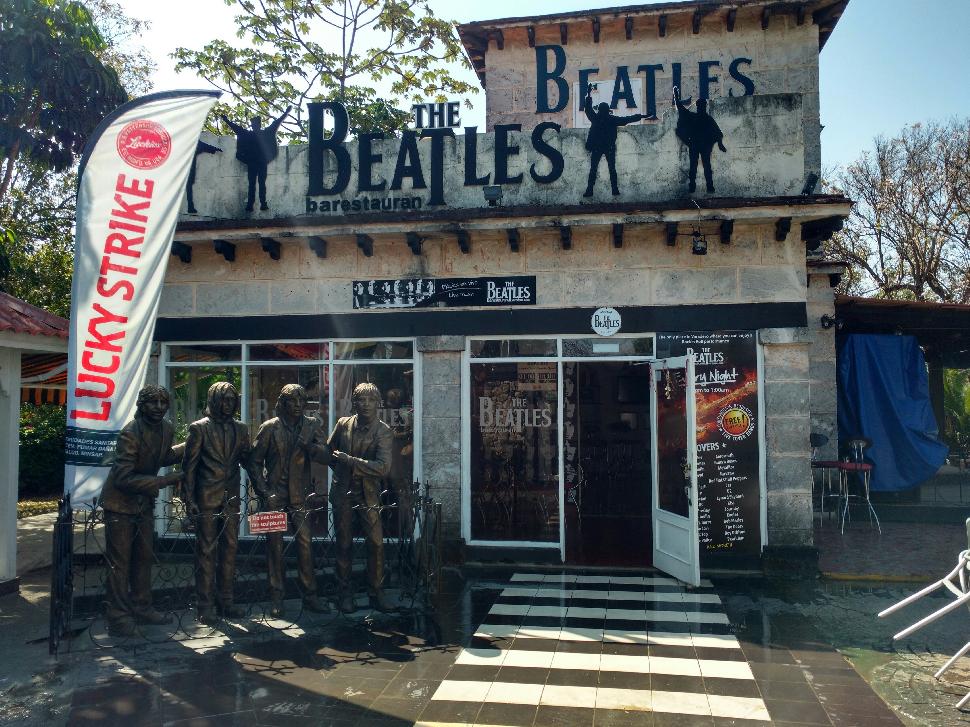 My hard-earned 2016 spring turkey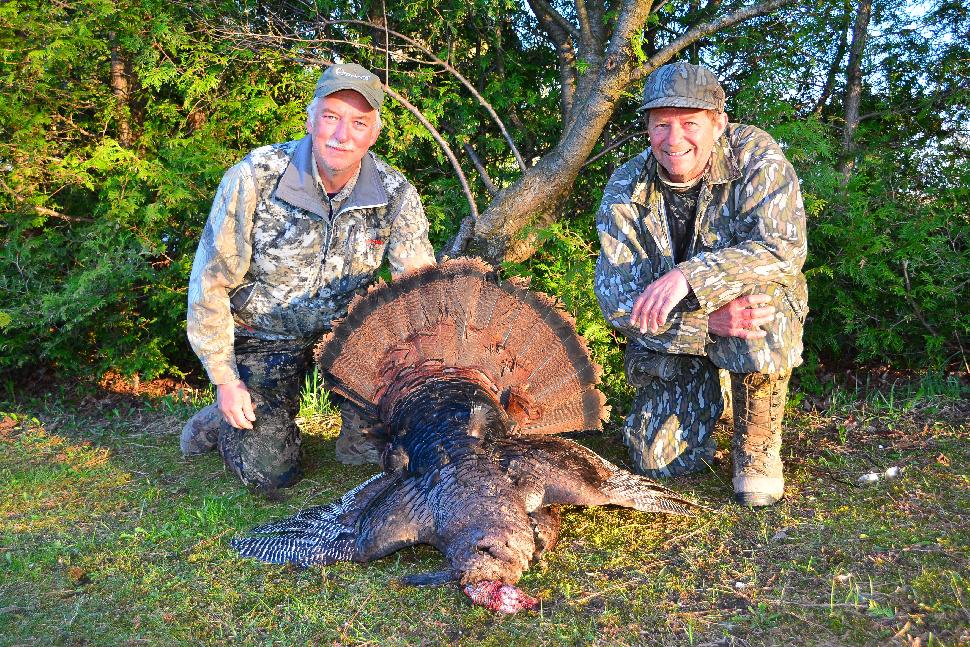 Once back home from Cuba, it was time to finally rest, right? Nope! The very next day, I headed north to Orillia to meet up with my good friend Rob Pye and his dad, Clarence, to prepare for the spring turkey season opener. Unfortunately, I only had one day to hunt (as you can imagine, the work was piling up back at the office), but I had high hopes based on the previous three openers—I tagged out each time, once just minutes into legal light. It was not to be this time, however, and I headed home empty-handed.
I wasn't too worried, however, as our Edmonton-based hunting editor, Ken Bailey, was venturing to Ontario later that week to hunt with me and our friend Tim McEachern for four days on private farmland out west of Walkerton. Ken tagged out on day three, but again, I headed home with a goose egg (that's Ken above on the left, with his bird and Tim). Luckily, I cleared the decks at work and managed to head back to Tim's to hunt the last few days of the season. Talk about cutting it close—I got my bird, an 18-pound tom, late on the second-last day (see below). Phew!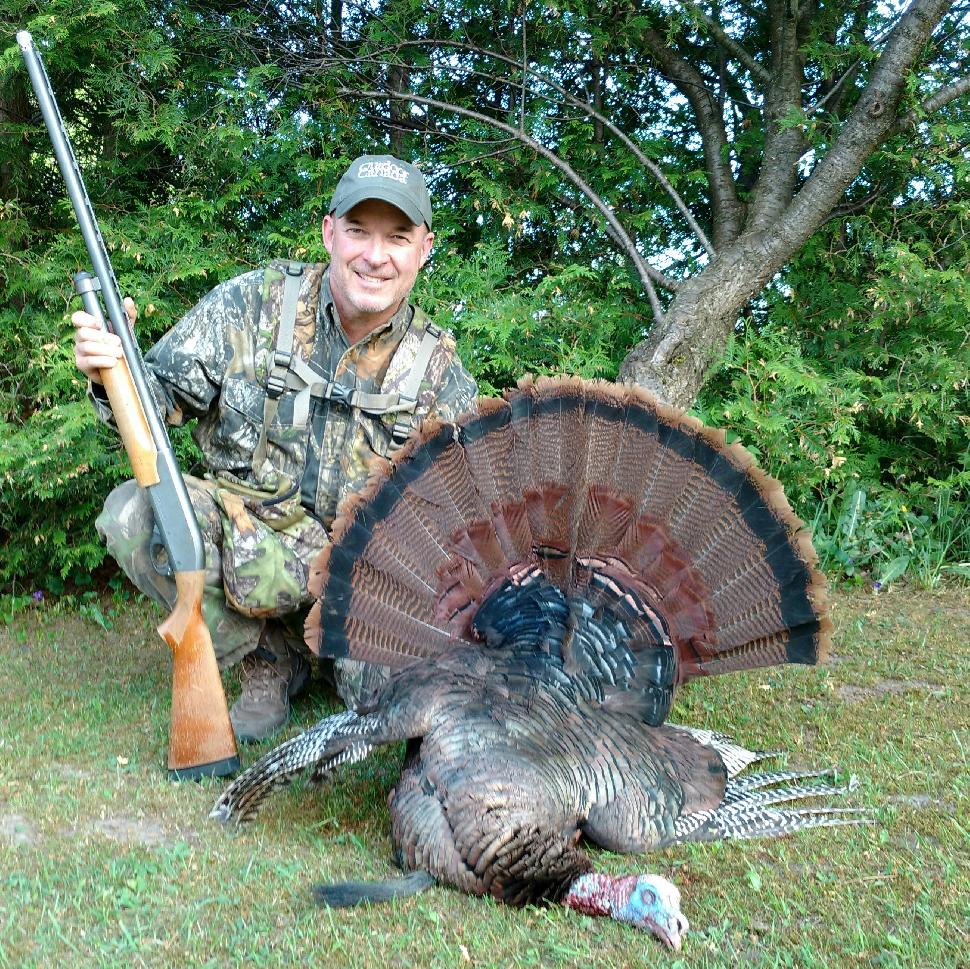 And now, bring on the summer!
Today is the first full day of summer, so with spring behind us, I'm now looking forward to filling the warm-weather months with plenty of fishing. Watch for my team and me around southern Ontario aboard our new on-the-water ride, an Alumacraft 175 Competitor LE. And don't be shy—come by, say hello and tell us about your latest fishing adventures. Special thanks to Alumacraft and Waubaushene, Ontario's Marsh's Marine for equipping us with the boat, and to Johnson Outdoors for the new Humminbird Helix graphs and MinnKota Terrova 80 trolling motor. Look out, fish!