Guns & ammo
Expert advice, appraisals and fascinating firearms stories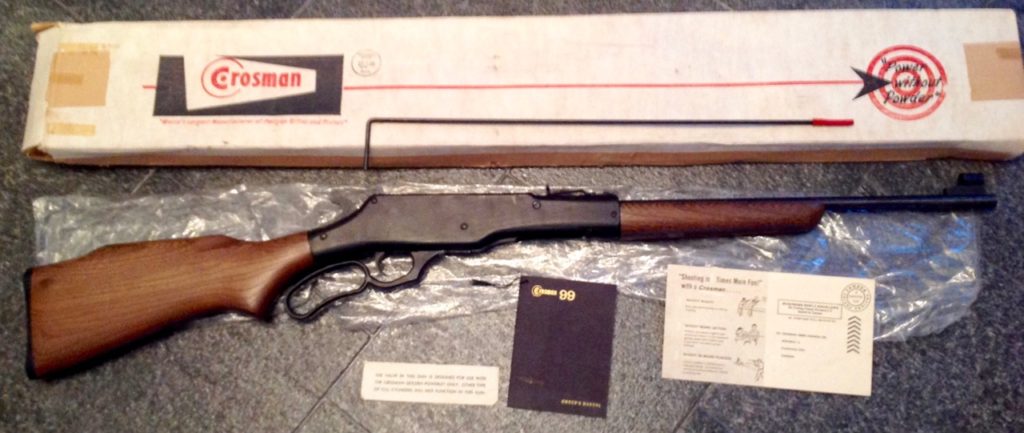 I acquired this BB gun from a good friend many years ago (above). To the best of my knowledge, it's from the mid-1960s.
I'm curious about its value, since it is in new condition in the original box, complete with the plastic sleeve, barrel cleaner, manual and registration card. I would like to let it go to a collector who would truly appreciate it, but I'm unsure who to contact. Any help would be appreciated.
Dennis Scharf
Winnipeg, Manitoba
The Crosman 99 was made from 1965 to 1970, styled to superficially resemble the Savage 99 centrefire rifle. Powered by CO2 Powerlets, it fired .22-calibre lead pellets from a 14-shot magazine along the left side of the receiver. One of the 99's selling points was that it had two power levels: simply cycling the lever promised a velocity of 400 fps, but if you pulled the hammer back farther after cycling the lever, the velocity increased to a claimed 530 fps. I say "claimed" because my experience with other CO2-powered airguns is that they generally don't fully achieve the stated velocities.
A very well made, adult-sized airgun, the Crosman 99 has become a cult classic of sorts with airgun enthusiasts. I recall being tempted to buy one in the late 1960s. The price in Canada at the time was around $35; a Crosman scope and base added another $10 or so. That doesn't sound like much money today, but back then, you could buy a pretty good .22 rifle for the same amount. Thanks for bringing back memories of my younger days!
If you want to sell your Crosman, find a busy online forum for airgun enthusiasts that features a sub-forum for selling and buying guns. Listing your 99 for sale on such a site would help achieve your goal of having it go to someone who values and appreciates it. Another possibility would be to sell it through a gun auction site (see www.outdoorcanada.ca/gunauctions).
From what I can see online, even a non-functioning 99 can be sold for spare parts, while used but still functioning models can bring in $100 to $150. Reconditioned and professionally resealed 99s, meanwhile, have asking prices of $200-plus. Your rifle, in its unused condition and with the original box, papers and accessories, would be very much in demand among airgun enthusiasts and collectors. There are probably only a few dozen 99s in this condition still out there, so I wouldn't be surprised to see it bring in well over $200, or perhaps even more than $300.