Guns & ammo
A WWI Mauser, a WWII Lee-Enfield, a 101-year-old Winchester .30-30 and a set of Canadian commemoratives
Whether you have a question about antique guns, modern firearms, ammunition or reloading, expert Dave Anderson is here with the answer. Please send your detailed questions and applicable, high-resolution photos to editorial@outdoorcanada.ca.

Would you please evaluate these commemorative Winchesters for me? All of the rifles are in their original boxes and none have been fired. Your assistance would be very much appreciated.
Pat Cushing
Fergus, Ontario
This is a nice group of Canadian-issue commemoratives. If they were sold at a well-publicized gun auction, I think you could reasonably expect to get something in the price ranges listed below. The cartridge boxes only add $50 or so, but they help make the rifles more attractive to potential buyers. Someone interested in Canadian-issue Winchester commemoratives would do well to purchase these rifles as a package, rather than searching for them one by one. RCMP Centennial Model 94 .30-30: $1,000 to $1,200 (pictured above)
Klondike Gold Rush: $800 to $1,000
Cheyenne Carbine Model 94 .44-40: $900 to $1,100
Comanche Carbine Model 94 .30-30: $900 to $1,100
Little Big Horn Centennial .44-40: $1,000 to $1,200
Sioux Carbine Model 94 .30-30: $1,000 to $1,200
Apache Carbine Model 94 .30-30: $900 to $1,100
Cheyenne Carbine Model 9422: $1,000 to $1,200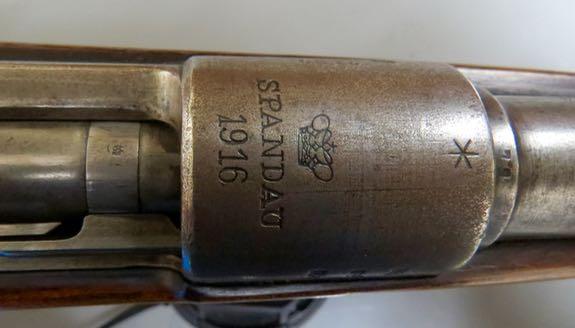 We have two older guns in our collection that we hope you can help identify. One is stamped with "Spandau 1916," (above) and what appear to be Japanese and German lettering. The other one (below) has many crown markings, and possibly a bayonet mount. We're not so much interested in what these gems are worth—although that would be good to know—but more about their history. We'd appreciate any information you can provide.
Robin Hutchinson
Fernie, B.C.

The rifle with Spandau 1916 appears to be a standard Mauser 98, a German military rifle made in Spandau, Germany, during the First World War. If it were in its original configuration and in good condition, this rifle would have some value to military collectors. It's been modified for use as a sporting rifle, however, which removes all collector value. It's probably worth between $150 and $250.
Your second rifle is a Lee-Enfield No. 4 Mk. 1, made during the Second World War for the British and Commonwealth armed forces. As with a great many surplus Lee-Enfields, the top handguard has been removed and the forearm has been cut down to make it more suitable for sporting use. Again, collectors are only interested in unaltered models, so there's little demand for such rifles. It's probably worth $200 tops.

I would like to know about my Winchester Model 1894 .30-30 (above). Is it in its original form, and what would the value be? I'm not selling it, but giving it to my daughter, who just got her gun licence.
Charles Ross
Air Ronge, Saskatchewan
Regrettably, the serial number falls outside the range for which factory records are available, so there's no way to prove what the configuration of the rifle was when it left the factory. It was made in 1915, incidentally.
From what I can tell from the photograph, however, it appears to be in its original form, with a 2/3-length magazine. While half- and 2/3-length magazines are less common than full-length ones, some sources say they don't add significantly to the value for collectors. I think they increase collector interest, however, and can add a bit to the value. The magazines at least make the rifle easier to sell.
There seems to be a fair amount of finish left, but I do see one damaged screw head on the left side, and there seems to be a chip in the stock ahead of the top of the butt plate. Still, it's certainly collectible. I estimate it could fetch $1,250 to $2,000 at auction.
Collector's corner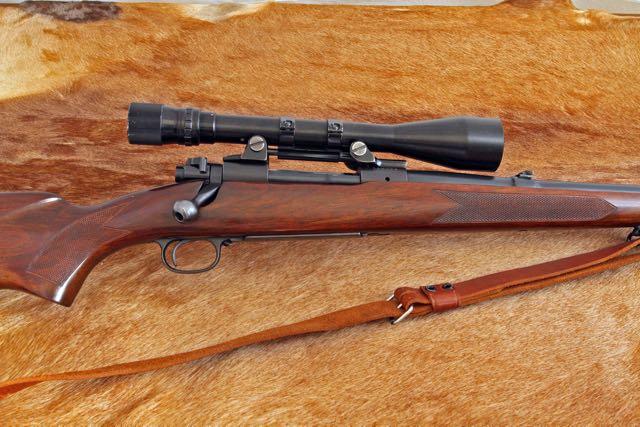 These days, long-range shooting is a hot topic. Back around 1960 to 1962, this was the epitome of a long-range hunting rig—the Winchester 70 Westerner in .264 Win. Mag. with a 26-inch barrel. It was a rather heavy but very accurate and flat-shooting set-up. The value of this pre-1964 Westerner is around $2,000.
The .264 cartridge seemed to be catching on following its introduction in 1959, but it faded rapidly after the wildly popular 7mm Rem. Mag. came out in 1962. It hung on, though, and seems to be regaining a modest but loyal following.
The scope is a vintage Bausch & Lomb Balvar 2.5-8. It has no internal adjustments; instead, the adjustments are in the base. B&L spent a lot of money promoting this scope, pointing out its advantages, such as better weather sealing because there were no adjustment turrets. Plus, the scope could be used on several rifles equipped with pre-sighted bases.
It was all to no avail, however: shooters wanted internal adjustments and voted with their dollars. Today, these scopes generally go for $100 or so, depending on their condition. And depending on how rare they are, bases can bring in $30 to $100.