TEAM PLAYS
Summer smallie tips from Bob Izumi's favourite fishing partner
It shouldn't come as a surprise that 35-year-old Darren Izumi is a highly competitive angler with nearly 20 years of tournament fishing to his credit. He is, after all, the son and tournament partner of Canada's most famous fisherman, Bob Izumi. And with the elder Izumi no longer producing TV's Real Fishing Show, the pair now have even more time to fish competitively together.
It's a combo that clearly works. Last year, they were named the Competitive Sport Fishing League's Pro Bass Team of the Year after earning the most points in the league's Cup Series. With that in mind, we asked the younger Izumi to share his top tips for catching mid-summer smallmouth bass.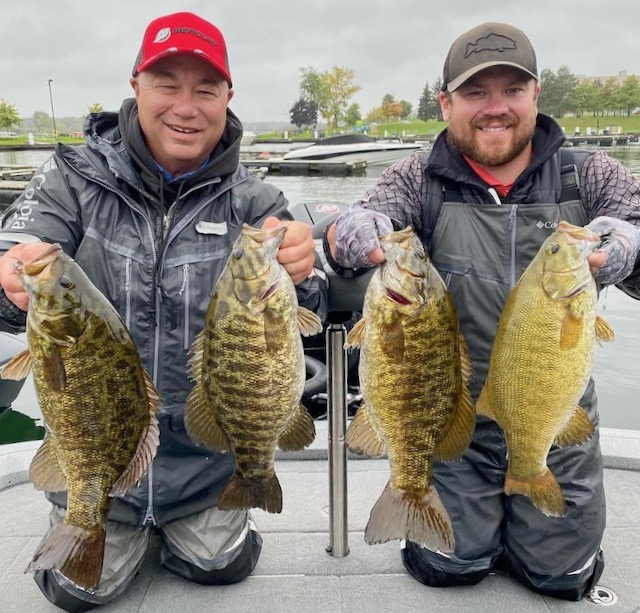 HABITAT
Target transition areas where the bottom features a mix of two or three different components, Izumi says. "We look for a sand bottom that has some rock mixed in with it. Or we might look for a sand bottom with a few clumps of weed that the fish can hide in."
If you're lucky, he adds, you'll find a mixture of all three. "Ideally, you would have sand that fish can go on to sunbathe, weeds they can go in when they get spooked, and rocks they can sit on or travel along."
STRATEGY
To cover a lot of water to find fish, Izumi recommends using moving baits, including swimbaits, spinnerbaits and spybaits. And once you've located fish, he says, drop a waypoint and slow down to pick the spot apart with finesse baits, which requires good boat control and positioning.
To avoid spooking fish, he adds, don't drift over top of them. Instead, stop your boat well away from the fish and make long casts. That's when a GPS anchor system on your trolling motor comes in very handy, he notes.
TECHNIQUE
One of Izumi's go-to presentations in the middle of summer is a wacky-rigged stickbait. "You just let it flutter to the bottom, pull up your rod a bit, reel in the slack, let it sink back down and do that until you get it to the boat," he says, stressing not to overwork the bait. "There are plenty of times where you see a fish, cast to it, then twitch your rod or jiggle your bait and the fish just swims the opposite way," he says. "We find that when you let a bait soak, it gives the fish time to really want to eat it."
Learn more about the Competitive Sport Fishing League at www.csfl.ca.