THE FISH'N CANADA SHOW
HOSTS ANGELO VIOLA & PETE BOWMAN
Angelo Viola and Pete Bowman love fishing for walleye out west, brookies in Ontario, stripers in N.B. and more
To compile Outdoor Canada's 2020 fishing hot spots feature story, we turned to our friends at Sportsman Channel Canada. The hosts of 19 Canadian fishing shows agreed to reveal their top choices, along with tips on when to go and how best to tackle the fish. For all the hot spots, see our 2020 Fishing Special issue, or check out the growing list at www.outdoorcanada.ca/2020HotSpots.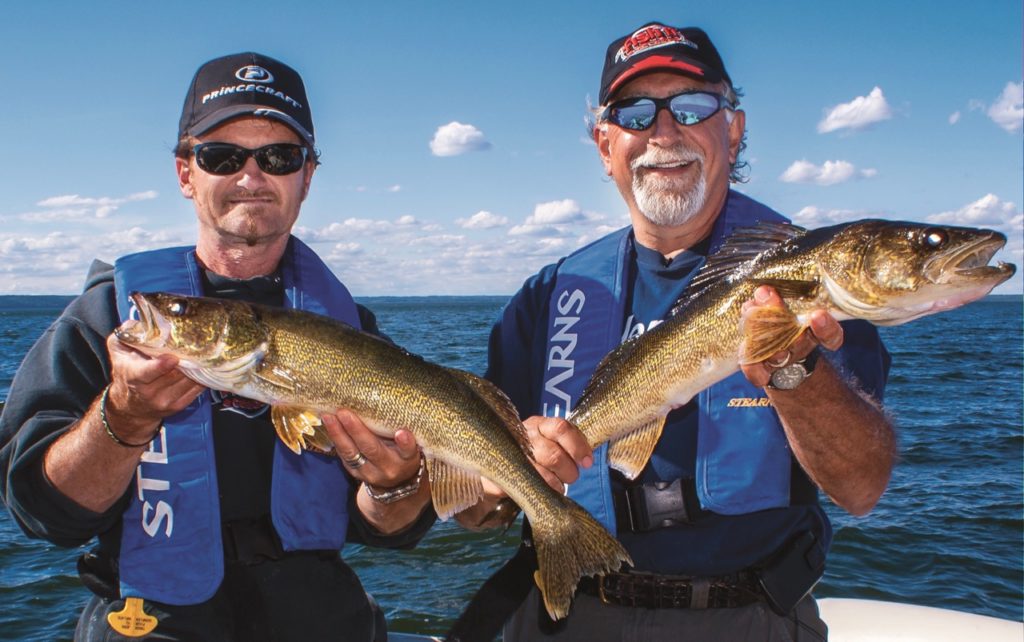 ABOUT THE SHOW
On air since 1986, The Fish'n Canada Show boasts an average audience of 450,000 in Canada and the U.S., making it one of the continent's most-watched outdoor shows. Each episode, the hosts visit Canada's fishing hot spots, offering angling tips and more along the way. Learn more: www.fishncanada.com
BOUNDARY DAM RESERVOIR, SASKATCHEWAN: Largemouth bass
THE ATTRACTION: Saskatchewan's only largemouth fishery, this impoundment of Long Creek has a long growing season, resulting in some real hawgs
BEST TIME: Early summer
TOP TACTIC: Cast flipping jigs into weedbeds or drop-shot dark-coloured soft stick worms in the deep water near the pumphouse.
CALLING LAKE, ALBERTA: Walleye
THE ATTRACTION: This may look like your average lake, but sheer numbers of walleye you can catch will blow your mind
BEST TIME: Early summer
TOP TACTIC: You'll clean up by simply skewering a salted dead minnow to a jig head and dropping it directly beneath your boat.
LAC LA BICHE, ALBERTA: Northern pike & walleye
THE ATTRACTION: A big body of water unaffected by fishing pressure from the town of the same name on the southern shore
BEST TIME: Summer
TOP TACTIC: Gigantic, muskie-sized swimbaits are just the ticket for the lake's hefty walleye.
LONG MOUNTAIN LAKE, B.C.: Lake trout
THE ATTRACTION: Accessible by float plane from Northern Rockies Lodge, this tiny mountain lake seems to have an endless supply of giant lake trout
BEST TIME: Early summer
TOP TACTIC: Casting and trolling big swimbaits and spoons produces the lunkers.
LOWER RITCHIE LAKE, ONTARIO: Brook trout
THE ATTRACTION: Like most Algoma region lakes, Lower Ritchie serves up trophy five-pound-plus brookies, as well as bonus walleye
BEST TIME: Late spring, if you can handle the bugs
TOP TACTICS: Fish spoons, spinners, small jigs and drop-shot rigs with soft-plastics; trolling flies also works.
MIRAMICHI RIVER, NEW BRUNSWICK: Striped bass
THE ATTRACTION: The incredible run of hard-fighting stripers that comes up the river each year to spawn
BEST TIME: Late spring
TOP TACTIC: Using a heavy-action rod and baitcaster spool with 30- to 50-pound braid, fish fluke-style baits on extra-wide gap worm hooks—and hang on!
NIPIGON RIVER, ONTARIO: Brook trout
THE ATTRACTION: Simply put, it's the best brookie-fishing destination in the world
BEST TIME: June
TOP TACTICS: Fish in-line spinners tipped with live worms; brightly coloured jigs also produce, as do drop-shot rigs with small, natural-looking soft-plastic worms.
ALSO PICKED: Lac Seul, Ontario, for muskies, northern pike, smallmouth bass and walleye
*This hot spot was picked by other anglers in our survey. Find the complete list at www.outdoorcanada.ca/2020hotspots.