Bryce Urzada dominated the 2021 Walleye Wars tournament
How you catch seven of the 10 biggest walleye in a province-wide contest
It is hard enough to win a one-, two- or three-day tournament on a lake, river, reservoir, pit or pond, but how about an event that's spread over 10 days and an entire province? That's the format that faced social media friend Bryce Urzada in Alberta's 2021 Walleye Wars. He not only won it, he took home five of the top 10 prizes. And if that wasn't enough, his 12-year-old son, Jacob, captured two more. So between the father and son, they caught seven of the 10 biggest walleye in the province. Talk about keeping it all in the family.
As you might suspect, Urzada, who operates Treble Life guide service, knows a thing or two about the winning ways for walleye.  You only have to talk with him for a couple of minutes to pick up on the subtle insights he's gained from so much time on the water. Or, in this case, in it, because he caught most of the fish wading from shore, under the cover of darkness, when walleye prowl super shallow water.  And he caught most of the fish using the most famous walleye lure of all time: an original floating Rapala.  
"We had some very harsh weather to contend with the first few days of the tournament," says Urzada, "with 30 millimetres of rain and crazy winds gusting up to 75 kilometres per hour. By the last day of the tournament, however, we were fishing in blistering hot 34 C weather. Nevertheless, Jacob and I averaged 10 to 20 walleye a day and, as you would suspect, our most productive nights corresponded with the worst weather."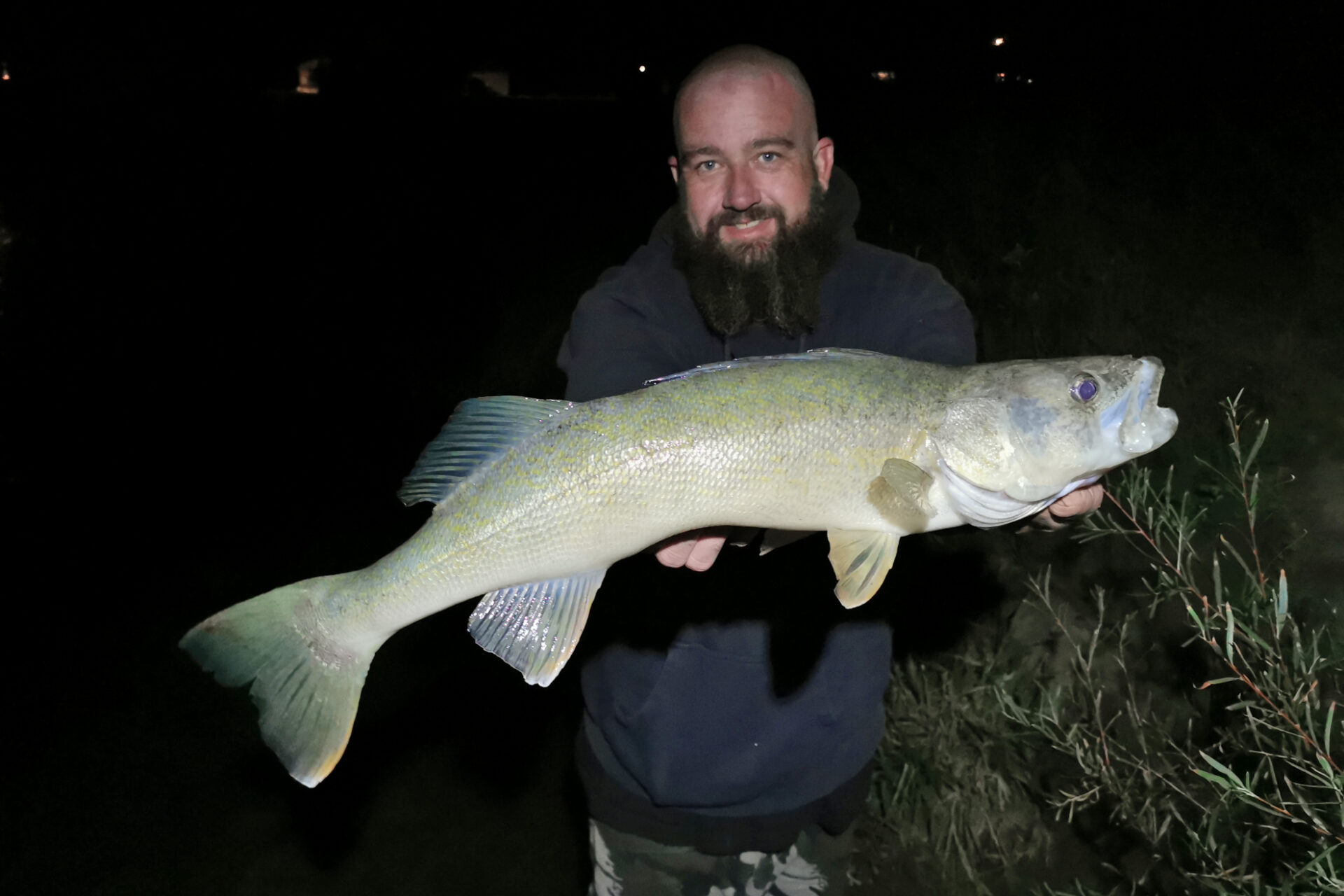 In case you missed it, that was the first clue to Urzada's unprecedented success. When most folks were at home, tucked up comfortably under the covers, listening to the wind howl and rain pelt the roof, or the air conditioner hum in the background, the walleye pro was out strutting his stuff. 
Clue number two is how he targeted the fish. "I am pretty good in a boat," the bearded pro chuckles, "but I'm really good at catching early- and late-season walleye fishing from shore with a Rapala. It's probably my favourite way to catch them."
Urzada is quick to point out that he dotes on either a black back/silver sided Rapala or one of the new pike colours. And he says the trick to presenting the minnowbait properly is casting as far as you can, angling slightly across and upriver.  If you're fishing in a lake, on the other hand, look for weeds, reeds and drop offs that come close to shore.  
"As soon as your lure hits the water," Urzada says, "reel in quickly to remove the slack and get it to dive. Then, slow down your retrieve speed drastically. The trick to fishing a balsa wood minnowbait is getting maximum action from the lure at the slowest possible speed."
If you've never fished one of the legendary lures this way, Urzada says to make a few short casts and then watch how it shimmies and shakes as you bring it in. This is how he teaches his guests when they start a day walleye fishing with him. 
"I see far too many folks reeling too quickly," he says. "It's totally ineffective. Once you get the hang of it, though, you need to change the pace. Start with the slow retrieve and then follow it up with a few fast turns of the handle. Often a walleye will follow the lure and when you speed it up, and slow it down, it will a strike the very same way it will when you're trolling an S-pattern in a boat."
Finally, when I asked Urzada if he ever adds a split shot or sinker in front of the famous walleye lure to get it down deeper, he told me that it depends on the time of year and depth of water. "I typically run them plain Jane when I'm fishing rivers early and late in the season," he says.  "You can get a floating Rapala down three to five feet, and that is plenty deep enough in shallow water. 
"In the warmer summer months, on the other hand, I will add a split shot about four inches in front of the lure. When I do that, though, I also change my retrieve, adding in a pause and twitch the same way you'd fish a Shadow Rap. The split shot lets you get the lure down deeper, while the pause and twitch gives it an erratic nose drop that the walleye can't resist. I try not to use live bait because I find we catch much bigger and better fish on lures."
No kidding.