Making a list and checking it twice
When packing for a day on the ice, always consult your checklist
The last thing I see as I walk out of my ice-fishing room in the basement—yeah, I know, I am obsessed—is a checklist on the wall reminding me of the items I have to be sure I've packed for the upcoming day's fishing. This is the byproduct of arriving too many times at our final destination, and realizing that I left something, such as the sonar unit, sitting on the back porch steps.   
Another forgetful moment happened when my grandson Liam and I headed out to go ice fishing for lake trout. After four-wheeling down a deep, snow-packed logging road to reach the access point far from home, Liam turned to me and said: "Grandpa, did you bring my snowsuit?" I just shook my head, turned the truck around and we headed back home. We still laugh about that today
If you've spent any amount of time ice fishing, I am sure you have plenty of similar stories, because getting ready for a day on the ice is different for most of us than a day on the open water. In the summer, we usually have our electronics permanently mounted somewhere on the boat and our rods, reels, tackle and equipment safely put away in rod lockers and compartments. But after a day on the ice, we have to unpack our sonar units and battery-powered augers to charge them back up in a warm garage or basement. We also have to hang up our wet clothing so it can dry. And if we're fishing for trout one day, then walleye or crappies the next, we have to pack a totally different arsenal of rods, reels and lures. Simply, there's a lot more organization and work in the winter—hence the benefit of the checklist I see every time I walk out the basement door, getting ready to hop into the truck and take off.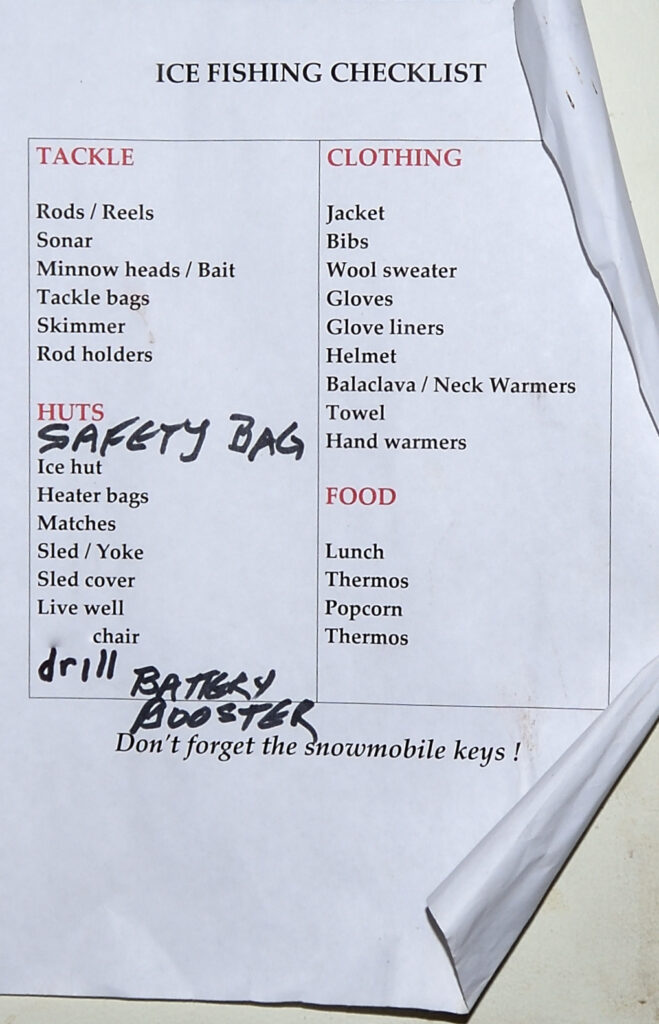 As you can see, I've broken the categories down to four basic groups: tackle, clothing, shelters (huts) and food. The list is self-explanatory, although you may want to add or remove items to fit your particular circumstances. For example, buttered popcorn for the kids may not be a priority. My buddy Scott Gardner, Outdoor Canada magazine's associate editor and fly-fishing columnist is also a dedicated list maker.  Scott tells me he keeps his lists as Google docs online so he can add or subtract items when he returns from an outing. "Then the list is stored and ready for the next similar trip," he says. Words for the wise.