Miramichi miracle
How one skilled (and lucky) angler landed his leaper
Under normal circumstances, I suppose I should have been angry, or at the very least, hugely disappointed. When you drive 1,549 kilometres to go fishing, after all, you expect to, well, go fishing. And this wasn't just any angling trip I had planned: I was to wade New Brunswick's legendary Miramichi River, the most productive Atlantic salmon fishery on the planet, chasing wild salmon on the fly.
Joining me on this adventure last summer was my wife, Jacqueline, and our three kids, then aged 15, 18 and 20. They know I'm a fishing fanatic, so they were cool with the idea of me taking off for two days during our family vacation to fulfill my dream of catching a Miramichi salmon. And it's not as though they would have nothing else to do—my friend Serge Collin at New Brunswick Tourism had planned a full itinerary of fun-filled pursuits for them in the meantime.
Admittedly, I knew there was a risk that our plans could go off the rails, at least in terms of the fishing. It was August 13 when we rolled into Moncton, and just over two weeks earlier, Fisheries and Oceans Canada had closed 25 primo cold-water pools in the Miramichi system. The river was simply too warm and too low, and the salmon were stacked in the pools, vulnerable to angling pressure. The weather had turned cooler and damper in recent days, however, so there was a good chance the DFO would end the closures by the time we arrived in Moncton.
It didn't.
The funny thing is, I wasn't overly bothered when I got the bad news from Collin. Sure, I was mildly disappointed I wouldn't be hitting the Miramichi, but there are times when failed plans can give way to fresh adventures. In this case, that meant spending even more time with my family, and getting a chance to check out more of the province's non-angling outdoor pursuits. Hey, who wouldn't want to eat fresh lobster, kayak around the famed Hopewell Rocks, go hiking and witness the Bay of Fundy's awesome tides?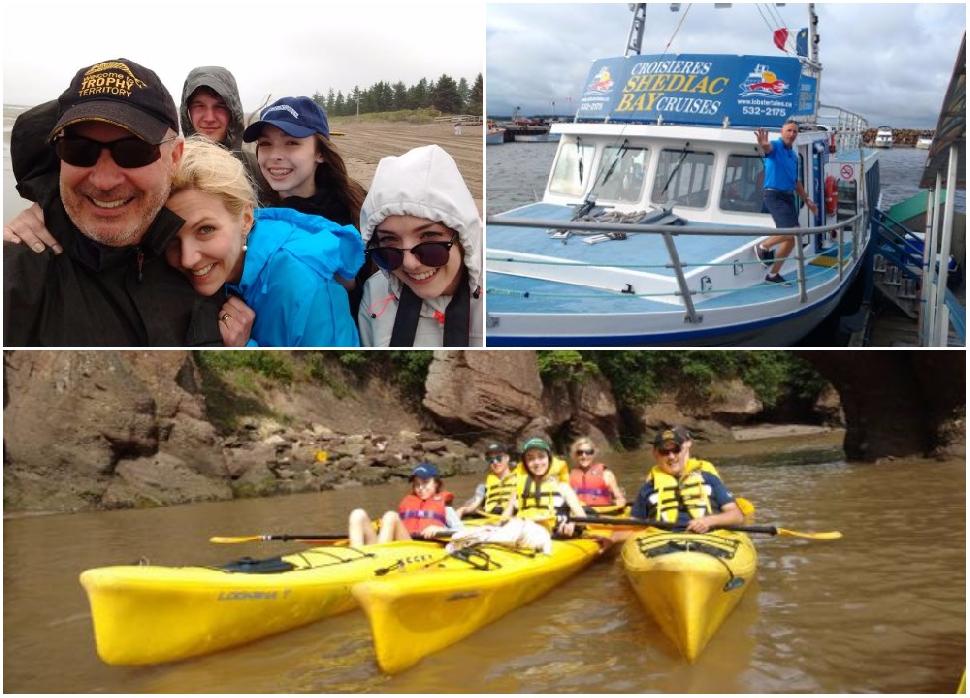 It also meant I now had a solid excuse to return once the restrictions on the pools were lifted. Having successfully fished New Brunswick's Restigouche, another famed Atlantic salmon river, the year before, I was determined to also scratch the Miramichi from my seemingly endless angling bucket list.
As it turned out, the DFO reopened the pools on August 16, two days before our planned departure. But by then, it was too late to coordinate an outing on the river—guys from away like me must fish with a licensed guide on the Miramichi—so I happily continued playing tourist with the family. But I would be back to fish the mother of all salmon streams, I vowed, and Collin promised to join me.
By the time I finally cleared the decks at work to return to New Brunswick, it was October 12, leaving me just over three days of fishing before the salmon season ended. It was tight, but confidence was high as Collin and I arrived at Country Haven Lodge on the banks of the Miramichi near Blackville, the "Salmon Capital of the Miramichi."
Run by the congenial Byron "Byzie" Coughlan, Country Haven boasts access to 22 private pools on four local rivers, including 14 on the Main Southwest Miramichi. Established in 1998, the lodge has certainly garnered a reputation for producing salmon. Some 450 anglers from across the U.S. and Europe visit every year, lured by the promise of great fishing with Coughlan's stable of eight full-time seasoned guides.
As my great luck would have it, our guide for the duration would be Gary Colford, inducted just days earlier into the Atlantic Salmon Museum's prestigious Hall of Fame. Seventy-year-old Colford has been guiding on the Miramichi and its tributaries since 1965, giving him unparalleled insight into the system and the habits of the tens of thousands of Atlantic salmon that course through it every summer and fall. When he recommends what fly to tie on or suggests where best to land your cast, you'd do well to listen.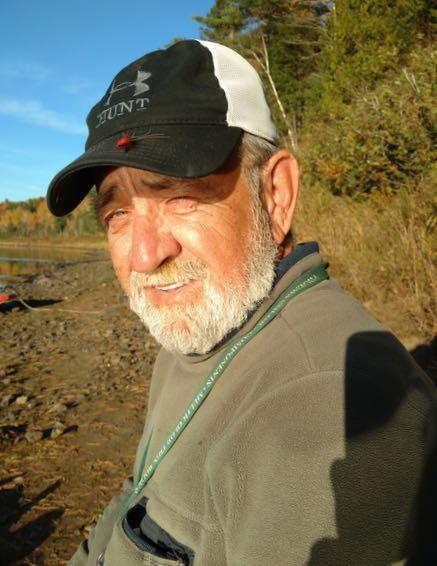 It was 4 p.m. when we finally hit the water for the first time, but rather than fish the Miramichi, we were on one of its tributaries, the Cains River. In particular, we fished a picturesque piece of water called Moore's Pool, one of Colford's favourite hot spots.
By the time the descending dusk put an end to the fishing a few short hours later, Colford had firmly established his Atlantic salmon bona fides. While I failed to come into contact with a fish, Collin landed a 30-inch hen on his spey rod, seduced by a size 6 black-and-orange fall adaptation of an Akroyd—per Colford's recommendation. There were fish. And they were biting.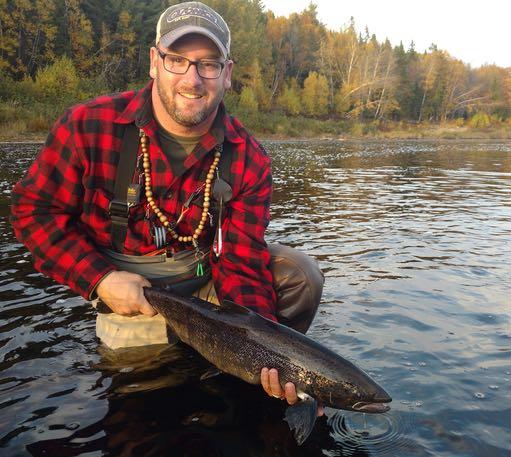 By 8:15 the next morning, we were knee-deep in the Main Southwest Miramichi, swinging Akroyds through the Coughlan Pool. Joining us was an American guest, and in short order he brought a 34-inch female to the net. With big fish leaping all around us, totally clearing the water's surface, I was sure I'd also soon connect. And I did, recording four good tugs over the course of the morning, as well as one lost fish that popped the barbless hook before I could get it to Colford and the landing net. Collin also got four bumps, but no hook-ups, leading him to conclude the fish were "taking the fly short."
By noon, it was time to break for a tasty home-cooked lunch back at the lodge, and let the fish rest while we made a plan for the late afternoon. As is the angling custom on the Miramichi and environs, it wasn't until 4 p.m. that we were back on the water, having returned to Moore's Pool on the Cains, again following Colford's sage lead. It was a solid plan, but still I failed to produce a salmon, garnering just two bumps.
I did, however, catch a beautiful little brook trout on an orange Ally Shrimp, so all was not lost. It would be the only fish caught before we packed it in at 7 p.m., though, and headed back to the lodge for a late seafood dinner and a few nightcaps. And so it goes when fishing for Atlantic salmon—there are no guarantees, no promises. There's only faith and hope, and the pure pleasure of just being able to wade such fabled waters.
Fish or no fish.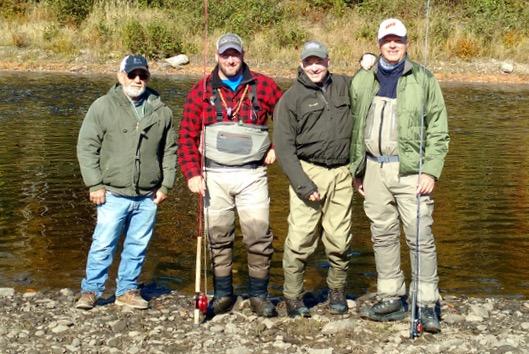 Faith and hope were in good supply the following morning when we once again returned to Moore's Pool on the Cains. Joining us was renowned fly tier, angler and raconteur Jacques Héroux, another Atlantic Salmon Museum Hall of Famer, whom I'd met the previous season on the Restigouche. Like Colford, Héroux is a consummate fly fisherman with an abiding love and deep knowledge of New Brunswick's salmon fishery. With all that experience and expertise to draw on, how could I not catch a fish?
And trust me, these guys really wanted me to land a salmon. To them, it's a point of pride to coach a newcomer on the ways of the Miramichi, and since I was clearly so determined to land a leaper, they pulled out all the stops. With Colford directing me to the most productive lies and Héroux tying one of his size 8 Undertakers to the end of my tippet—not to mention Collin graciously giving me first crack at the choicest water—I was steeled with confidence.
Ninety minutes after making my first cast, it all paid off. I'd like to tell you all the nitty-gritty details of the battle that ensued, but I was so focused on holding up my end of the bargain—namely, not losing the damn fish—that everything else was an adrenaline-soaked blur. No wonder I felt the weight of the fishing world lift from my shoulders once Colford had the salmon safely in his net.
As it turned out, it was no ordinary Atlantic, either. Measuring 33 inches in length, it was a healthy wild female that had been tagged exactly a week earlier, on the Main Southwest Miramichi at Millerton. In Atlantic salmon terms, I had hit the jackpot—or at least positioned myself to hit the jackpot. You see, any angler who remits a tag is automatically entered into a draw administered by the North Atlantic Salmon Conservation Organization. The grand prize? A generous US$2,500, along with separate prizes of US$1,500 for each of NASCO's three commission areas, which includes North America.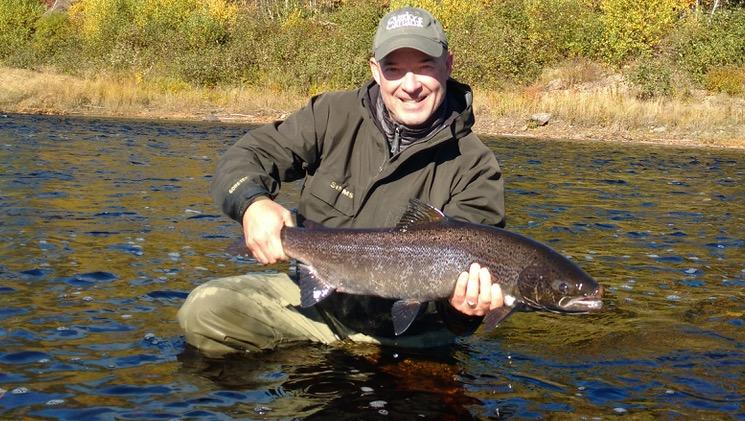 Now, I can't tell you if I won. The draw was slated for early June—after we went to press with this issue—in Varberg, Sweden, during NASCO's annual general meeting. But I can tell you I already felt like a winner; catching, cradling and releasing a creature so magnificent as a treasured Atlantic salmon is reward enough. Of course, my success didn't mean it was time to put away our fly rods.
So, on we fished, breaking at noon shortly after Héroux caught and release a beauty grilse, then resuming our efforts at 4 p.m. back at the Main Southwest's Coughlan Pool. Fifteen minutes in, Collin lost a decent fish, only to later redeem himself with a chunky 38-inch hen. That was 5 p.m., and two hours later we were once again done for the evening. But we were on a roll, and there was still one full day of fishing to go—the last day of the season.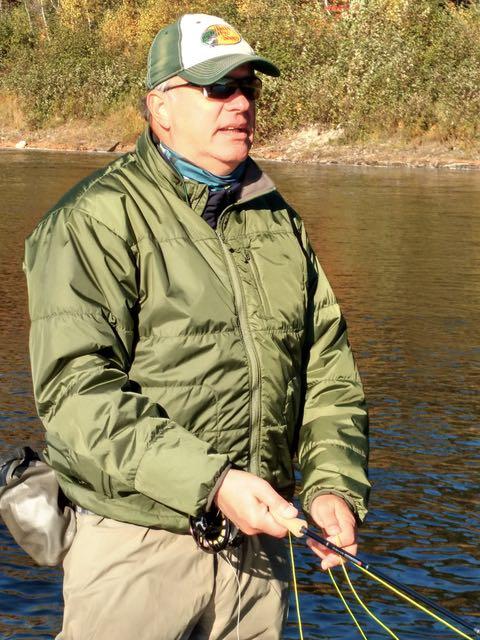 Suddenly, it seemed, it was 6:04 p.m. on the final evening of New Brunswick's Atlantic salmon season. We'd fished the morning back at Moore's Pool on the Cains—Collin lost a big hen after his leader snapped—then moved to some new-to-me water for the afternoon session, Jill's Pool on the Main Southwest. By then, Héroux had said his goodbyes, leaving Collin, Colford and me to finish out the last few hours of the season on our own.
Jill's Pool was a bust, however, and soon we were bombing down a logging road, aiming to fish the last hour of light at Church Pool on the Cains. It was our Hail Mary for getting one last fish, and I secretly prayed a moose wouldn't wander out of the thick roadside alders, or the corduroy didn't send us careening off into the mixed hardwoods. But Colford was at the wheel, and he was on a mission from the fishing gods, determined we catch one last leaper.
My trepidations over a potential accident aside, I was fully supportive of the missionary-like zeal with which Colford raced through the New Brunswick countryside and failing light, mostly because I had to pee like a demon. But in the end, with less than an hour of functional light left after we safely made it to Church Pool, redemption in the guise of one more salmon remained elusive.
Not that both Collin and I hadn't already found success at the altar of Salmo salar, mind you. Indeed, I'd had my own personal miracle on the Miramichi—okay, not the 'Chi itself, but a major trib—with that tagged hen. And besides, it was so serene, so beautiful on that last evening as the sun set below the crimson autumn forest that it wouldn't have mattered if the Lord himself had stepped down from the firmament and personally handed me another fish. Just being there during the last moments of the season was heaven enough.
Learn more about Country Haven Lodge at www.flyfishingatlanticsalmon.com.
For more information on New Brunswick's many attractions, including fishing, go to www.tourismnewbrunswick.ca.