ICED JUMBOS
For non-stop yellow perch action, you need a mix of both aggressive and finesse winter tactics
GEAR
It's vital to be mobile when hopping from hole to hole, so limit your gear as much as possible without handicapping your efforts. To see what's going on down below in real time, a flasher is a must, while the classic five-gallon pail works well for carrying your baits, lures and spare fishing rods. With a little practice, you can quickly pick up your flasher with one hand and the pail with the other and move your whole set-up to the next hole to immediately start fishing again. When moving your flasher, just remember to pick up the transducer and carry it instead of letting it bounce along the ice, which may damage it.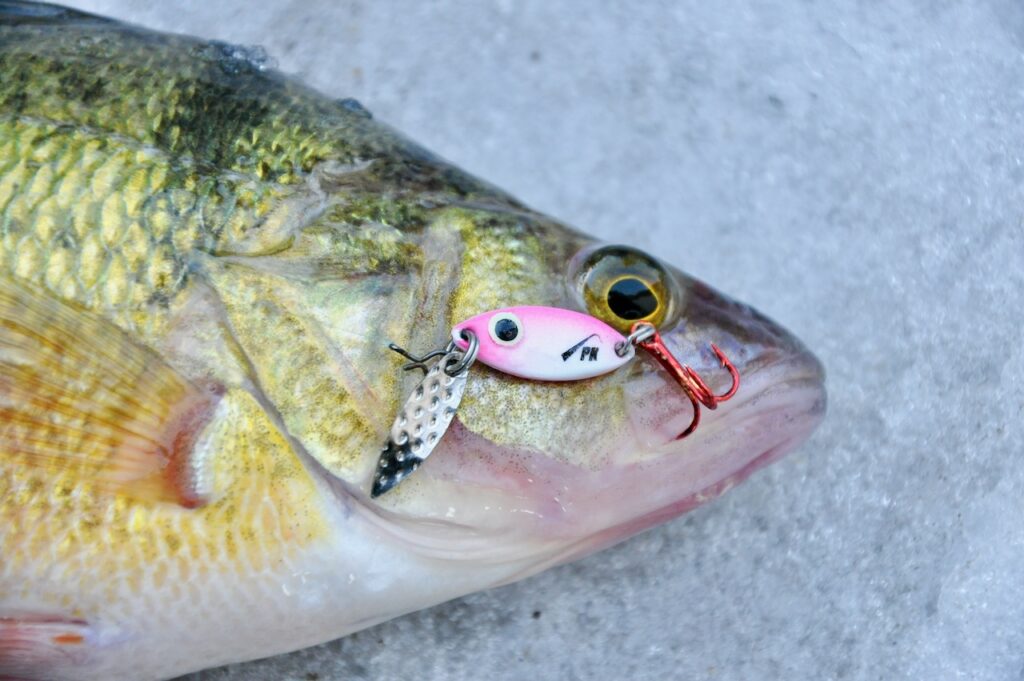 To stay as mobile as possible, I don't sit down when hole hopping. I also use a fairly long ice rod in the 36-inch range so I can fish it over the hole without stooping. It's just one of those little things that saves you from a sore back and neck. My choice rig is a light-action rod with a fast-action tip, and a spinning reel spooled with six-pound fluorocarbon. This set-up lets me feel even the lightest of bites, yet it's strong enough to set the hook and battle fish.
As for lures, small and flashy spoons seem to work best for catching the attention of hungry, roaming perch. Lures that have a slower fluttering action on the drop are also highly effective, since perch can home in on them from a distance. To increase the odds of perch spotting my lures, I often add small spinner blades for more flash and vibration. For bait, go with smaller offerings that emit plenty of scent, but won't spoil the action of your lure. Minnow heads, scented plastics and, where legal, perch eyes all make great baits.