ICED JUMBOS
For non-stop yellow perch action, you need a mix of both aggressive and finesse winter tactics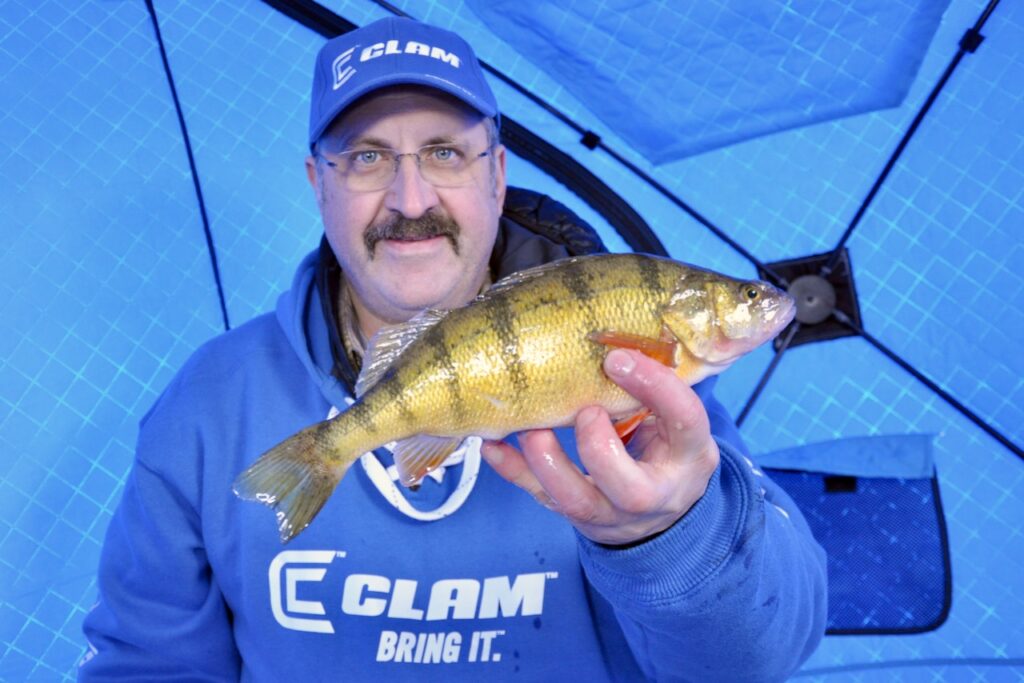 GEAR
An underwater camera is awesome for this style of fishing, and once it's set up, you don't have to keep readjusting it. You can just sit back and enjoy the show below. If you don't have a camera, a flasher is also effective for monitoring the fish.
When sitting in an ice shelter, there's limited vertical room for hooksets, so I like to use a shorter, 24-inch ultra-light spinning outfit, with four- to six-pound fluorocarbon. As for lures, the same small, flashy, bait-tipped spoons you use for hole hopping work well.
Another lure option is a stinger rig, using a spoon that's one size larger. Simply replace the treblehook with a single baited hook dangling on six inches of line. Select baits that move slowly in the underwater current, such as live maggots, meal worms and tiny minnows, along with scented plastics sporting tentacles. Once the spoon lures in a perch, the bait on the stinger seals the deal.
Finally, keep your hole-hopping gear handy. When the perch eventually leave their midday hangout to go on the feed again in the shallows, it's time to emerge from your shelter and chase them down. And that's the beauty of the two-speed approach to perch fishing.