Recipe: Venison Burgundy
Searing, and then simmering brings out unbelievable flavours
My favourite part of any four-legged game animal is the chuck or shoulder section. The meat here is high in myoglobin, making it dark and fatty—and very tasty. This whitetail recipe utilizes the shoulder section, and you can bring out some unbelievable flavours by searing the venison, then simmering it low and slow after that. Add a few hearty potato and herb dumplings and you're set to enjoy this beautiful venison stew on a brisk early-winter evening. Serves 4.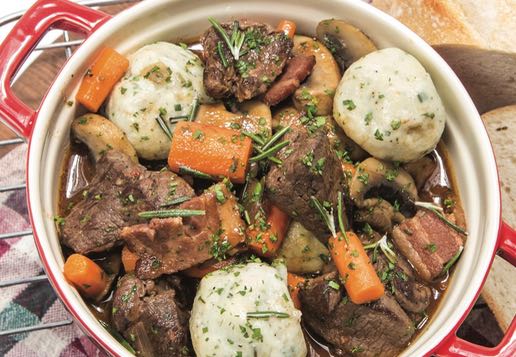 ¼ cup Canola oil
Kosher salt and black pepper
2 lb venison roast (chuck or shoulder)
6 slices thickly cut bacon, chopped
2 cups white mushrooms, sliced
1 cup shallots, finely sliced
2 cloves garlic, finely chopped
2 carrots, sliced
2 tbsp tomato paste
1 cup red wine
1 cup beef stock
1 300-gram can tomatoes, chopped
1 sprig thyme
1 sprig rosemary
Dumplings
1 lb boiled russet potatoes, peeled
6 oz flour
1 tsp kosher salt
1 whole egg
Pinch black pepper
Pinch salt
1 tbsp chopped parsley
1 tbsp chopped rosemary
Instructions
Heat oil in a heavy-bottom pan or skillet over medium-high. Season venison with salt and pepper, then brown on all sides in pan; remove when finished.
Sauté bacon in pan for two minutes, then add vegetables, cooking till soft. Add tomato paste and caramelize for one minute.
Add wine, beef stock, tomatoes and seared venison; cover and bring to a simmer. Cook for 2 hours or until tender.
Grate potato into a mixing bowl, add all remaining dumpling ingredients and mix well. Using a teaspoon, portion out the mixture and roll into round balls.
Cook dumplings for 3 to 4 minutes in a pot of boiling salted water; remove, add to simmering bourguignon and serve.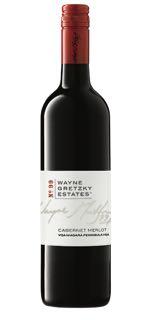 For the glass
The No. 99 Cabernet Merlot from Wayne Gretzky Estates is a great wine to pair with this hearty venison dish. A bold blend with rich flavours of black currant, cherry and spice, it comes at an attractive price of $15.95.