Walleyes of a lifetime
What is up with all the giant walleyes that anglers are catching?
It is the middle of a scorching hot summer here in central and western Canada – one of the hottest ever on record… so what is up with all the giant walleyes that anglers are catching?
Good friend John Monteith was out with his wife Dorothy recently, for a fun day of fishing on Lake of the Woods, and Dorothy landed the biggest walleye John has ever seen. And that is saying something since John runs Fish Hunters Guide Service, the most popular guide business in Kenora. His normal day ends when his guests run out of bait and 75 to 100 walleye days are common. To say that John has caught, landed and handled his fair share of giant walleyes is an understatement.
"It was a stout 34-inches long," John said, "With an amazing girth. As a matter of fact, it's tail went well over the end of my ruler."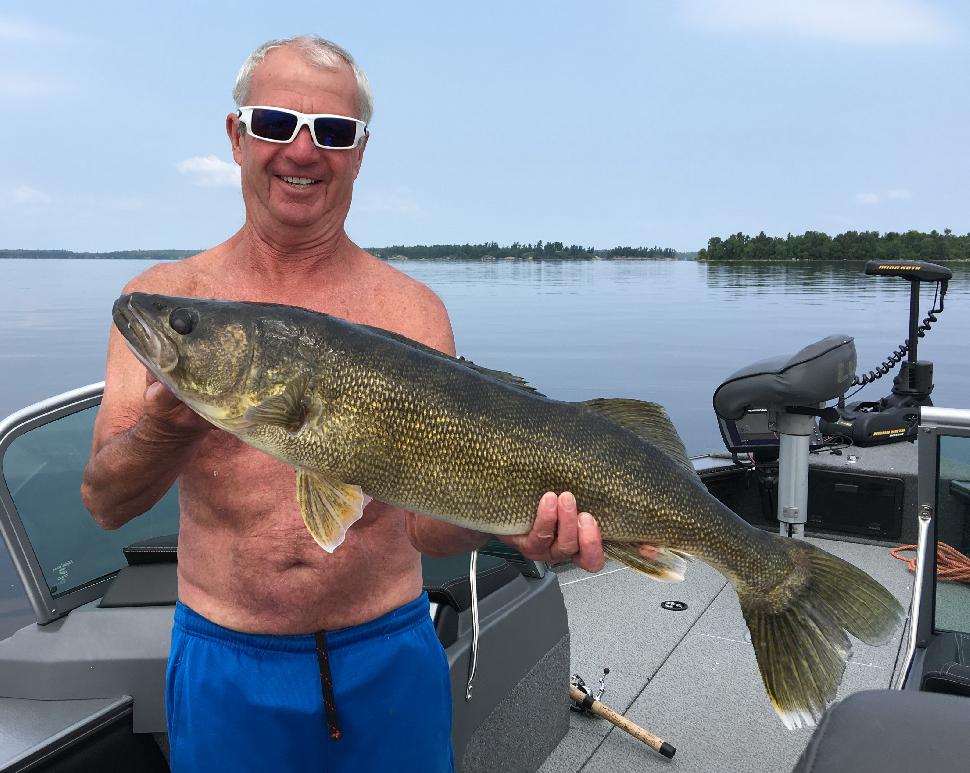 And while the early bird may get the worm, Dorothy's giant walleye was a last minute affair.
"To be honest," John said, I had already pulled up the MinnKota trolling motor and was starting to leave when I noticed a couple of nice marks on the Humminbird. I said, "look at those, Doe" and because it was flat calm, Dorothy simply dropped her jig back over the side of the boat. When the fish hit, I was certain it was a big pike, but then I saw this monster walleye come up."
Dorothy caught her giant on a 1/4-ounce Reel Bait Flasher jig tipped with a minnow and, to her credit, quickly released the fish to spawn again. It seems her good deed didn't go unrewarded, because as she was watching her fish swim away, John felt a bump on the end of his line and hooked a "smaller" 30-inch, 10-pound giant.
What can I say—when you're hot, you're hot!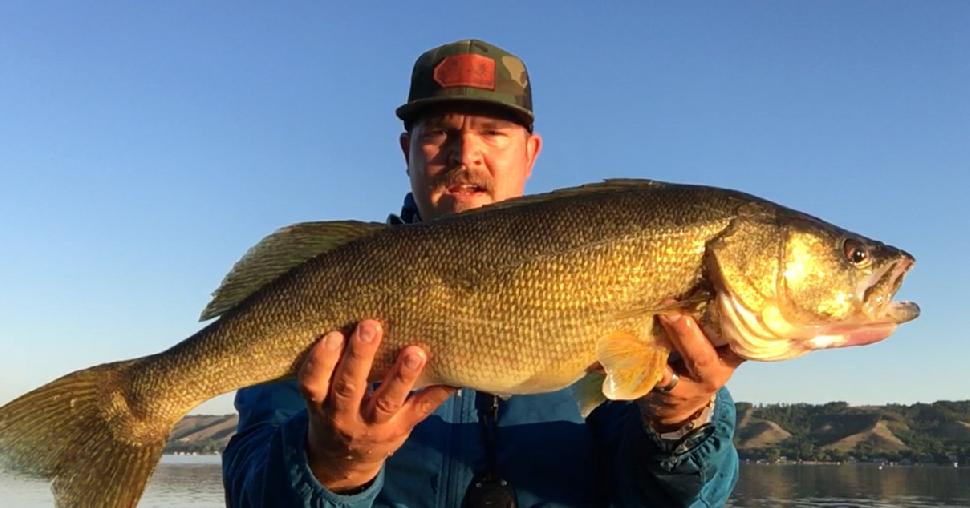 And speaking of hot, Saskatchewan angler Taylor Peck has been on fire of late, catching walleyes up to 14.55 pounds.
It is ridiculous!
Taylor fishes from the family cottage in the Qu'Appelle lake system—Echo, Pasqua, Mission and Katepwas lakes. A routine vacation day finds him alone in the boat from 5AM until 10AM, when he comes in and picks up his eight-year-old daughter Liv and six-year-old son John. They typically then fish together until noon.
"In 2011, the year of the floods here," Taylor told me, "I landed my biggest walleye in mid-June, on a jig and leech combination, fishing in 10 feet of water. It was a 12.75-pound beauty. I've been fortunate to land a handful of nice fish in the 8- to 10-pound range.
"I don't seem to catch as many fish when the kids are with me, as I pass over every hook-up, alternating between the two of them. I am proud to say that my kids are competent anglers, even at their young ages, baiting, casting, netting, handling and releasing their fish. They know nothing but catch-and-release."
Taylor tells me he has been catching walleyes all summer long this year, having his best success with jigs tipped with live bait and trolling crankbaits in eight to 15-feet of water.
"Usually the fish have moved deeper by this time in the summer," Taylor says, "but I've managed to keep tracking them down in shallow water, even thought it has warmed up."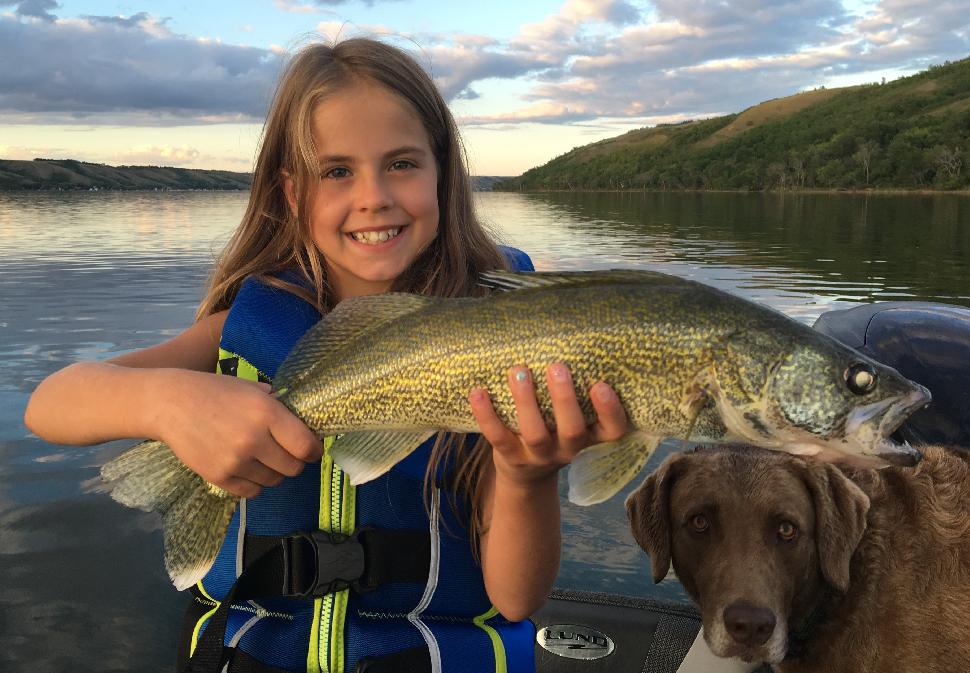 I should mention, too, that while Taylor loves fishing with bottom bouncers, he hasn't enjoyed his normal success with them this year. That is until the recent morning of August 12th.
"I was trolling a Mack's Smile blade rig behind a 1.5-ounce bottom bouncer at 1.2 miles-and hour," Taylor says, "with a 36-foot lead when I hooked the monster in 15-feet of water.
"I was amazed at the size of the walleye. I have only seen pictures of fish this big. Even more surprisingly, though, I caught it in the Calling Lakes system, which is not known for walleyes this big. After making a few calls around I understand it is likely the biggest walleye that has ever been caught from the system. How cool is that?"
It is very cool, and ever cooler still, that Taylor carefully released his prize.
"I contacted biologist Jeff Matity, who runs the Qu'Appelle Fish Culture station," Taylor says, "and Jeff informed me that he rarely sees walleyes this big when he is live trapping the lakes in the spring collecting eggs for the hatchery. When he does, however, the giants typically produce several pounds—hundreds of thousands—of high quality eggs.
Indeed, Matity confirmed that Peck's walleye is the biggest he has ever seen or heard about in the Qu'Appelle lake system.
"The real story for me," says Matity, "is that Taylor is a true sportsman. He fishes the shallowest water he can get away with, 15 feet in this case, and at no time did he keep the fish suffering while he decided to kill it or not. He had his camera ready, got his photos and then released it alive and healthy. I will be keeping an eye out to see if it shows up in our spawn camp nets next spring. At the time he captured her, she was 33-inches long, had a 19-inch girth and weighed 14.55 pounds. This means that next spring, she will be approaching 24-inches in girth, weigh slightly more than 16-pounds and be carrying more than 400,000 eggs.
"So, not only did Taylor get the most from his fish, his story continues as he is directly responsible for an additional 400,000 eggs of superior quality and genetics returning to the system. That would have never happened if he had killed her for the wall."
"I'm still on Cloud Nine," Peck chuckled, "riding out this feeling for as long as I can."
Enjoy the ride, brother, enjoy the ride.