Made to wade
What to wear for walking in water—and keeping comfortable
Next to a khaki vest and a battered felt hat, fly fishing's other iconic accessory is a set of waders, and for good reason: waders are near essential for river anglers, and pretty darn useful in many other situations. That's why waders come in a dizzying variety of styles, materials and, naturally, prices.
If you walk into a tackle shop waving a no-limit credit card and say, "Garcon! Equip me with your best wading outfit," you'll walk out with some very fine gear and about $600 poorer. But you may not get what you actually need. To figure out which waders are best for you, first consider where and when you'll use them, and how often. That will help determine the style and materials you choose.
Style
The first decision is height. The general rule is that your boot tops should be 12 to 18 inches above the water line, so you don't get wet when sloshing upstream or stepping into a hole. Chest-high waders provide the most coverage, making them the most versatile and the best choice when fishing in strong currents and deeper pools. They're also the only choice when you're in a float tube or sit-on-top kayak.
But don't ignore hip boots. Typically inexpensive, they're quick to put on and take off, and easy to store. They're also cooler in hot weather and fairly comfortable for hiking. For my first 20 years of fly fishing, I only wore hippers, but I also stuck to creeks, small rivers and shorelines.
A third, and more recently introduced option, is a set of waist-high "pant" waders (above), which splits the difference between chest waders and hip boots. They're lighter and cooler than chest waders, but still keep your bottom covered if you sit on a damp spot.
Material
The most versatile—and most expensive—wader material is Gore-Tex or a similar breathable fabric, which allows perspiration to escape while keeping water out. Fitting like slightly oversized trousers, breathable waders are light and cool, making them the best choice for warm-weather fishing. And though breathables aren't insulated, you can also use them in cold water overtop wool or fleece pants and a base layer.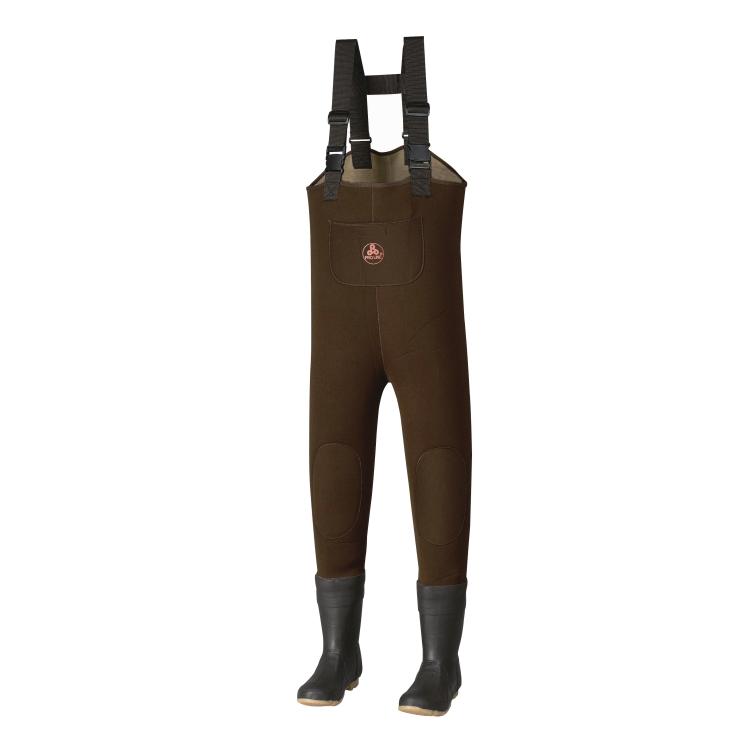 However, if you fish exclusively in cold water (or need to use your waders for waterfowling, as well), it's tough to beat the warmth and durability of neoprene (above). Ranging in thickness from three to five millimetres, neoprene waders insulate you from the cold, but they're downright sauna-like in warm conditions.
A third option is rubber-coated nylon waders. Though not breathable, nylon is tough, waterproof and quite inexpensive. If you're on a tight budget or only wade occasionally, nylon is a solid choice.
Boot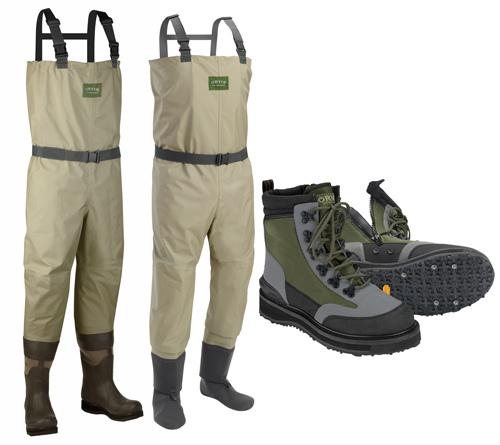 For many years, the only option was one-piece waders with hard-soled rubber boots attached to the upper fabric. Today, many mid-range and high-end waders sport neoprene stocking feet, over which you wear separate wading boots. Both styles (pictured above) have pros and cons, and the deciding factors are simply budget and personal preference. Boot-foot waders—in any material—are considerably cheaper, since you don't need to buy additional footwear. They're also easier and faster to put on. However, you can't tighten or loosen the boots for a custom fit.
If you're willing to pay for separate wading boots, you'll typically get a better fit and improved traction, which count for a lot on a long day of wading. Sand or gravel can find its way into your boots, however. Not only is this uncomfortable, the grit can also wear a hole in the wader material if not removed.
You can also swap out wading boots for swim fins to fish from a float tube, and I've seen kayakers wearing Crocs over stocking-foot waders, which looks comfortable if not dubious from a fashion perspective. Regardless of which style works for you, reliable waders open up a wide range of fly-fishing opportunities.
Extras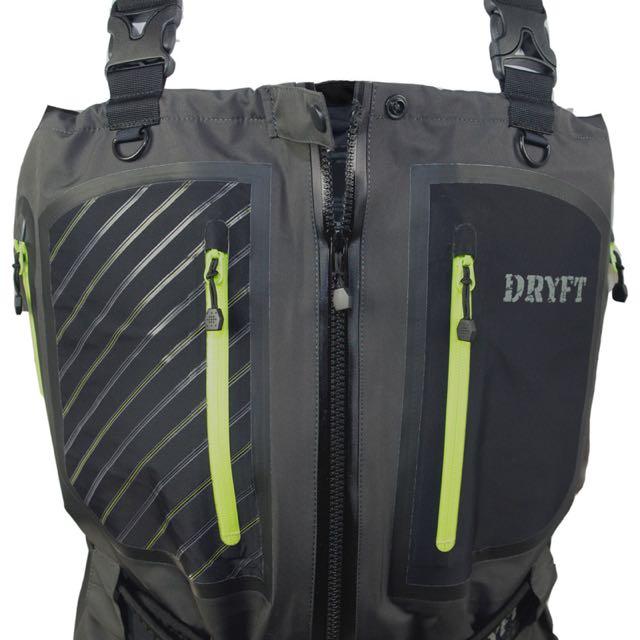 Why are some waders pricier than others of comparable style and material? Blame the extra features. On the must-have list are padded, reinforced knees. And stocking-foot waders absolutely require gaiter-like gravel guards to help keep debris out of your boots. Other features include wading belts, hand-warmer and storage pockets, removable suspenders and a front zip (above) for the impatient or small-bladdered angler.