Quality (trout) time
Across the prairies, specially stocked stillwaters are serving up super-sized rainbows and more
I'm sitting on my pontoon boat's padded seat, anchored in Muir Lake. It's a pretty little pond in the boreal forest, within an easy hour's drive west of Edmonton. From a casual observer's viewpoint, it would appear I'm doing absolutely nothing. The same goes for the dozen or so other Muir regulars spread over this modest, peanut-shaped pothole, all seemingly locked in the same semi-comatose state.
Look closely, though, and you'll see we're all focussed on our strike indicators—until they suddenly vanish beneath the surface, that is. When that happens, the angler rips on his fly rod and sets the hook in a parabola of spray. The battle concludes several minutes later when a crimson-flanked rainbow trout—the gold standard at Muir is just over 19 inches—slides reluctantly into the net.
This same scenario is likely to be repeated at 20 other Alberta trout lakes, as well as the many similarly managed rainbow fisheries in the Thompson-Okanagan and Kootenay regions of B.C., the renowned Parkland complex in central Manitoba and the largely unheralded nexus of trout stillwaters in the Narrow Hills northeast of Prince Albert, Saskatchewan.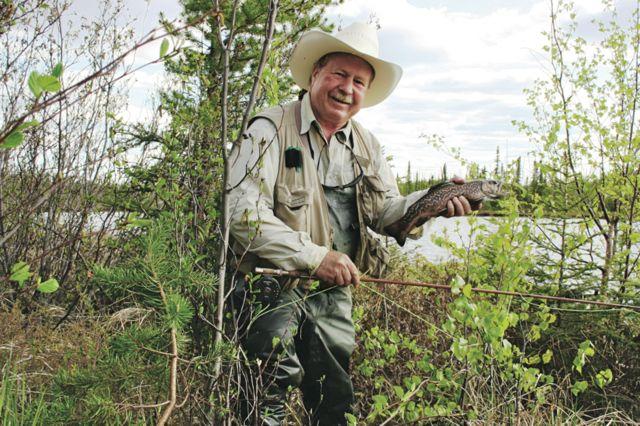 With the exception of Saskatchewan's relatively unpressured hawg holes, these waterbodies owe their super-trout status to angler groups who have convinced provincial fisheries managers to put special regulations in place, allowing the trout to grow to trophy-calibre sizes. Add triploid trout—made sterile to avoid spawning stress—to the stocking mix and the growth rate is truly phenomenal.
Not only are the fish big in these quality stocked trout fisheries, or QSTFs, they're also many rungs further up the intelligence ladder from naive hatchery truck rainbows. And that requires fishing techniques that may seem foreign to the orthodox, flowing-water trout angler.
Stillwater patterns
First, you're going to need a whole new suite of flies to succeed on these western lakes. While mayflies, caddisflies and even grasshoppers occasionally appear on the surface, the bulk of the trouts' diet consists of chironomids (both larval and pupal phases), leeches, scuds, damsel- and dragonfly nymphs, backswimmers, water boatmen and sticklebacks.
With the exception of water boatmen—whose autumn breeding flights and kamikaze-like dives on sunny September afternoons can trigger cosmic fishing—most of the feeding takes place out of sight, below the water's surface. That can make the fishing seem more like an act of faith than a cognitive strategy.
On these waters, you have two options: give the fly movement by casting-and-retrieving or trolling; or fish with a static line, the fly suspended under a strike indicator.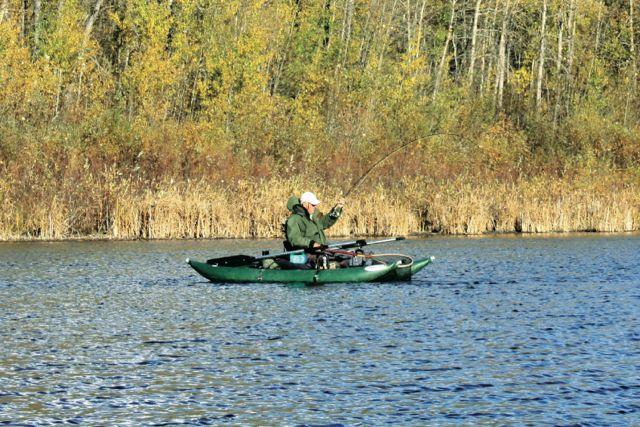 Backswimmers, water boatmen, scuds and damsel- and dragonfly nymphs are actively swimming food sources, so imitations are best fished with movement. Leeches and stickleback patterns can also be presented successfully by retrieving; or, they can be suspended under a strike indicator. Since chironomids suspend in the water column, where they're eaten in huge volumes by stillwater trout, imitations are fished most effectively without animation under an indicator.
Suspended animation
Not that suspended patterns are totally motionless. In western Canada, Ian Tyson's four strong winds blow most of the time, so there's almost always going to be a degree of chop on the water. The attraction of leech and stickleback patterns, which are usually tied with flowing marabou tails, is clearly enhanced by the up-and-down cadence of the strike indicator.
A mid-August trip to southwest Alberta's Police Outpost Lake illustrated just how deadly this presentation can be. Towering over the lake is Chief Mountain, which the Blackfoot Nation considers the spiritual home of their great deity Napi, who happened to be in a foul mood on this particular day—a big wind roared down the eastern slopes, dragging along occasional rain squalls. Nonetheless, I counted 15 trucks in the boat ramp lot while I launched my pontoon. Such is the allure of lakes regulated to produce big trout, even when the weather is dire.
Off the lee shore, I found a little relief from the blow and set the anchor. Along with a floating line and strike indicator, my five-weight trout rod was armed with a Balanced Leech, a unique fly pattern developed for static-line fly angling. It's essentially a standard black-and-maroon leech pattern of dubbed rabbit fur and a black marabou tail, but with a twist. The hook's eye is bent down, and a section of common sewing pin is tied to the shank, extending past the eye. And attached to the end of the pin is a tungsten bead head.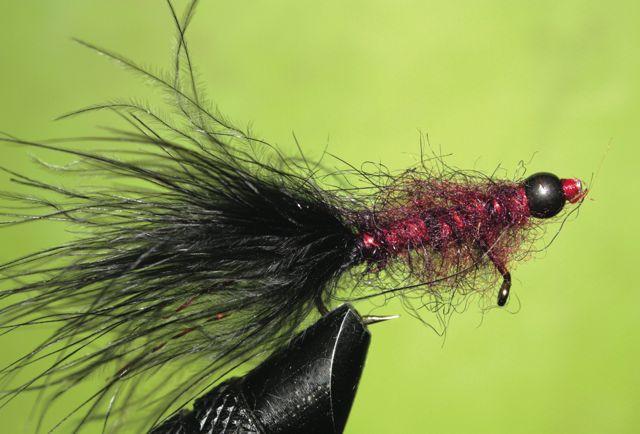 When suspended under an indicator, the counterweight of the bead head presents the fly horizontally without having to strip it. It's obviously a successful adaptation, because no sooner had my Balanced Leech settled near the bottom than the strike indicator bobbled and I was into a good fish. Several more would follow.
Of course, indicator fishing is also an effective flowing-water tactic when presenting a nymph pattern to trout holding near the bottom of a run. In the stillwater variation, however, the fish come to the fly rather than the other way around.
Best practices
Although other angling disciplines can catch good numbers of quality stocked trout, the fly rod is the dominant weapon of choice at most lakes. That's not surprising considering it was the fly-fishing community that largely led the QSTF movement. Plus, the fly rod has proven effective at catching these big, stillwater fish.
Access is always going to be a barrier on many of the prairie trout fisheries, where the marshy margins and unstable bottoms make bank angling not only problematic, but often dangerous. Some jurisdictions have built casting docks, but in most cases some form of watercraft is required. The top choice in most areas seems to be the pontoon boat, although you'll also see an eclectic mix of float tubes, aluminum car-toppers and other small boats. There are usually motor and speed restrictions, so check before you go.
QSTFs present a unique and growing opportunity to catch impressive numbers of large trout within easy travelling distance of large western Canadian population centres—as long as anglers are willing to think outside the fly box.
Edmonton contributor Neil Waugh pursues trout in Alberta's foothills, boreal forests and prairies.
Where exactly are the West's quality stocked trout fisheries? Find links for each province's stocked waters at www.outdoorcanada.ca/qualitytrout.