Tungsten to the Rescue
Tungsten lets you downsize your lure for tough bites
I am still revelling over the absurd black crappie bite I lucked into the other day. It was almost too good to be true. One of those far-too-rare, don't-pinch-me moments, because if this is a dream, I don't ever want to wake up. The vast majority of the plate-shaped black beauties I landed registered a solid foot in length (I don't think I caught but two or three shorties), with many some inches longer.
Usually, too, when you first arrive at the lake you're fishing, you're forced to do a little bit of prospecting and scouting around high-potential structure and cover options, drilling holes over different water depths and searching for fish. But after I cleared away the slush from the first hole I drilled, and dropped down the transducer on my Humminbird Helix 9, the screen flickered with fish. There were so many marks, I honestly thought they were either perch or "silver dollars"—small five-, six- and seven-inch crappies that like to bunch up, and party together. So I was pleasantly surprised when I dropped down my jig, and then watched a fish shoot up to intercept it before it had barely cleared the hole. It doesn't happen this quickly very often, so when it does, I'll take it.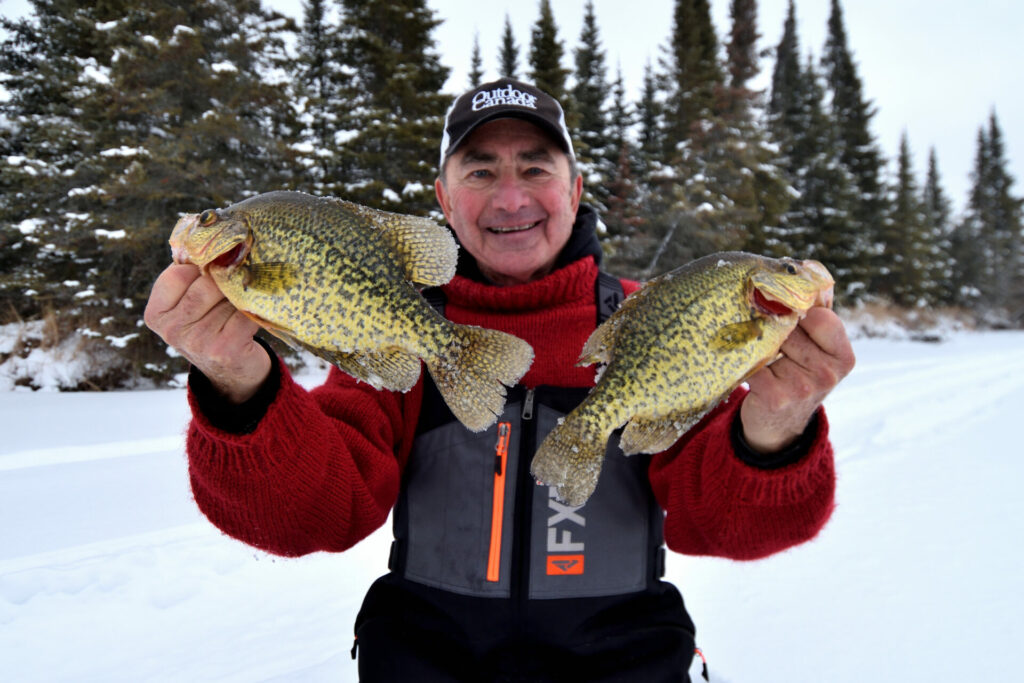 I should mention, too, that I was using a 5 mm Acme Tungsten Jig adorned with a 2¼-inch Mister Twister Sassy Stingum.  It's a deadly panfish presentation that I have come to adore over the past several winters for a couple of reasons—but not the ones you might first suspect.
I always chuckle when fellow ice anglers tell me that they use tungsten jigs because they sink faster than lead, because it reminds me of the schoolyard brain teaser about what falls faster: a one pound lead ball or one-pound package of feathers?  Of course, weighing the same amount they both fall, more or less, at the same speed.
Where I find tungsten excels, however, is in its relative small size in relation to its weight. So, you can use a much smaller tungsten jig—a big benefit when you find the fish tight-lipped—without sacrificing the rate of descent. Another huge advantage—and the one I prefer the most—is going in the other direction. That is, I use a significantly heavier tungsten jig that does fall faster than a lead one of the same size, but without increasing the bulk of the lure.
For sure, there are a few times when I like the wafting quality of a lighter presentation floating in the water beneath my hole, but given my druthers, I almost always favour a more sensitive, controlled, tight-line approach in the winter. So, when I team up a tungsten jig with two-, three- or four-pound-test line, and a rod with the proper tip action, I find it's much more sensitive and responsive. 
As a footnote to the action the other day, because the crappies were so combative, I dug out a second rod on which I had tied on one of the new Kastmaster DR Tungsten spoons that I have wanted to test (above). Compared with their brass brothers they're three times heavier. Or, looking at it the other way, three times smaller than a brass spoon of the same weight. I've never taken candy from a baby, but popping the diminutive, yet heavy ⅛-ounce tungsten spoon gave me a good idea what it would be like.
Tungsten to the rescue!