Prairie paradise
It's a waterfowler's dream—the chance to hunt ducks, geese and sandhill cranes all in one day. Welcome to southeastern Saskatchewan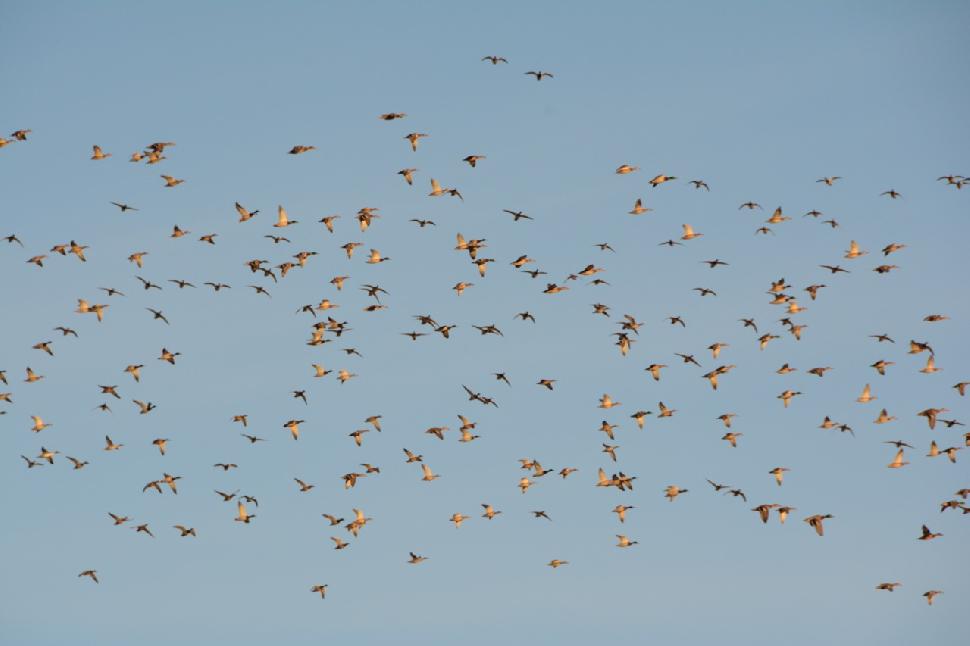 The residents of Saskatchewan were more prophetic than they imagined when selecting "Land of living skies" as the slogan for their licence plates. Undoubtedly referring to the border-to-border vistas dominated by seemingly endless azure skies, the motto could just as easily allude to the millions of waterfowl that trade on the province's prairie winds every year. Saskatchewan constitutes the very heart of the renowned Prairie Pothole Region, after all, the epicentre of North America's waterfowl breeding habitat.
Also celebrated for producing grain—a favourite food of migrating ducks and geese—Saskatchewan is home to barely more than a million people, so it's little wonder waterfowl hot spots abound throughout the province. And while many of those areas have deservedly earned international acclaim as waterfowling destinations, I've fallen hard for the southeastern region. There, a staggering number of geese, ducks and sandhill cranes make for a spectacular trifecta of bird-hunting opportunities. Living skies indeed.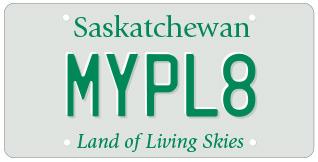 I first experienced waterfowling in southeastern Saskatchewan some 25 years ago, when an old friend and I met in Yorkton. He was travelling west from Winnipeg and I was headed down from Edmonton, so it seemed like a practical meeting point for getting together to hunt geese and spend a few days catching up. In the afternoons and evenings, we'd scout for feeding birds and secure permission to hunt. Not once did we fail to find geese, nor did we have difficulty getting access. As I've discovered over the years, the relative lack of hunting pressure coupled with welcoming landowners is one of Saskatchewan's many charms.
That was the era of goose chairs—think oversized Canada goose decoys affixed to reclining lawn chairs. In the mornings, we'd put out our spread: three dozen G&H Canada goose shells and another two to three dozen silhouette duck decoys. The silhouettes were simply half-inch plywood panels cut in roughly the shape of heads-up mallards and spray-painted matte black—barbecue paint was our enamel of choice for the task. We'd face our goose chairs downwind, surrounded by a shallow U-shaped spread of decoys.
All in all, by today's standards the set-up was small and rudimentary, limited in size and density by the few decoys we had to work with. Nonetheless, on three consecutive mornings we enjoyed tremendous shoots of Canada geese and a mix of pintails and mallards. While we didn't limit out each hunt, that was more a function of shooting prowess than opportunity. And just like that, I became a convert, and vowed it would not be the last time I would hunt in southeastern Saskatchewan.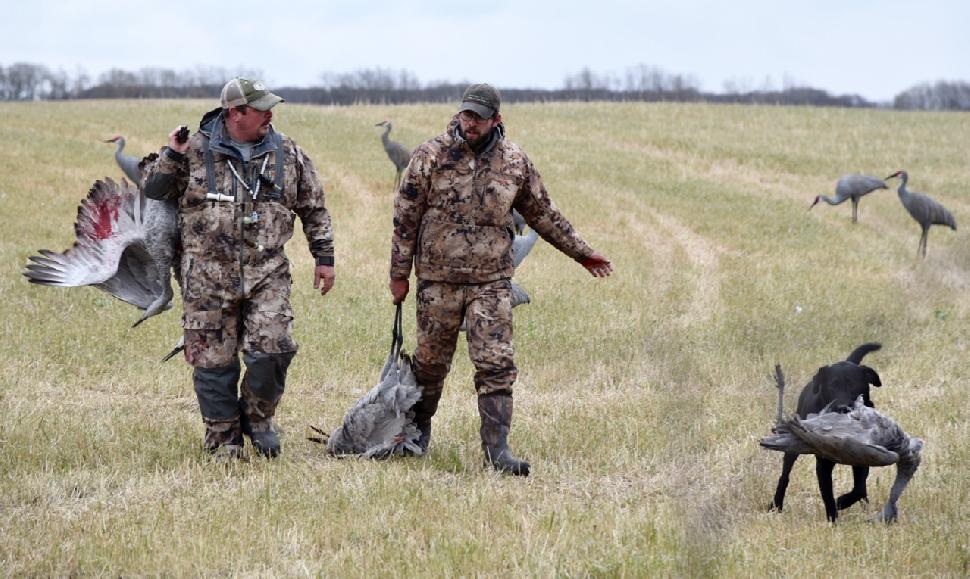 Unfortunately, life has a way of conspiring against our recreational aspirations. Almost 10 years passed before I had a chance to return, this time lured by a friend from work to go after sandhill cranes, which I'd never hunted before. He had been hunting these migratory birds for many years in Saskatchewan, and wanted me to experience for myself what all the fuss was about.
Our home base would be Wynyard, a small, hunter-friendly town just 140 kilometres northwest of Yorkton on the Yellowhead Highway. Situated at the southeast corner of the renowned Quill Lakes, one of the most widely recognized waterfowl staging wetlands in the Prairies, Wynyard is a mecca for dedicated waterfowlers. In those days, the motels and restaurants all posted signs welcoming hunters, and even amended their schedules and amenities to accommodate their waterfowling guests.
I soon learned that hunting cranes is not a lot different from hunting geese. Spotting is 75 per cent of the battle, and sandhills, like Canadas, target grain fields as their destinations of choice for fine dining. Another similarity to geese (and ducks) is the general disdain farmers have for cranes when they're wreaking havoc on unharvested crops, which explains the ever-present welcome mat farmers afford hunters in these parts.
For our hunts, we headed southeast from Wynyard down the highway toward Foam Lake, which has a reputation as an important local roost for cranes. On our first outing, we were still a good 10 kilometres from the lake when we saw the first skeins of sandhills drifting westward. As with hunting any waterfowl in fields, the strategy, once they're off the roost and in the air, is to pursue them in hopes of pinpointing where they're feeding. Over the course of that late afternoon and early evening, we followed wave after wave of cranes and soon had several promising fields mapped out.
As a crane-hunting neophyte, I didn't really question why we had neither blinds nor decoys with us. My partner seemed to know what he was doing, and I was content to sit back, observe and soak in as much knowledge as I could. This was my opportunity to learn the tricks of the trade from a crane expert, and I wasn't about to question anything, no matter how strange it appeared to me. Besides, travelling light is always preferable to hauling a ton of gear around, provided your success is not compromised, of course.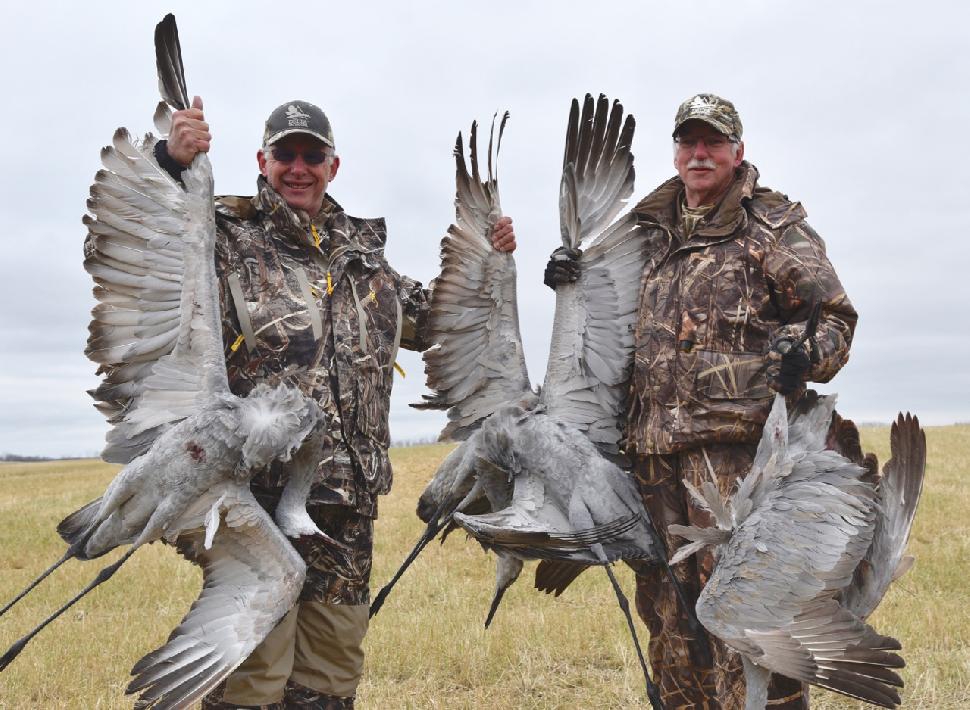 As I was to discover, there are two broadly accepted yet widely dissimilar tactics for hunting sandhills. First, you can hunt cranes much as you do geese, setting up blinds and decoys in feeding fields. When all goes right, you're shooting cranes at relatively close range as they settle into your spread. The other approach is to pass shoot them.
Now, pass shooting is considered by some to be a lazy approach to waterfowling. Requiring minimal equipment, it's essentially all about intercepting birds as they're flying from one location to another. It's largely ineffective for geese and ducks, although most of us have done it at one time or another. Generally, it means long shots. And given that most pass shooting takes place from headlands or roadside right-of-ways on public land, the retrieval of downed birds can be a challenge.
As it turns out, however, cranes are a bird of a different feather when it comes to pass shooting. For starters, they're much more predictable in their flight paths from roosts to feeding fields, almost as though there are lane markers in the sky. Plus, they tend to fly lower than geese and ducks when heading out to feed. Ironically, for birds that appear somewhat ungainly on the ground, they're graceful in the air.
Those first crane hunts were a success by every measure. With no decoys or blinds, we were clearly there with the intention of pass shooting. Positioned either along vegetation-covered fencelines or behind round bales, we shot near limits on two consecutive mornings. Most often, the cranes would follow precisely the same flight paths they'd used when we spotted them the previous evenings, though occasionally we'd have to sprint down a fenceline or between bales to better position ourselves for the next flight.
More importantly, over those two days I learned just how much fun crane hunting can be—their unique physical appearance is undeniably entertaining. I also abandoned my long-held belief that these birds are not particularly good to eat. In fact, I discovered that quite the opposite is true, and to this day, I prefer a young crane on the table to a Canada goose.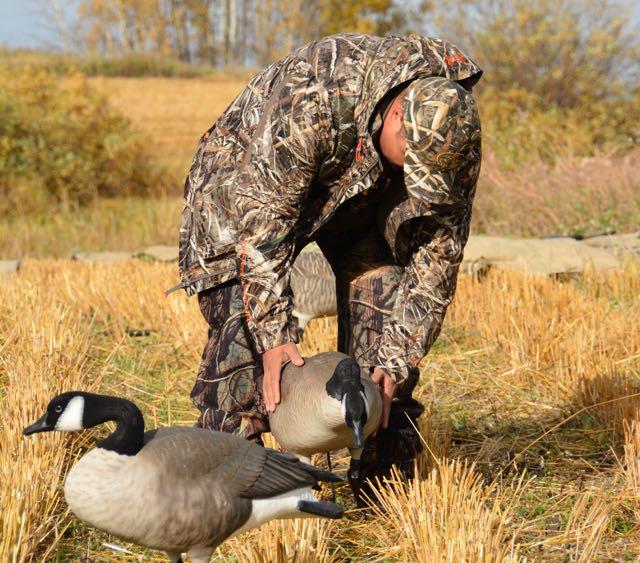 It would be a few more years before I would again experience the abundant opportunity that southeast Saskatchewan offers waterfowlers. Fortunately, for each of the past two autumns, I've had the pleasure of hunting ducks, geese and cranes from Tony Vandemore's renowned Habitat Flats camp, just outside of Yorkton. This is a first-class operation all the way, from ultra-comfortable camp facilities and home-cooked meals to a cadre of professional guides using the latest in equipment.
During my time there, I hunted exclusively from Zink Avian-X A-Frame blinds, which are comfortable and roomy. And when fully dressed with natural vegetation, they look amazingly natural, especially against the backdrop of a slough margin or native shrubs and trees. They're certainly a far cry from goose chairs or cowering behind a hay bale. As for decoys, we set out more goose and duck blocks than I cared to count. And when hunting cranes, several dozen full-bodied decoys did the trick, each painted so realistically that you had to get pretty close to distinguish them from the real thing.
Clearly, my experiences these past two falls were a significant departure from my earlier forays in the region. In part, that reflects the passing of time and the associated evolution of equipment. But it also speaks to the differences between do-it-yourself hunting and being pampered by professionals. Despite these differences, however, there was one thing that hadn't changed a lick over the 25-plus years: southeast Saskatchewan remains an unparalleled destination for waterfowlers.
The birds themselves have changed somewhat over the years, mind you, but all for the better. Pintail numbers have recovered meaningfully since the record lows of the mid-1990s, and mallard populations have absolutely skyrocketed. Canada geese continue to be abundant, and unprecedented increases in continental snow goose populations have provided additional fall opportunities and an altogether new hunt in the spring. As for sandhill cranes, our oldest surviving bird species continues to trace those living skies every fall.
The good old days? Forget about it. Make the time to hunt southeastern Saskatchewan's waterfowling trifecta and you can live them first-hand—today.
Learn more about Habitat Flats at www.habitatflats.com.
For more tips on hunting sandhill cranes, go to www.outdoorcanada.ca/sandhills.