Giant slayers
To attract and catch fall's largest walleye, think big
Big baits catch big fish. This maxim is never more true than when you're fishing for walleye in the fall. So if you prefer trolling for walleye, troll with big crankbaits. If you're partial to casting, throw big, soft-plastic swimbaits pinned to heavy jigheads. And if your bias runs to live bait, select the largest minnows you can find. Let me elaborate.
Years ago when I worked at Ontario's Ministry of Natural Resources, I rubbed shoulders with some of the brightest minds in the world of fisheries. One colleague, Peter Colby, headed up the province's walleye research unit and wrote the seminal scientific paper The Synopsis of Biological Data on Walleye for the United Nations.
I'll never forget sitting in Colby's office as he explained how a walleye will target a specific size of prey item based on its own body size. And get this: the size of the prey is typically much bigger than most anglers assume, especially in the fall when walleye are bulking up to survive the winter. It's all part and parcel of getting the biggest award for the expenditure of energy, something walleye excel wonderfully at.
Still, many walleye anglers are reluctant to increase, in even the most minuscule way, the size of their offerings. They don't realize that by trolling with a mere three- or four-inch minnowbait, casting with a similarly sized soft-plastic swimbait or dangling a puny minnow over the side of the boat, they're making a unconscious decision to avoid catching the very fish they're seeking.
Take this example. Late last fall, my buddy Bob Izumi rolled into my hometown of Kenora, Ontario, to film a fall walleye episode for his Real Fishing Show. For years, I'd been telling Bob how productive large, six-inch, soft-plastic swimbaits are for targeting giant fall walleye when you pin them to ¾- and one-ounce saltwater jigheads and fish them aggressively. Even modest-sized walleye will choke down the things, but from Bob's under-the-breath mutterings about "fiction writers," I could tell he wasn't sold on the idea.
That wasn't the case four hours after we had launched the boat, fished only two locations, caught a score of head-throbbing walleyes and northern pike and had the complete show signed, sealed and delivered. Bob walked away shaking his head in disbelief and admitting he'd never seen anything like it before.
And here's the exclamation mark to the story. After we enjoyed the slugfest and completed our morning mission, we still had the afternoon to shoot a bonus second segment. With the fish corralled inside our waypoints, it should have been like shooting ducks in a barrel, except for one thing: Bob and his brother Wayne decided to focus the second episode on drop-shotting, a fabulously underused technique for walleye. Since we hadn't planned to film another segment that day, however, we didn't have the extra-large five-, six- and seven-inch minnows that are so effective for this technique during the fall. As a result, Bob and Wayne were restricted to using small, leftover crappie minnows they had on hand.
The result? A few walleye half-heartedly bumped the baits and the boys struggled to catch fish. The ones they did hook were considerably smaller than the bullies that only minutes earlier had terrorized our big swimbaits. It was a night-and-day difference, as though we were fishing on a totally different lake, and yet the only change was the size of our baits. By drop-shotting small one-, two- and three-inch minnows, we were appealing to the smaller fish in the school. But when we tossed big, soft-plastic swimbaits, we were picking fights with the biggest, baddest, boldest walleye in the pack. So, do yourself a favour and think big when it comes to fall walleye.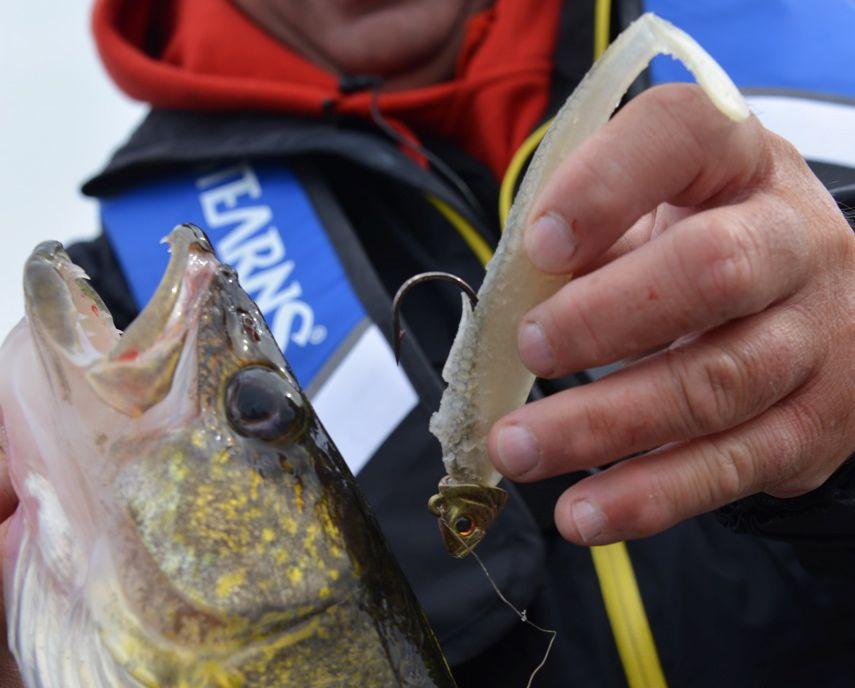 Bonus tip: By the time a walleye reaches 17 inches in length, it's already eating five- and six-inch baitfish. Extrapolate that trend for a 29-, 30- or 31-inch walleye, and you can see that it's quite capable of striking a six-, seven- or eight-inch long crankbait or soft-plastic paddletail.