Fundy bass
Hitting the water with TV's Fish'n Canada Show
What if I said you could drop-shot for bass in 30 feet of water and an eight kilometre an hour current using a one- to three-pound sinker, a main line of 80-pound braid and a 100-pound monofilament leader? Oh, and you'd have a size 10/0 hook. Would you believe me? Well, that's the game when you're fishing for striped bass in the Bay of Fundy, as we recently discovered near the town of Economy, Nova Scotia.
Pete and I have been fishing for East Coast stripers for years now, but this was the first time I'd ever sampled Fundy for these belligerent beasts. Normally, we hit flowing tributaries that connect with the bay, which is the source of the biggest and most healthy migratory striper population in Eastern Canada.
On our latest trip this past September, I brought along my grandson, Nik, for the filming of another episode of Fish'n Canada. He had never battled a striper before, so he was due. During out first day out in Fundy's Minas Basin, we used the heavy-duty drop-shot rig to catch more than a dozen fish weighing up to and well over 20 pounds. Cut up herring was the bait of choice—like I said, there's nothing finesse about this presentation.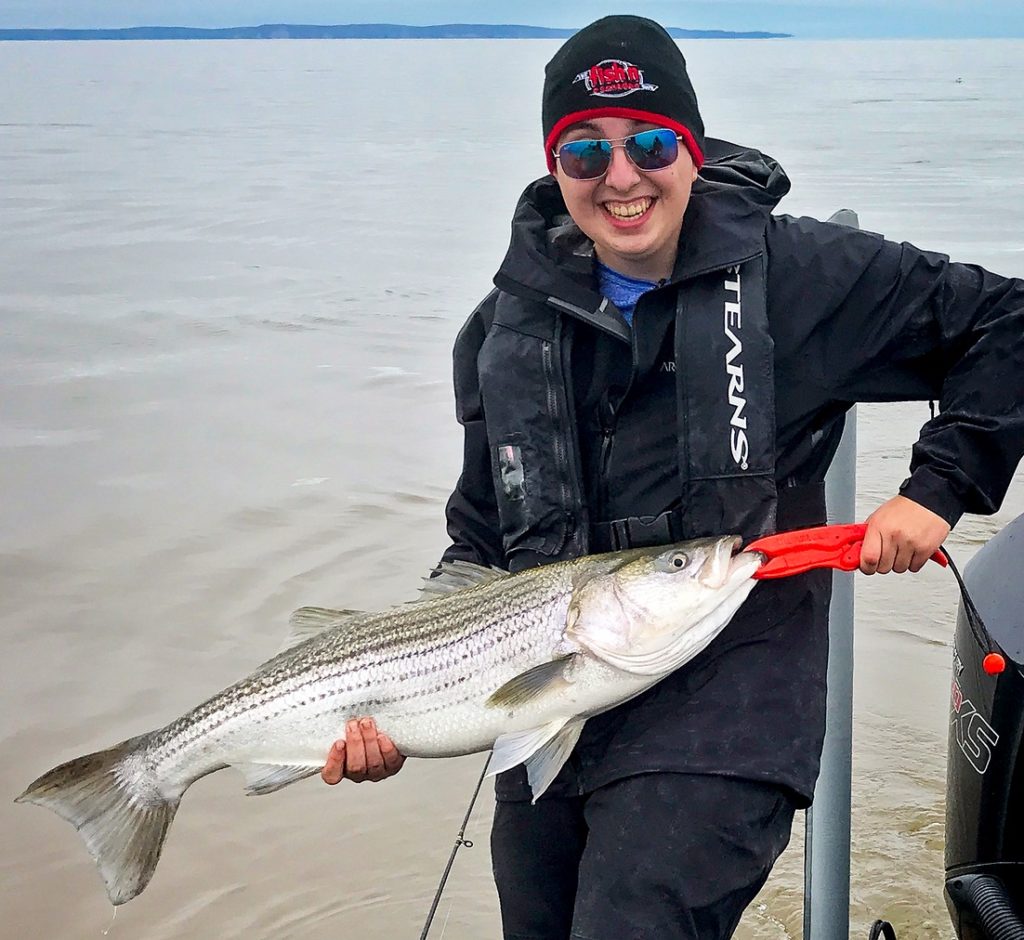 Surprisingly, the Bay of Fundy's striped bass fishery remains largely untouched. On our visit, Nik and I headed out in a fully-equipped 18-foot Sea Pro with Greg Belliveau of Bass Barn Fishing Charter & Tours, one of the only charter captains taking advantage of this unique opportunity to catch giant, open-water stripers. Take it from me, you've got to try it!
E-mail captain Greg Belliveau at wideopen1968@hotmail.com. On our recent trip, we stayed at the Four Seasons Retreat (www.fourseasonsretreat.ns.ca).
For a complete guide to Fish'n Canada Show episodes, TV channels and show times, go to www.fishncanada.com or www.facebook.com/fishncanada.