Destiantion: Miramichi River
Hitting the water with TV's Fish'N Canada Show
Canada's East Coast is not only one of the most scenic destinations in the country, it's also a true fishing paradise. Angling opportunities in the Atlantic Ocean are endless, while the province's inland lakes have everything from brook trout to smallmouth bass to northern pike. But it's the majestic rivers that flow from land to sea that make this area truly famous. One in particular, and probably the most renowned, is the Miramichi.
The Chi, as it's referred to by the locals, is and always has been a world-class fishery for Atlantic salmon. But along with those feisty fish, the river is also home to another, relatively undiscovered, sportfish: the striped bass, more commonly known as the striper.
Every spring, a colossal run of stripers makes its way up the Miramichi to spawn, and more and more local anglers are taking advantage of the massive migration. And to encourage angling while protecting the species, Fisheries and Oceans Canada and the province's Department of Natural Resources have set a daily one-fish limit and a slot size of 50 to 65 centimetres during certain periods of the spawn.
We'd long been hearing talk of this striper run, and after some investigation we hooked up with local bass fanatic and tournament pro Jeff Wilson to shoot an episode of Fish'n Canada. We ventured to a narrow upriver area called Red Bank, and if the run in the rest of the river is as plentiful as it was there, the fish count truly is astronomical.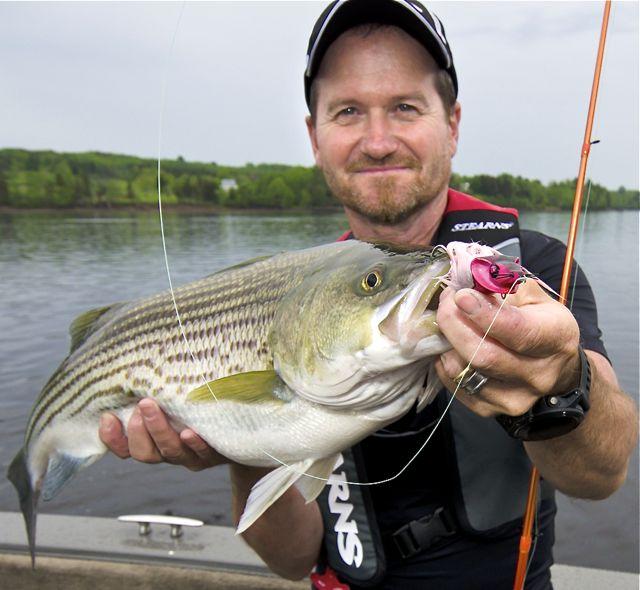 The shoot itself was a huge success—fishing with our buddy Joe Anthony, we had double- and triple-headers throughout the entire trip. Using mostly baitcasting gear with 30- to 40-pound braid, we tied on various fluke-type baits such as Yamamoto D-Shads and proceeded to catch 100-plus fish every day—and that's being conservative in our count.
If you're looking for the ultimate day on the water, where you can literally get bit on every cast and enjoy some of the best scenery and hospitality known to man, then a trip to the Chi for spring stripers is a must.
Learn more about striper fishing on the Miramichi at www.tourismnewbrunswick.ca. And for a complete guide to Fish'N Canada Show episodes, TV channels and show times, go to www.fishncanada.com or www.facebook.com/fishncanada.