Sailfish sojourn
To test your fly-fishing mettle, head south and tackle Guatemala's powerful billfish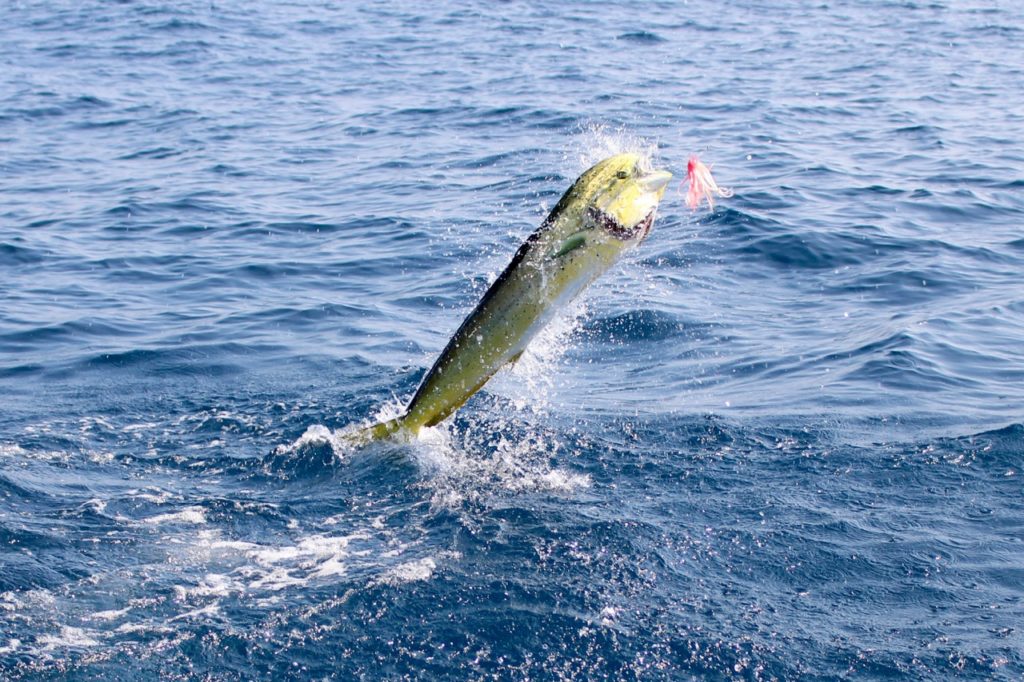 By mid-morning, our second day had already been busy. Phil, still on fire, had landed a wantonly acrobatic four-foot-long dorado (above) on light spinning tackle, and we'd raised several sailfish. Each time the crew went to their action stations, but the sails couldn't be tempted into casting range.
Then at 11:30 a.m., the cries of "Vela!" once again rang out. This time, it was a really hot fish, surging up the spread and zeroing in on the closest teasers to the boat.
I was in my casting spot, intensely focused and mindful of Phil's advice from the night before. "They're just fish, and you know how to catch fish," he had told me. "When it gets close, tune out all of us, and cast when it feels right."
So that's what I did. I shot my garish pink popper a bit long, but the sailfish still took an awkward swipe. It missed, but stayed in range. No one had prepped me for this unlikely outcome, so I did what I'd do for a pike or a bass at home, and made two long strips. That caught the fish's attention, prompting another strike—and another miss.
I stripped one more time, and the fish, now just 30 feet behind the boat, engulfed the fly and turned hard to the left. I pulled hard to the right and felt the line go tight. And now came the really hard part: actually landing a 90-pound Pacific sailfish on the fly.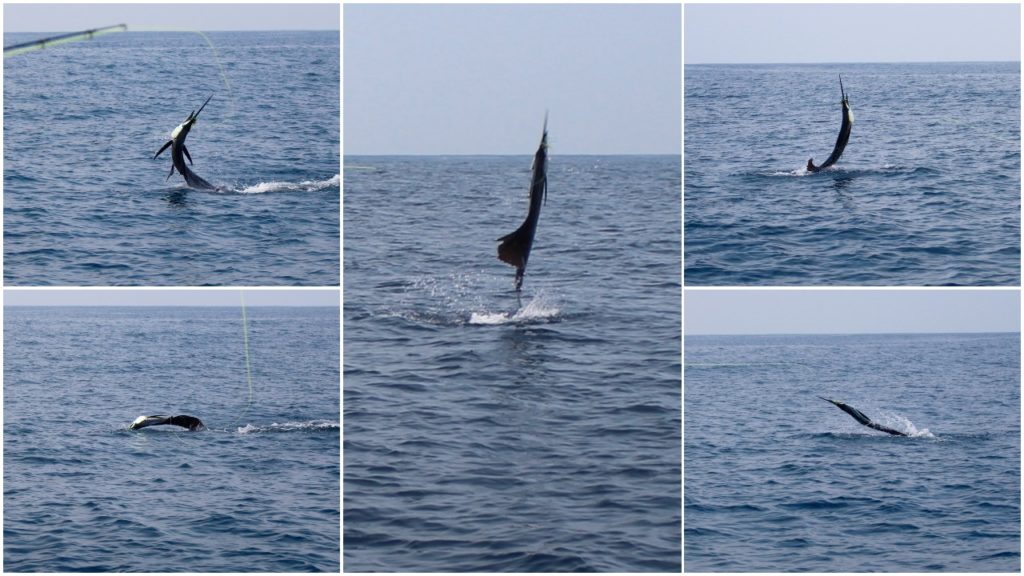 After rocketing into the air and splashing down 60 feet from the boat, the fish ran hard, taking 200 feet of line in mere seconds. Once it slowed a little and I got its head turned toward the boat, the fish unleashed four more spectacular leaps in a row. The last jump was toward the boat, throwing 20 feet of slack into the line. As I madly reeled in, Carlos powered the boat forward to help me tighten up the slack, and the fish stayed on.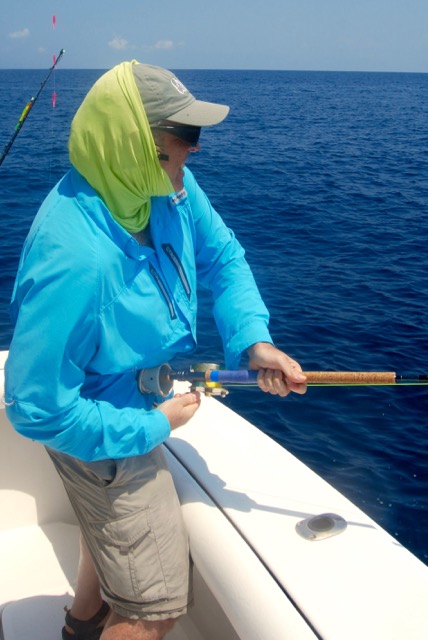 People who have never seen a nine-foot big-game fly rod in action tend to doubt its strength, but it's an incredible fish-fighting tool. With boat tackle, all you can do is brace your knees and crank. But with the sturdy Temple Fork Bluewater fly rod I'd borrowed from Phil, I was able to move back and forth across the cockpit, pulling one way, then the other, responding as the sailfish zigged and zagged. With the rod angled low, I could engage its powerful butt section just enough to maintain some control of the fish's head, and keep it coming in.
Later, mate Alex Montenegro Fajardo would tell me it usually takes 20 to 30 minutes to land a sailfish on boat tackle, but much less on the fly. He was right: just 15 minutes after the strike, mate Jose Alvarenga Alverez, the skipper's younger brother, leaned over the gunnel and grabbed the noticeably abraded 100-pound leader in one gloved hand and the fish's bill in the other, then hoisted the fish halfway into the boat for a quick photo.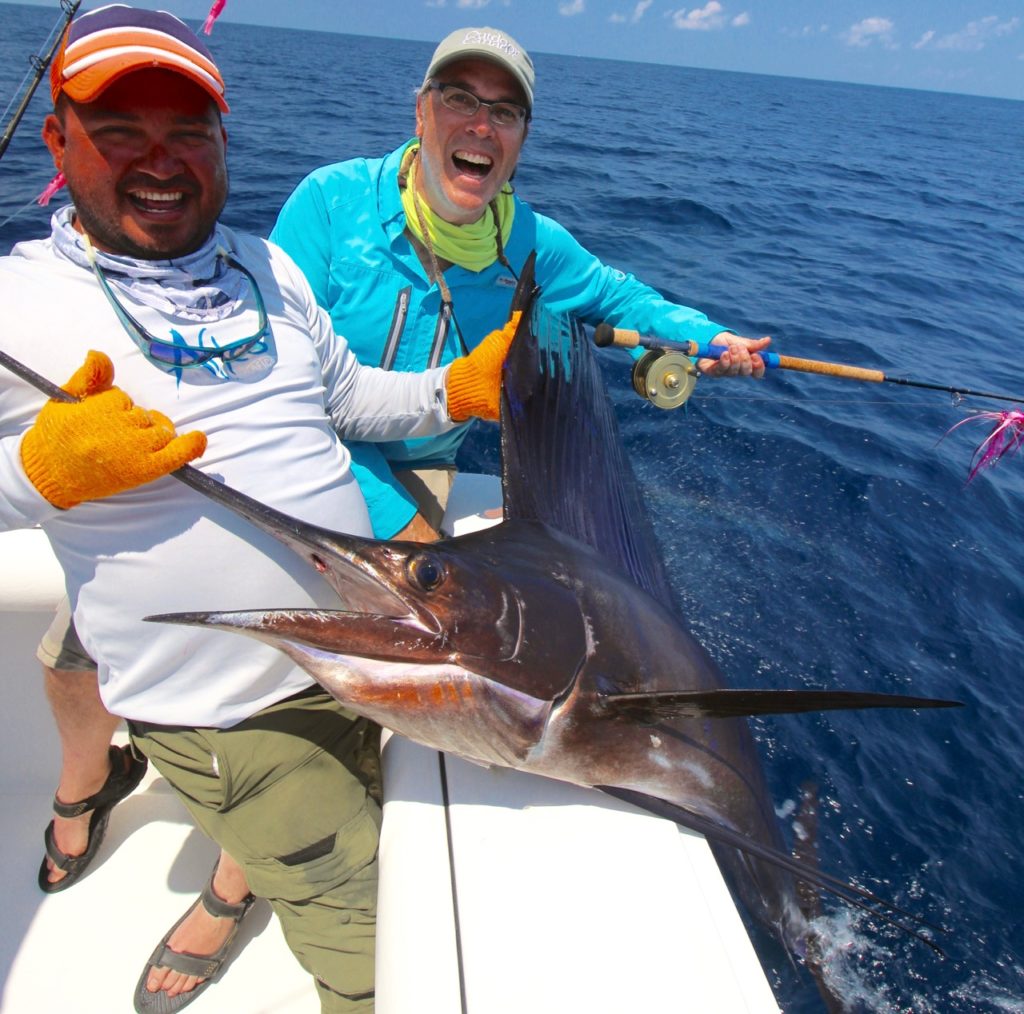 It was a moment of exhilaration, but there was no sense of relief just yet. At that point, the crew's top priority was a successful live release. And after my time connected to that incredible animal, seeing it float away belly up would have drained all meaning from the experience. So, I watched nervously as Jose hung over the side of the boat, holding the fish upright as we throttled forward, pushing water through its gills.
Once the fish quickly recovered and I watched it return to the depths, the endorphins kicked in. I sagged against the flybridge ladder, spent and stunned, before we all shook hands and congratulated each other.
We fished for another day and a half after that, and the action continued apace. All told, in three days we raised 48 sailfish, enticed 12 bites and landed five fish, all by casting. I never in my life imagined I'd see a sailfish, let alone catch one on fly tackle. But as Phil pointed out more than once during our trip, a fly rod and a sense of adventure can take you to some pretty amazing places.
Outdoor Canada associate editor and fly-fishing columnist Scott Gardner has how caught 77 species of fish, 29 of those on a fly rod.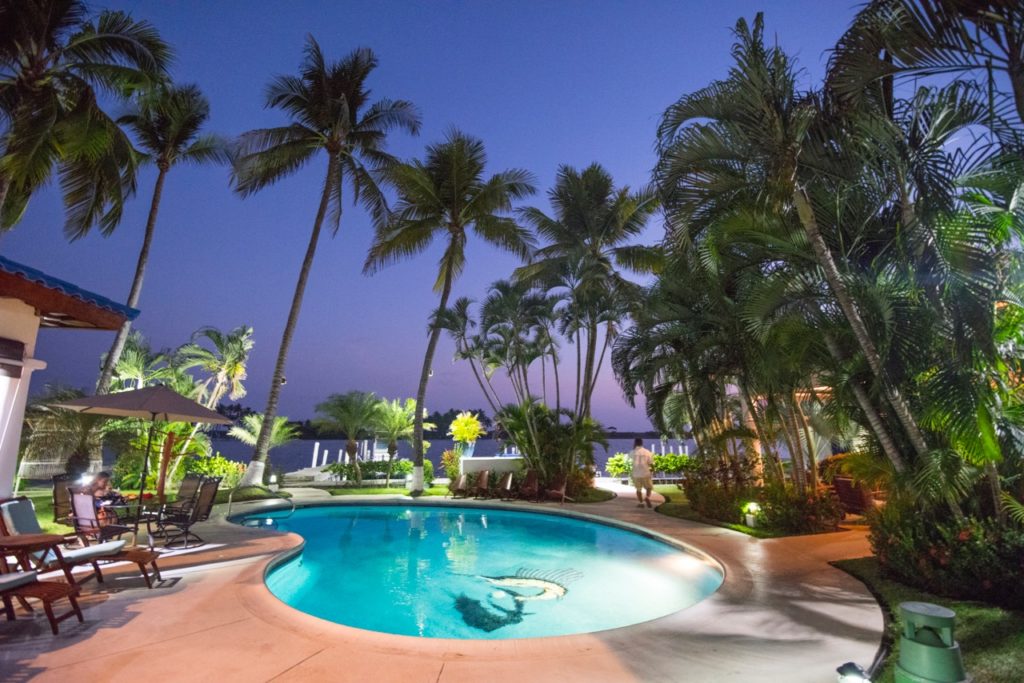 GOING TO GUATEMALA
Guatemala is safe, stable and welcoming to Canadian anglers. The leading billfishing lodges are Pacific Fins (above), where I stayed, and the nearby Casa Vieja, another well-respected operation. Both lodges are all-inclusive, complete with English-speaking chauffeurs assigned to pick up visiting anglers at the airport in Guatemala City.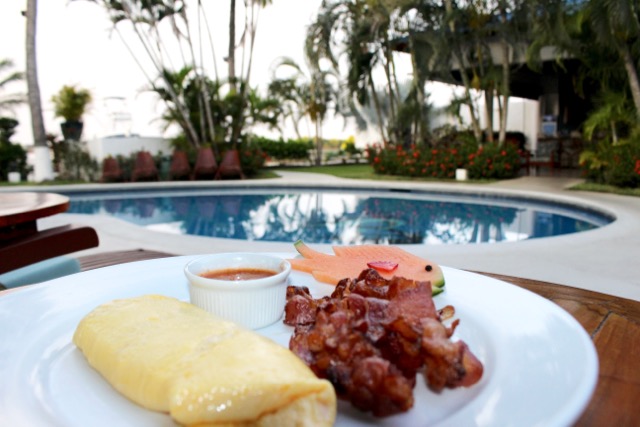 Oceanside Pacific Fins features air-conditioned villas, excellent table fare and outstanding fishing services, including well-maintained boats, top-quality tackle and experienced crews.
Learn more: (513) 984-861; www.pacificfins.com.gt