The hunt is on!
Wildlife managers across the land reveal this year's hot spots for Canada's favourite big-game animals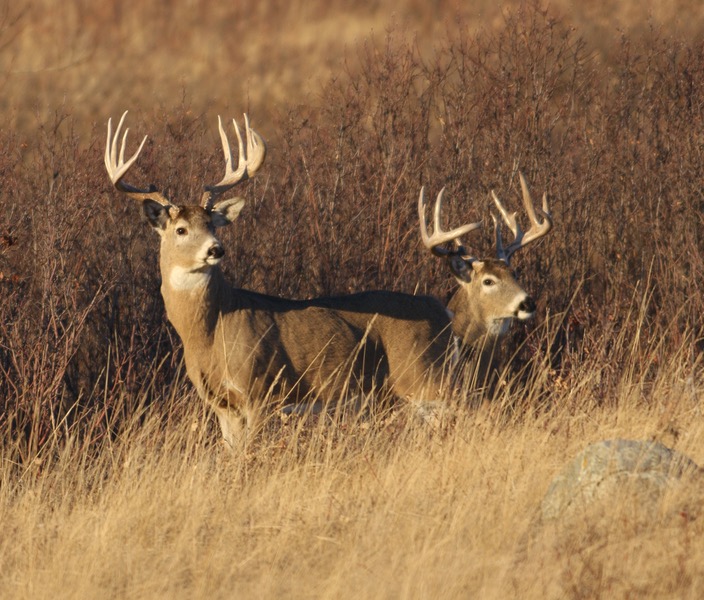 ONTARIO
This past winter followed a typical pattern for Ontario—relatively severe in the areas where winter is often cold and snowy, and milder where winter is not normally nasty. White-tailed deer survival is certain to have been better than the previous ugly winter, but numbers are still likely to be down a bit. And with the winter lingering and spring slow to arrive, bears that left their dens early may have been caught with little to eat. On the upside, the slow and cool spring may have reduced the survival of moose winter ticks, and that could mean better conditions for moose next winter.
There are quite a few significant changes to Ontario's hunting regulations this year, so all deer, moose and bear hunters should take careful note (see "Important messages for hunters" in the 2020 Hunting Regulations Summary).
BLACK BEARS
Ontario supports a large and mostly stable population of black bears, currently estimated at between 75,000 and 100,000 animals. Bears are scarce in the settled areas from Georgian Bay to the St Lawrence River; the highest densities are found in a broad band stretching from south of Kenora and around Lake Superior to Sudbury and Timmins, then to the Quebec border and Ottawa. In some wildlife management units (WMUs), the current total human-caused mortality of bears—through hunting and non-hunting activities—appears to be unsustainable. And in other areas, the percentage of females in the harvest is higher than desirable. A four-year study that began in 2017 will refine the bear population estimates, so regulation changes may be coming; hunters can help by submitting two premolar teeth from their harvested bears. This is the fifth and final year of the province's pilot spring bear hunt, and in 2021 it will become a regular hunt for most WMUs. Some areas with specific concerns, such as Bruce Peninsula, will have special bear-hunting regulations.
ELK
In 1998 and 2001, 443 elk were released in Ontario, adding to remnant populations from a past reintroduction effort. Since then, the numbers have grown to the current total estimate of 500 to 1,000 animals in four separate locations. So far, the Bancroft/North Hastings herd is strong enough to support a hunt. Hunter interest for the few available tags is understandably high.
MOOSE
Ontario has a substantial moose population, estimated at about 80,000 animals. Half of those are found in the northwest, with most of the rest in the northeast and approximately 6,000 to the south. While some WMUs have seen an increase in moose populations, recent inventories across the province suggest numbers are at or below the management targets in most WMUs. Low calf-to-cow ratios are a frequent concern. As a result of these issues, along with a recent review of provincial moose management strategies, there are several changes to the hunting regulations this year. These changes are designed to improve the resident moose tag draw system, maintain or improve moose numbers and ensure sustainable harvests. So, opportunities for the coming hunting season look good, and the future looks even better.
WHITETAILS
The harvest of white-tailed deer in 2019 was down from several prior years, the consequence of the preceding severe winter. This past winter was about average, however, and that should help improve populations. Whitetails are near the northern limit of their range in northern Ontario, where numbers are naturally low. However, in southern Ontario, where winters are typically mild, deer are doing well. That region produces more than three quarters of the province's total annual harvest of approximately 60,000 deer.