Outdoor Canada Wins National Writing and Photography Awards
Check out the latest award-winning fishing and hunting stories from Outdoor Canada
The Outdoor Writers of Canada just announced its 2021 National Communication Award winners, and once again Outdoor Canada has taken home an impressive stack of hardware. The accolades went to columns, feature stories, opinion pieces and photography, including 1st place awards in four categories.
Winners include managing editor Bob Sexton, hunting editor Ken Bailey, associate editor Scott Gardner, photographer Mark Raycroft and long-time western contributor T.J. Schwanky. And of course, congratulations are also due to the entire team, including editor-in-chief Patrick Walsh who makes everyone's work better, and art director Sandra Cheung who makes the magazine look so beautiful, issue after issue. To read our award-winning stories, please click the links below. Also scroll down for a complete list of all of this year's OWC award winners and sponsors.
COLUMN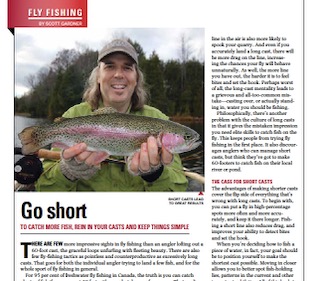 1st place, "Go Short" by Scott Gardner, Outdoor Canada 2021 Hunting Special
HUNTING FEATURE
1st place, "The Most Dangerous Hunt" by Ken Bailey, Outdoor Canada 2021 July/August
FISHING FEATURE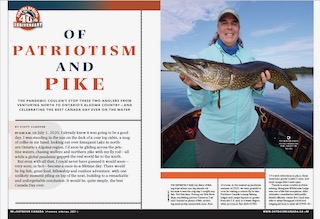 1st place, "Of Patriotism and Pike" by Scott Gardner, Outdoor Canada 2021 Fishing Special
3rd place, "Northern Ontario Fly-In Adventure: 6 days, 3 kayaks and 400-plus fish" by Scott Gardner, www.outdoorcanada.ca
THE FUTURE OF HUNTING IN CANADA AWARD
1st place, "In Tune for Toms" by Bob Sexton, Outdoor Canada 2021 May/June
THE DUCKS UNLIMITED CANADA AWARD IN CONSERVATION
3rd place, "Under Siege" by T.J. Schwanky, Outdoor Canada West 2021 Fishing Special
OUTDOOR WRITERS OF CANADA 2022 ANNUAL AWARDS
NATIONAL COMMUNICATION AWARDS, Sponsored by Shimano and Hornady
COLUMN:
1st Scott Gardner
Title: Go Short
Publication: Outdoor Canada
2nd Jeff Helsdon
Title: The Jake Debate
Publication: Ontario Out of Doors
3rd Gord Ellis
Title: Fact or Fiction?
Publication: Ontario Out of Doors
BOOKS
1st Jim Newman
Title: That Dog Don't Hunt
Publication: North Bay Nugget
TELEVISION/VIDEO
1st T.J. Schwanky
Title: Solo Elk
Broadcaster: Sportsman Channel Canada
2nd Dana White (Tie)
Title The Field Deer
Broadcaster: Sportsman Channel Canada
2nd Vanessa Harrop (Tie)
Title: Archery Mule Deer
Broadcaster: Sportsman Channel Canada
4 . HUNTING FEATURE
1st Ken Bailey
Title: The Most Dangerous Hunt
Publication: Outdoor Canada
2nd Brad Fenson
Title: Saskatchewan's Hungry Honkers
Publication: Delta Waterfowl
3rd Steve Galea
Title: A Rig of My Own
Publication: Ontario Out of Doors
FISHING FEATURE
1st Scott Gardner
Title: Of Patriotism and Pike
Publication: Outdoor Canada
2nd James Smedley
Title: Snowshoe to Squaretails
Publication: Ontario Out of Doors
3rd Scott Gardner
Title: Northern Ontario Fly-In Adventure: 6 days, 3 kayaks and 400-plus fish
Publication: Outdoor Canada
OTHER FEATURE
1st Sheri Monk
Title: Time to Check for Ticks
Publication: Alberta Outdoorsmen
2nd Lowell Strauss
Title: Pick of the Litter
Publication: BC Outdoors
3rd Brad Fenson
Title: How to Utilize the Whole Bird
Publication: Turkey & Turkey Hunting
PHOTOGRAPHY: Fish, Wildlife and Wild Spaces
1st Mark Raycroft
Title: Dall Sheep Cresting Mountain
Publication: Outdoor Canada
2nd Mark Raycroft
Title: Regal Buck in Snowy Woods
Publication: Outdoor Canada
3rd James Smedley
Title: Wood Canoe on Superior
Publication: Algoma Country Travel Guide 2021
PHOTOGRAPHY: Outdoor Activities
1st Brad Fenson
Title: Pink Boots and Greenheads
Publication: Shoot On
2nd James Smedley
Title: Paddling the Agawa
Publication: Algoma Country Travel Guide 2021
3rd T.J. Schwanky
Title: Man's Best Friend
Publication: BC Outdoors
THE FUTURE OF HUNTING IN CANADA AWARD,
Sponsored by Delta Waterfowl
1st Bob Sexton
Title: In Tune for Toms
Publication: Outdoor Canada
2nd James Smedley
Title: Archery Grouse
Publication:
3rd Jeff Helsdon
Title: Grandpa's Gun
Publication: Delta Waterfowl
THE CANADIAN SHOOTING SPORTS, GUNS & GEAR AWARD,
Sponsored by Canadian Shooting Sports Association
1st Timothy Fowler
Title: The Thousand-yard Game: An Intro to F-Class Competition
Publication: Canadian Firearms Journal
2nd Lowell Strauss
Title: Fabarm Story
Publication: Canadian Firearms Journal
3rd Timothy Fowler
Title: The Tiger Pistol: Collecting Lancasters
Publication: Canadian Firearms Journal
THE DUCKS UNLIMITED CANADA AWARD IN CONSERVATION,
Sponsored by Benelli
1st Sheri Monk
Title: The High Price of Living with Grizzlies
Publication: Alberta Outdoorsmen
2nd Steve Galea
Title: A Rig of My Own
Publication: Ontario Out of Doors
3rd T.J. Schwanky
Title: Under Siege
Publication: Outdoor Canada West