Prize pics
The winning shots from our annual photo contest celebrating fishing, hunting, wildlife and family adventure

Like a mounted fish or a set of antlers, photos can remind us of great times in the outdoors, often with family or friends. And every year, we're honoured that so many of you participate in our photo contest, sharing images from your fishing and hunting exploits. It's never easy picking just three winners in each of the contest's four categories, but it's always a pleasure going through the submissions. Thank you to everyone for entering this year's competition, and congratulations to the winners and runners-up. Be sure to keep taking photos whenever you're enjoying the outdoors this year—and keep sending us your favourites!
Special thanks goes to our photo contest's generous sponsors for providing the great prizes: Rapala, Zeiss, Cedarlane Culinary and Thermacell
We are now accepting entries for our next photo contest at www.outdoorcanada.ca/ocphotocontest!
And to see this year's amazing photos, click through the slideshow below…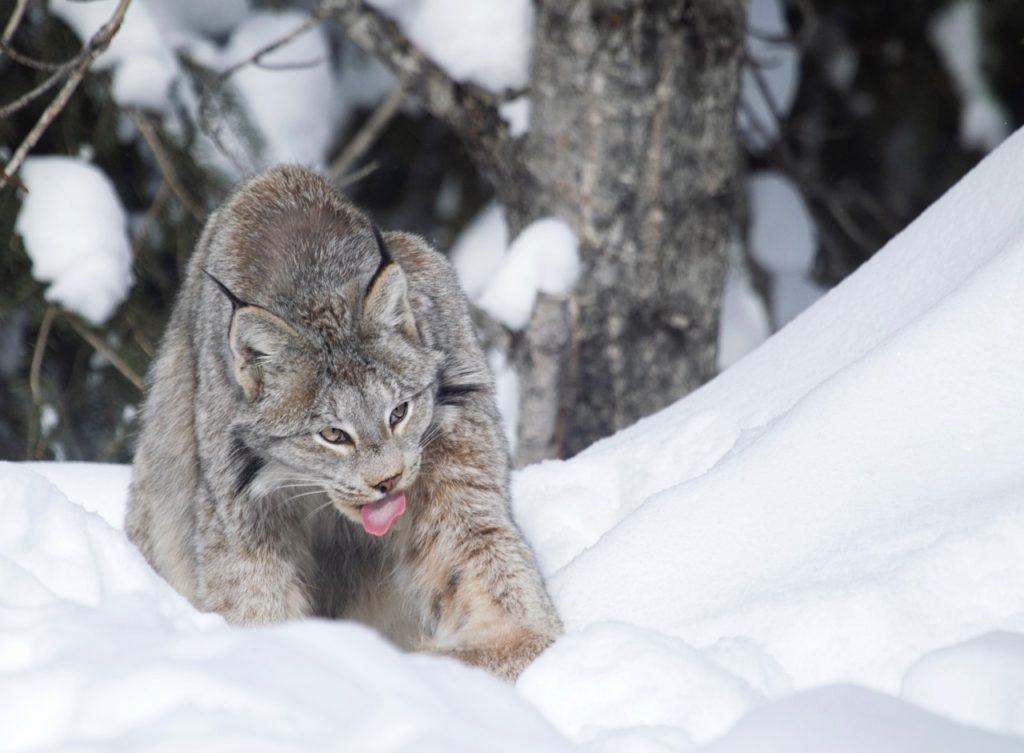 WILDLIFE & WILD PLACES: 1ST PLACE
PHOTOGRAPHER: Christopher MacDonald
WHERE: North Bay area, Ontario
WHEN: February 2019
DETAILS: Prior to taking this winning photo near North Bay, Ontario, Christopher MacDonald had visited the area several times knowing lynx were present, hoping to see and photograph one. "I saw a few tracks, but I didn't have any luck," he says. "Then finally on this day, I found this lynx napping in the sun." As MacDonald got his camera gear set up, the lynx woke up and sat at the edge of the clearing, grooming itself.
PRIZE: Thermacell Outdoor Comfort Pack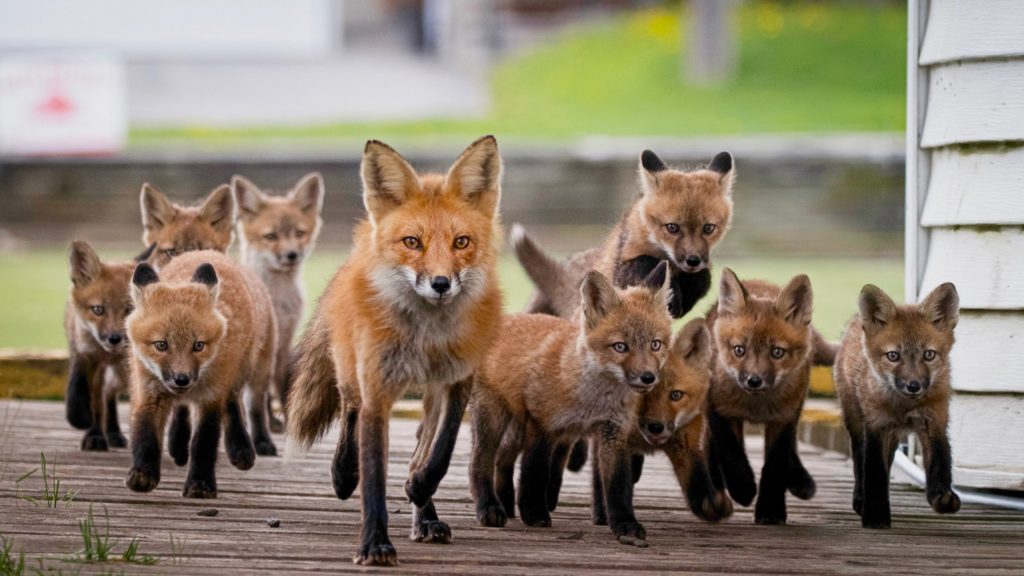 WILDLIFE & WILD PLACES: 2ND PLACE
PHOTOGRAPHER: Kyle Tuttle
WHERE: Brighton, Ontario
WHEN: May 2019
DETAILS: An avid outdoorsmen and nature photographer, Kyle Tuttle took this photo of a mother fox and her nine kits in downtown Brighton, Ontario, where they'd made a den under the town's lawn bowling clubhouse. While Tuttle says he would have preferred to encounter the foxes in the wilderness, it still made for a great photo. "It's always been important to me to capture scenes that certainly aren't seen everyday," he says.
PRIZE: Thermacell Deluxe Mosquito Repellent Pack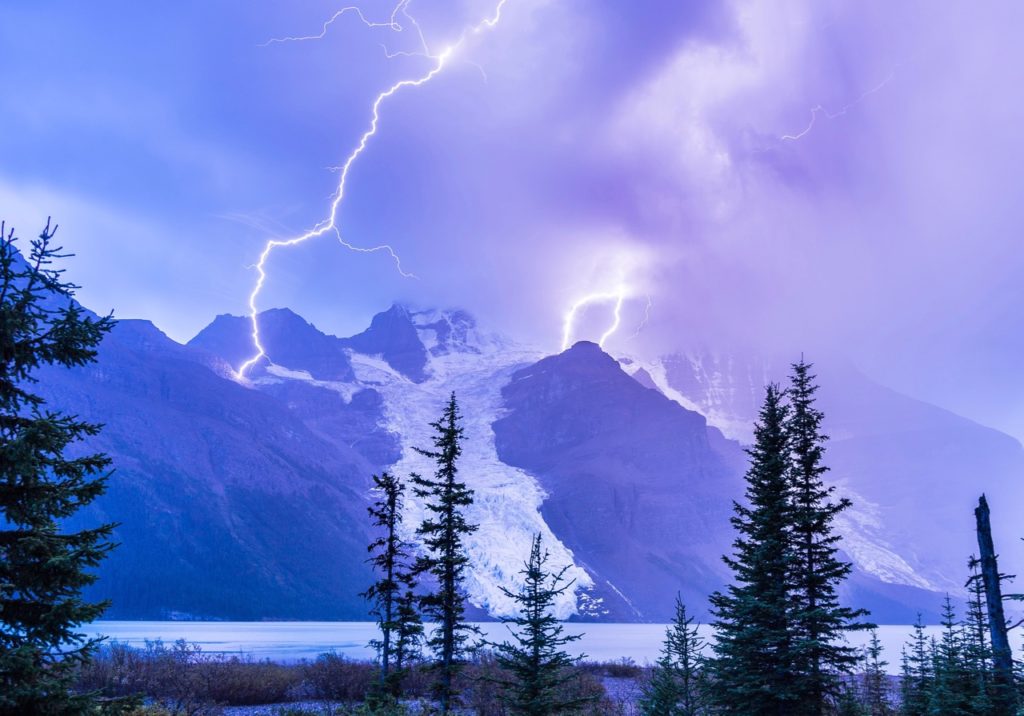 WILDLIFE & WILD PLACES: 3RD PLACE
PHOTOGRAPHER: Matthew Picking
WHERE: Berg Lake, B.C.
WHEN: May 2019
DETAILS: After hiking for two days, Matthew Picking and some friends arrived at B.C.'s Berg Lake campground, just before a forecasted storm rolled in. Along with a dozen other hikers, they watched as the storm strengthened and the lighting began. "I could tell it was a special moment, so I set up my camera for a long exposure, hoping to get lucky with a strike," Picking says. "On my third attempt, I caught this shot!"
PRIZE: Thermacell Mosquito Repellent Pack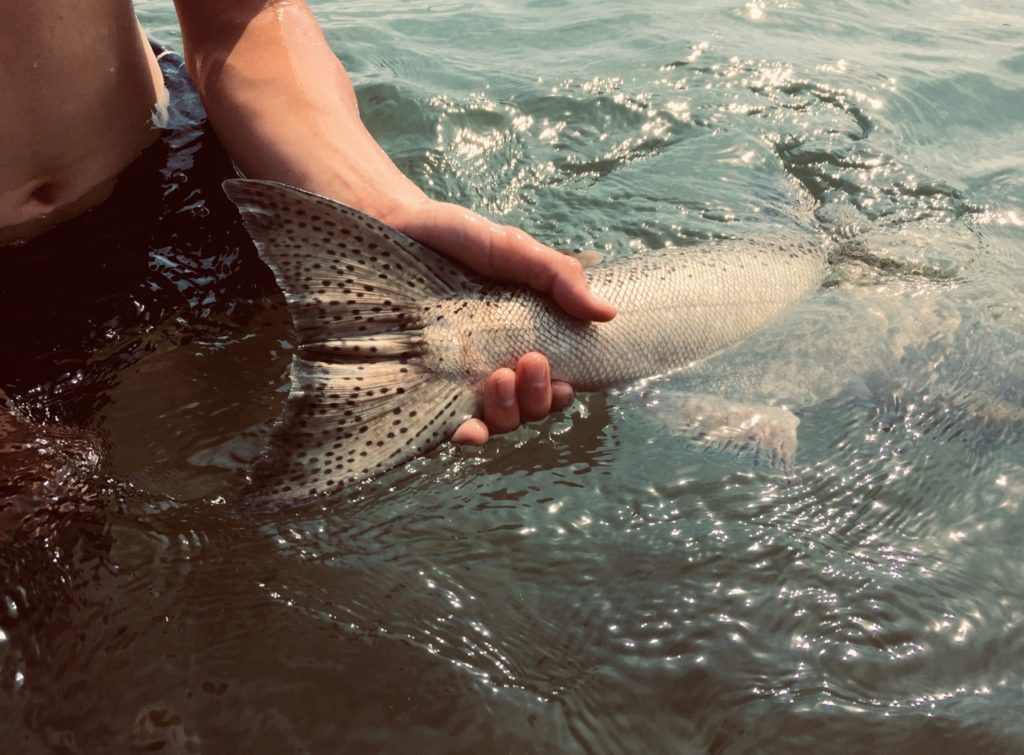 FISHING: 1st place
Photographer: Derek Nesbit
Where: Ganaraska River, Ontario
When: August 2019
Details: Angler Brendan Zietsma says this photo, taken by his friend Derek Nesbit, is special because it shows one of the first salmon he ever caught. "It was an exciting moment, as we were working hard to catch them all day," he says. "This salmon put up a 20-minute fight and weighed around 30 pounds. It felt super-rewarding to release it knowing that it was hopefully going to go up river and help with the annual spawn."
Prize: $500 Rapala Prize Package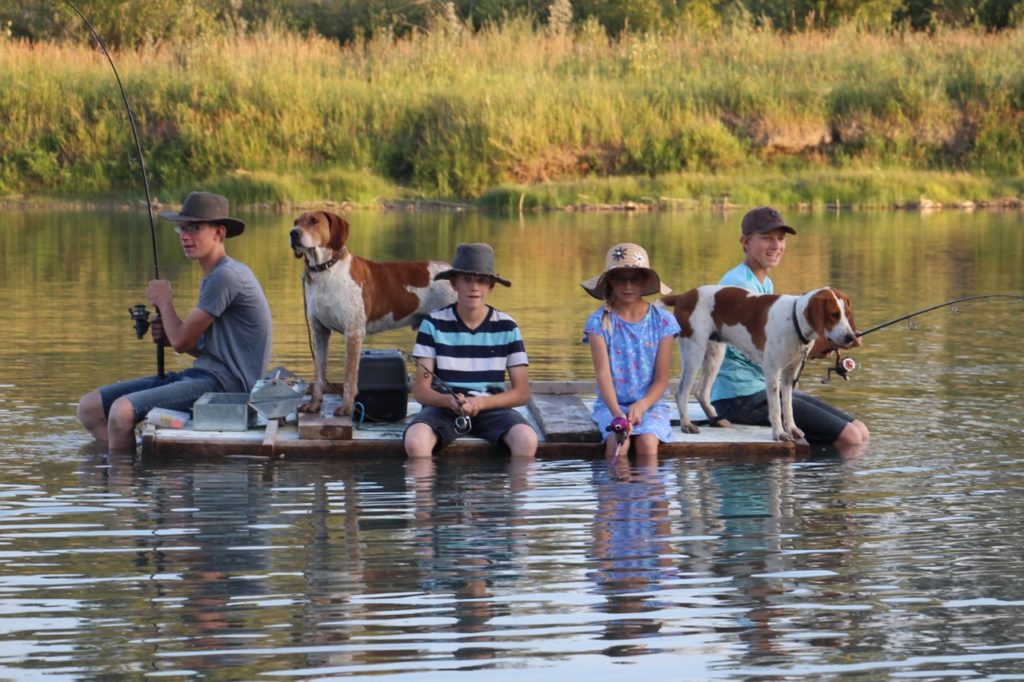 FISHING: 2ND PLACE
PHOTOGRAPHER: Andrelei Grisnich
WHERE: Belly River, Alberta
WHEN: August 2019
DETAILS: One calm evening last summer, Andrelei Grisnich's children—Brayden, 16, Cole, 14, Dustin, 13, and Brooke, 11—went fishing on the Belly River south of Fort MacLeod, Alberta. "The boys had built this raft so they could get out on the river instead of fishing from the shore," Grisnich says. "My oldest son had his feet on bottom so the raft wouldn't float downstream while I snapped some photos."
Prize: $250 Rapala Prize Package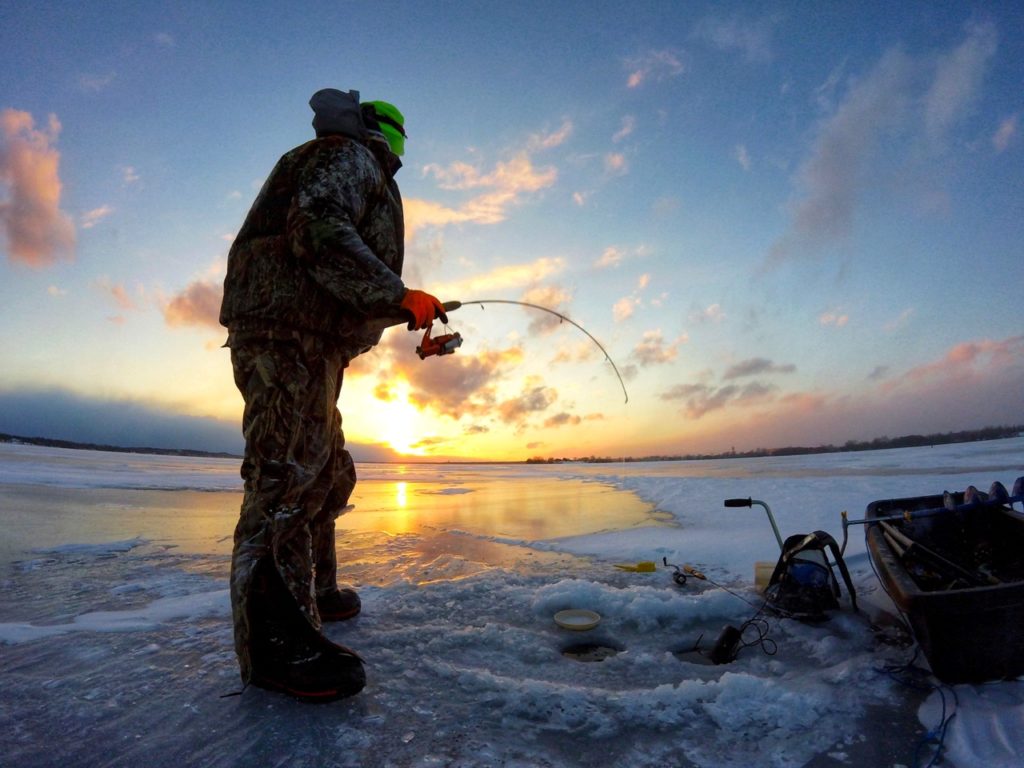 FISHING: 3RD place
PHOTOGRAPHER: Justin Hanna-Jones
WHERE: Bay of Quinte, Ontario
WHEN: January 2019
DETAILS: A hard-core angler, Justin Hanna-Jones says he targets anything that swims, but his preference is for muskies, smallmouth bass and gar. He got this shot on frozen Bay of Quinte using a tripod, just as the prime dusk bite began and his sonar lit up. "As my rod bent over from the weight of a nice walleye," he says, "I couldn't help but watch the beautiful Quinte sunset before fighting and bringing the fish onto the ice."
PRIZE: $100 Rapala Prize Package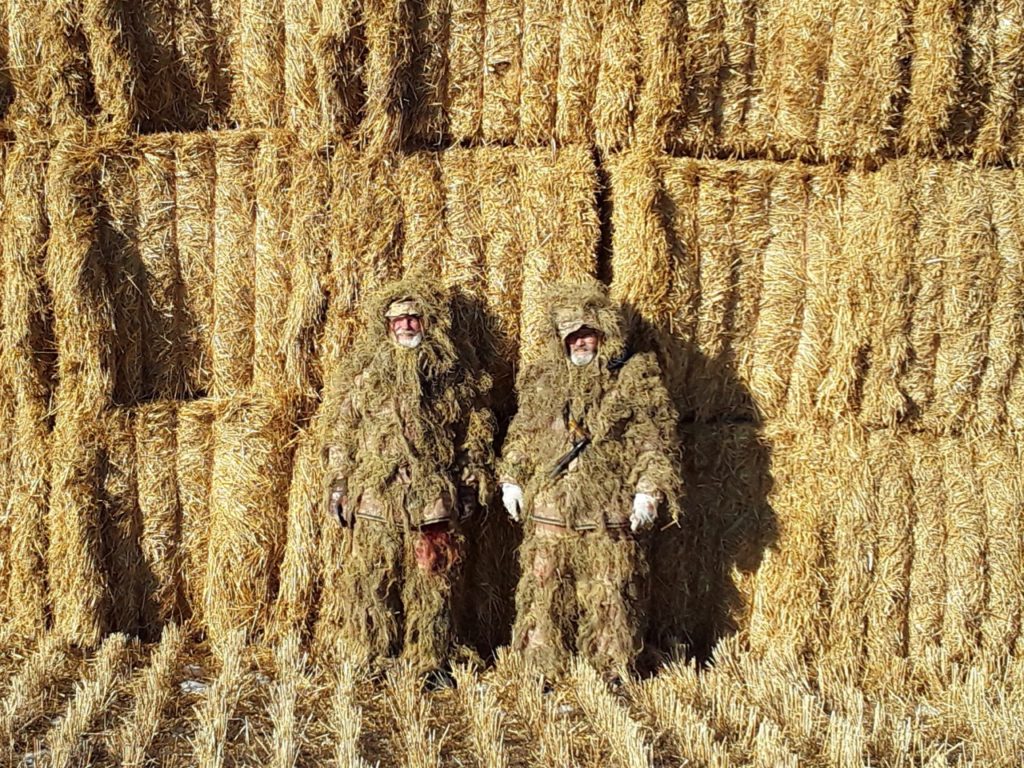 HUNTING: 1ST PLACE
PHOTOGRAPHER: Tim Juhlin
WHERE: Northeast of Pincher Creek, Alberta
WHEN: November 2019
DETAILS: Tim Juhlin snapped this amusing photo of his hunting buddies Randy Ingberg (left) and Bill Groves after the trio wrapped up their goose hunt and were enjoying the morning sunshine. "The bales hadn't been picked up yet, so we had the opportunity to hide behind them while goose hunting," Juhlin says. "From 100 meters away, these two characters were almost invisible." Talk about effective camo!
PRIZE: Zeiss 10×42 Conquest HD Binoculars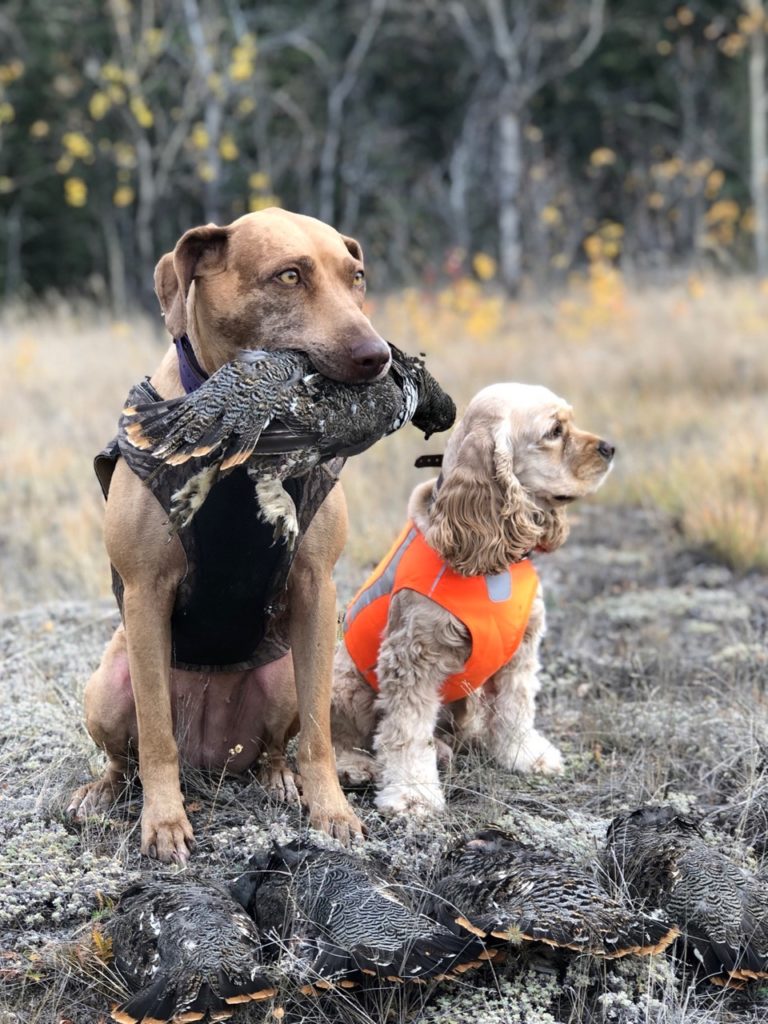 HUNTING: 2ND PLACE
PHOTOGRAPHER: Jackie Nicholas
WHERE: Whitehorse, Yukon
WHEN: October 2019
DETAILS: A professional dog trainer from Whitehorse, Jackie Nicholas says she's proud of this photo because it took her a year to teach her Catahoula leopard dog to "soft mouth" grouse. "Jessey's not a natural bird dog, but with hard work and training, she reliably finds and retrieves birds," Nicholas says. The other dog is Jeffrey, a two-year-old American cocker spaniel that's great at flushing and retrieving birds.
PRIZE: Zeiss 3-12×144 Conquest V4 Riflescope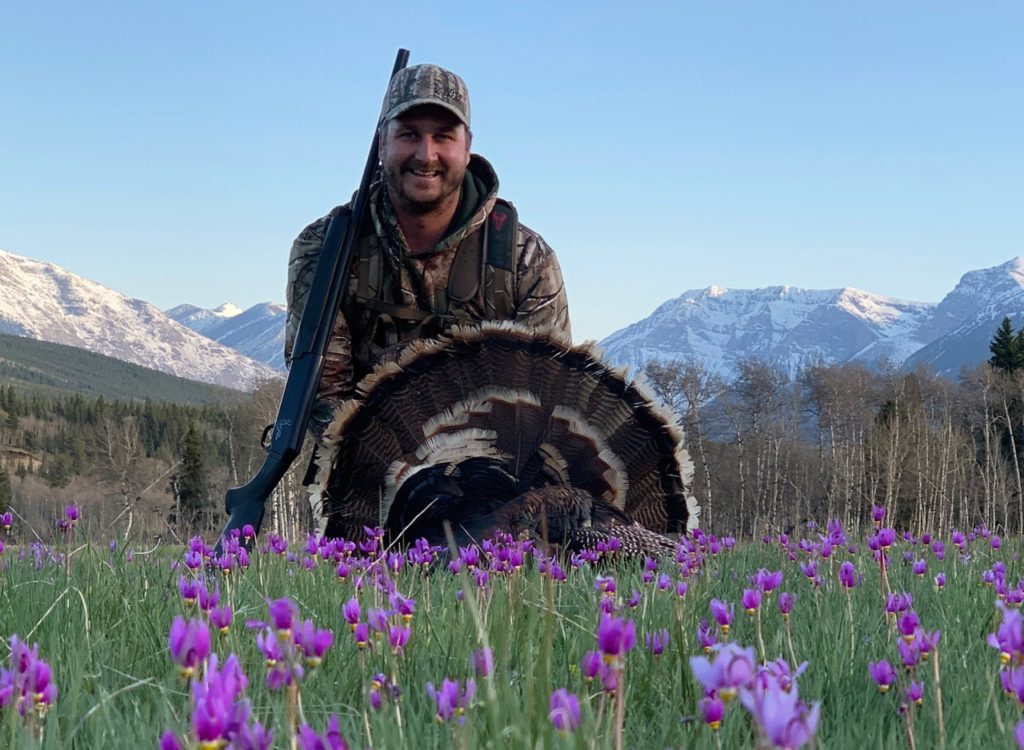 HUNTING: 3RD PLACE
PHOTOGRAPHER: Tyler Lindsay
WHERE: Near Beaver Mines, Alberta
WHEN: May 2019
DETAILS: Shortly after harvesting his first wild turkey, Scott Lindsay was heading back to camp with his brother, Tyler, when they decided to take a trophy picture. "The evening was absolutely beautiful, without even a breath of wind, which is extremely rare in this part of Alberta," Scott says. "When you hunt in the fall here, you aren't usually presented with a backdrop like this, so we took the opportunity and time to capture it."
PRIZE: Zeiss Terra 10×25 Compact Binoculars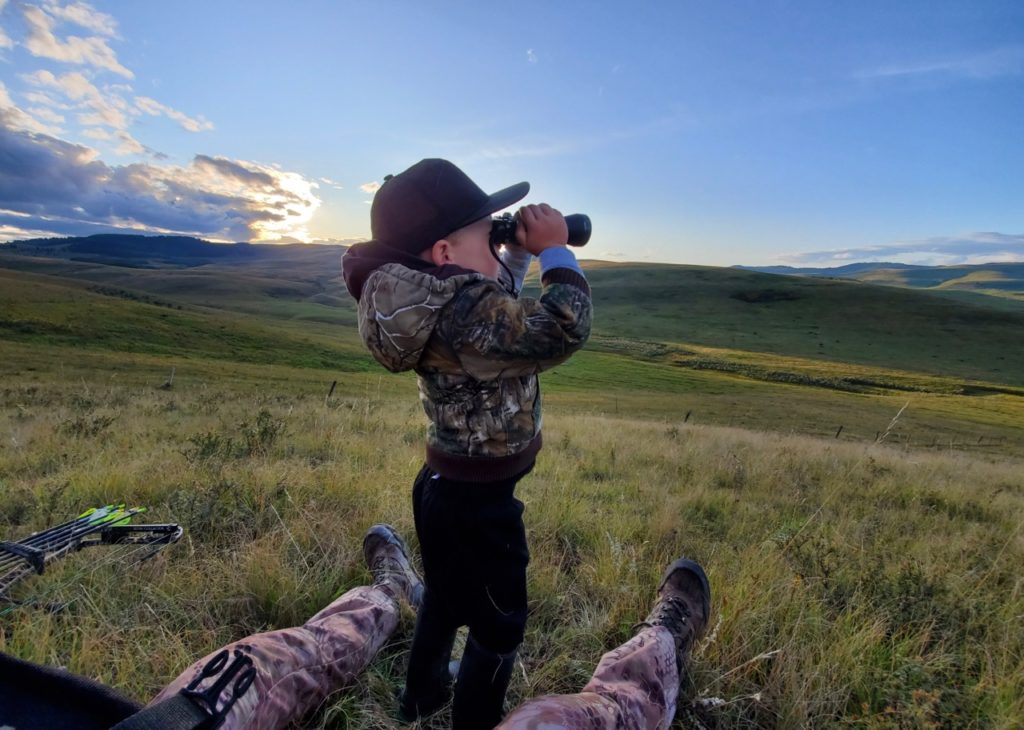 FAMILY: 1ST PLACE
PHOTOGRAPHER: Shaun Slingerland
WHERE: Southern Alberta foothills
WHEN: September 2019
DETAILS: While scouting for mule deer, Shaun Slingerland and his three-year-old son Ryker hiked up a small ridge and watched some does for a few hours. "My son carried the binoculars that his grandfather handed down to him," Slingerland says. "We didn't see any bucks, but it didn't really matter. I just enjoy getting out and making memories." Two months later, he filled his tag several hundred yards away from the same spot.
PRIZE: SousVide Supreme Black Demi Package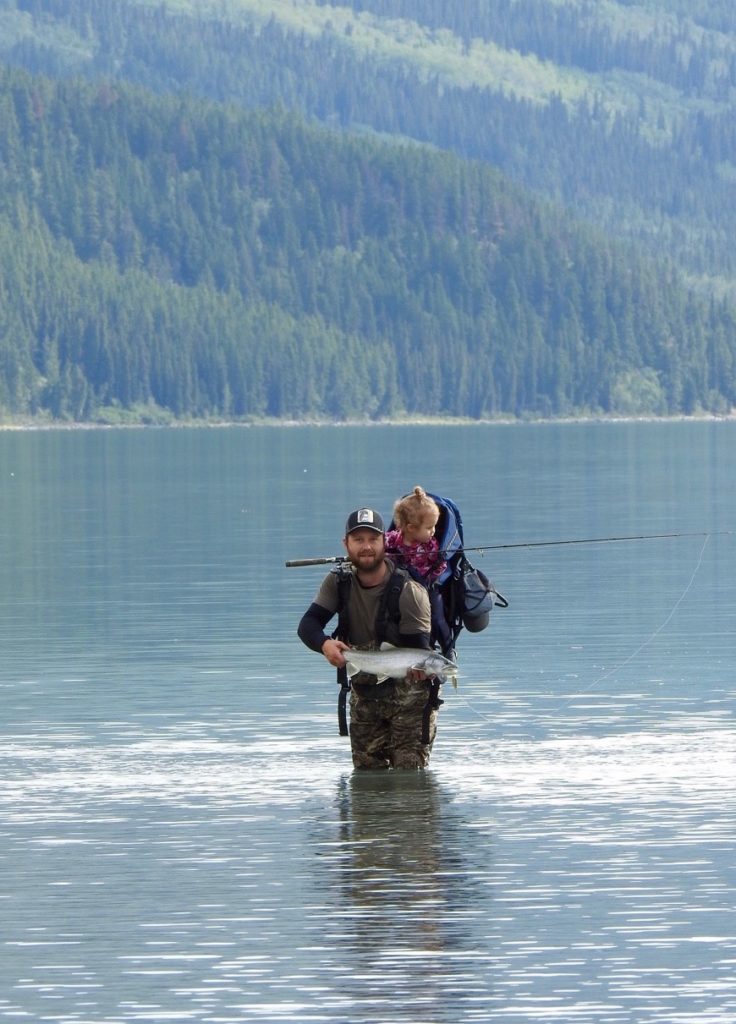 FAMILY: 2ND PLACE
PHOTOGRAPHER: Kaylea Wabisca
WHERE: Bennett Lake, Yukon
WHEN: July 2019
DETAILS: Wyatt Drift was on a camping trip with family and friends at Yukon's Bennett Lake when he went fishing with his then two-year-old daughter, August, nestled comfortably on his back. His girlfriend, Kaylea Wabisca, captured the moment with this great daddy-daughter photo. Says Drift: "My family and I love the outdoors and we spend as much time in the field as we possibly can."
PRIZE: Sansaire SousVide Immersion Circulator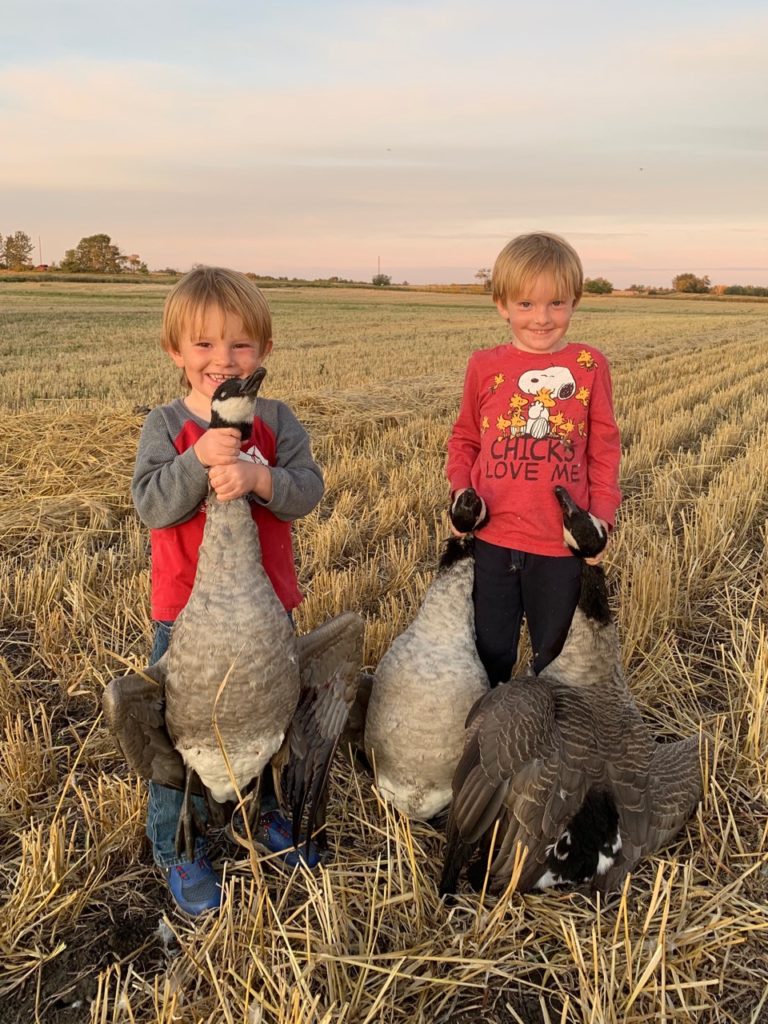 FAMILY: 3RD PLACE
PHOTOGRAPHER: Klayton Schiller
WHERE: Lamont County, Alberta
WHEN: September 2019
DETAILS: The day he took this photograph, Klayton Schiller had finished work early enough to go for a mid-week goose hunt, bringing along his sons Kullen, 3, and Emmet, 5. "They were excellent helpers during set up and clean up," Schiller says. "I put them both in a layout blind together and they giggled the whole time. They were so excited when we shot the 'honkers,' as they call the geese."
PRIZE: SousVide Supreme Vacuum Sealer
To view the honourable mentions, go to www.outdoorcanada.ca/2020runnersup.