Hot Tactics from Another Region Can Shine on Your Own Home Waters
It is great fun every Saturday morning to do the "Fish Talk With The Doc" segment on the Outdoor Journal Radio Show with Angelo Viola and Pete Bowman.
And this past Saturday's show was no exception. (Listen to our talk by using the player below.)
Ang had been snooping around my Facebook page earlier in the week and noticed that a reader had posted a question asking me, if I could only use one lure on the Bay of Quinte to catch walleyes, what one would it be.
It sparked a great discussion, because I mentioned that it would be a lipless crankbait like the LiveTarget Golden Shiner or Rapala Clackin' Rap if I was specifically targeting the trophy walleye of a lifetime.
On the other hand, if I was fishing for numbers of walleyes, I'd likely tie on either a Rapala Jigging Rap or Snap Rap with the bottom treble adorned with a minnow head.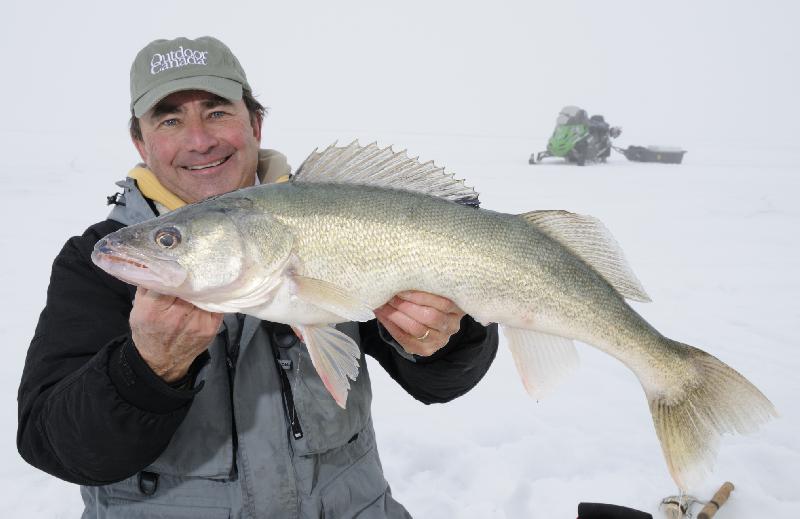 The specific lures, however, were not the focus of this morning radio discussion.  What we talked about, instead, was always being current with new fishing techniques and new fishing products.
More importantly, still, I've found it to be amazingly productive over the years to take regional techniques and apply them to new waters.
Case in point: thanks to Manitoba walleye ice fishing ace and good friend, Roger Stearns,  I was lucky, more than a decade ago now, to get in on the earliest stages of the lipless crankbait walleye bite on Lake Winnipeg.
Unless you've been living in a cave for the past 10 years, you know that Lake Winnipeg today is the unsurpassed trophy walleye ice fishery on the planet.  It is simply unbelievable how many 10-, 11-, 12- and 13-pound greenbacks are being caught every day on the massive waterbody.  Simply unbelievable.   And as often as not, a noisy, rattling, lipless crankbait is the best lure you can use.
In fact, I would just about guarantee that if you went out and sampled 1000 walleye anglers on Lake Winnipeg this minute, that at least 900 of them will have a rod rigged with a lipless crankbait.
But, get off Lake Winnipeg and the further away you travel, the fewer walleye anglers you see using the technique.  That is a big mistake.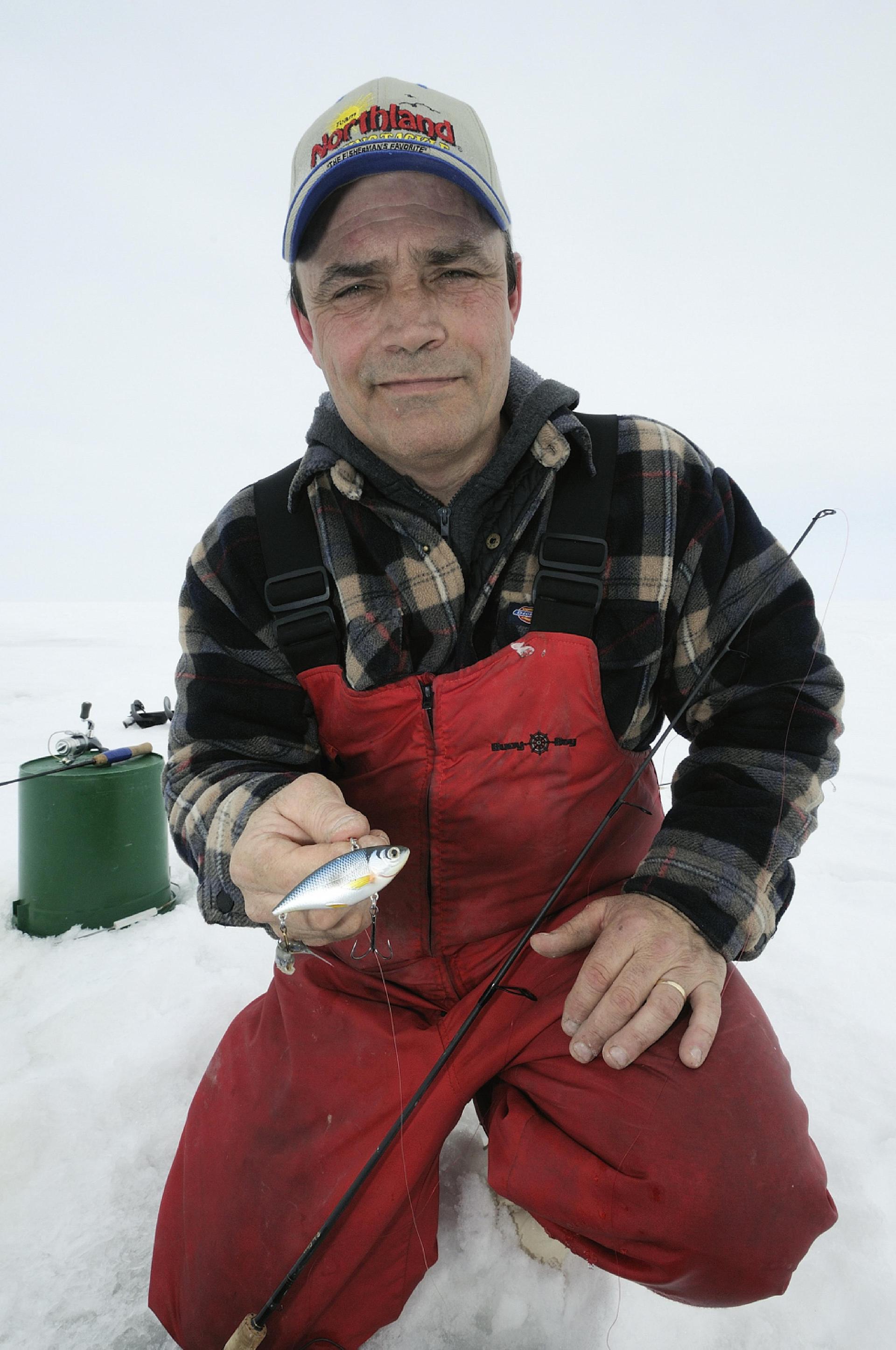 Here is Roger with one of his "pet" LiveTarget Golden
Shiners
In fact, as Ang, Pete and I discussed the other morning – when you take a hot regional technique to new waters, you often do better than you would on the very lake where the technique was developed.
Understand what I am saying?
On Lake Winnipeg today, so many anglers are jigging lipless crankbaits, that I bet the walleyes can tell you the precise make, model and price for the lure at Cabelea's.
That is not the case, however, at, say, the Bay of Quinte where the walleyes haven't been pummelled with the lures like they have on Lake Winnipeg.  They haven't been conditioned to the sound, shape, and vibration of the lures.
So, they often produce even better.
Tell you another story.  Through a good friend and tournament partner of mine, the late John Vandivier, I became friends with California's Dana Rosen back in the late 1980s, just after Dana set the all-time, one day record, for a five bass tournament limit.
I forget the exact amount that Dana and his partner weighed in, but it was an absolute ridiculous amount – something like 65- or 70-pounds for five largemouth.
An incredible weight!
And he caught the fish throwing huge 12- and 14-inch long soft plastic hand-poured swimbaits.
To make a long story short, the minute I saw the baits I knew they'd be dynamite for muskies and northern pike.  So, Dana and John flew up to Kenora to visit me and we spent the better part of a week in the fall fishing for big toothy critters using the same humongous soft plastic swimbaits that Dana had used to set the tournament bass record.
The results were shocking.  We caught giant muskies and northern pike like there was no tomorrow.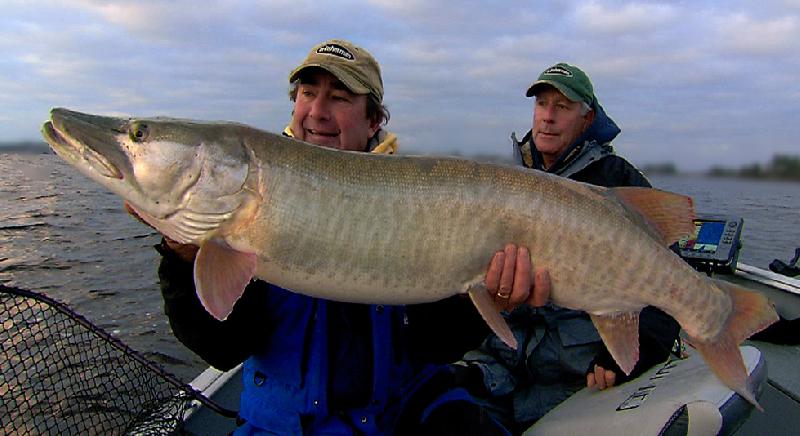 In retrospect, I wish now that I'd kept it all under wraps, but I wrote about the lures and the technique in both Outdoor Canada and In-Fisherman Magazines and it sparked a revolution of sorts.
In fact, today, you'll find giant soft plastic swimbaits in just about every muskie, northern pike and lake trout anglers' tackle boxes.  But let me tell you, if you were in on the secret 25 – 30 years ago, you simply cannot imagine how good it was to take a California big bass technique and use it for muskies and pike in Northwestern Ontario.
So, start thinking about all of those off-the-wall regional techniques that you've been hearing about and give them a try this winter – or upcoming open water season.
In fact, on that note, I am going to be participating in the special Bass Talk being held on Monday, February 16th at the Spring Fishing and Boat Show at the International Centre in Toronto.
Wait until you see what I am going to show you!