CUTTING EDGE BLADE BAITS
When and how to use lethal new bladed lures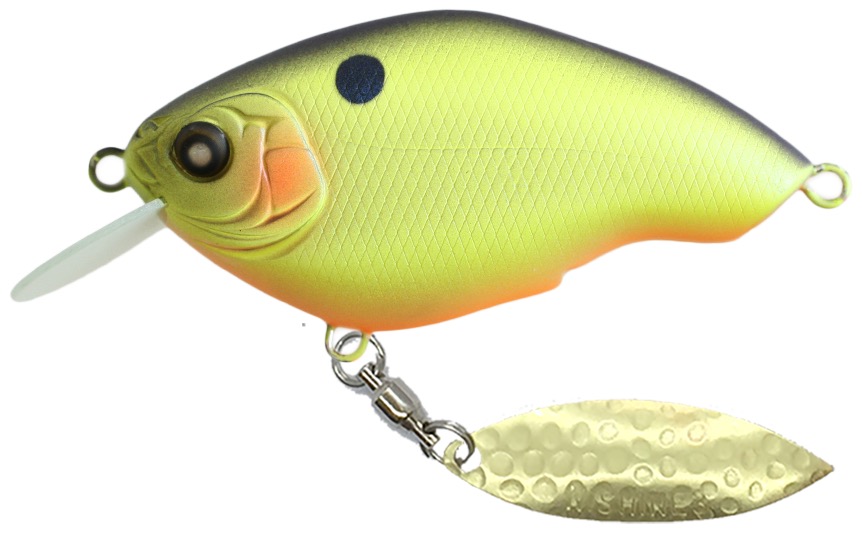 BLADED CRANKBAITS, JERKBAITS, TOPWATERS AND SPOONS
BEST FOR: ANYTHING THAT SWIMS
Our last entries in the battle of the blades are crankbaits, jerkbaits, surface lures and spoons. In the case of spoons, lure makers and ice anglers have been adding small blades to the split ring at the line tie for years. The PK Predator Flash Fishing Spoon is a good example of that. The flickering blade provides additional fish-attracting flash in the gloom beneath several feet of ice and snow, while the subtle noise of metal banging against metal gives the fish a hot spot to home in.
Celebrated Japanese lure maker Hiroshi Nishine has taken the concept of adding blades to the next level with his exquisite line-up of Nishine Lure Works' crankbaits and jerkbaits. If you don't think bass, pike, trout and walleye anglers are trying to keep these things under wraps, try getting your hands on one—they're always sold out.
As a good alternative, you can easily customize your own favourite crankbait or jerkbait by attaching a split ring, swivel, second split ring and blade to one of the lure's hook hangers. You can also swap out one of the trebles for a brilliant new Hybrid Bladed Treble Short from VMC (see Bonus Tip #1 below.)
Recently, Freedom Tackle introduced the Mischief Minnow (which I picked as one of the year's best new lures) to the topwater scene, and while I've yet to fish one, they look mighty impressive from the videos I've seen. I have to confess that I love waking topwater lures across the surface, so the addition of the standalone wake-creating Kilter blade on the Mischief is a stroke of genius that I want to see for myself. (see Bonus Tip #2 below.)
To be sure, adding blades to baits started out as a do-it-yourself trend among super-keen anglers. But as word of the effectiveness leaked out, and more and more anglers started enjoying success, the bladed-bait movement quickly took on mainstream status. So, now that everyone is getting into the battle of the blades, be sure to arm yourself accordingly.
For fishing editor Gord Pyzer's advice on finding just the right fishing rod for the job, check out www.outdoorcanada.ca/theperfectrod.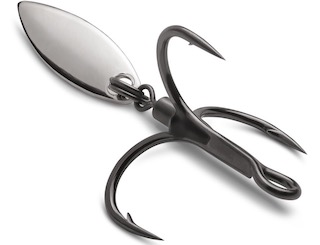 BONUS TIP #1: CUSTOM JOB
Thanks to the folks at VMC, adding a blade to your lures has never been easier. Simply replace one of the standard treblehooks on your favourite crankbait, jerkbait, surface lure, spoon or jig with VMC's new Hybrid Bladed Treble Shorts (above) and you're off to the races. Ice anglers, in particular, have leaped onto this bandwagon of late, adding the willowleaf adorned hooks to more lure styles than you can imagine, with impressive results. Let's hope VMC expands the line-up to include the much bigger hook sizes that muskie, pike, lake trout and salmon anglers require.

BONUS TIP #2: WAKE UP
Waking is my favourite way to fish topwater baits (above). Unlike topwater lures that gurgle, pop, chug and walk from side-to-side when you retrieve them, wake baits make an exaggerated V, like the wake from a passing boat. To a fish looking up, it looks like a dying minnow struggling to swim in the surface film. I've watched bass detect the V-shape wake on the surface and follow it straight to the source.