THE BIG THREE BUGS
Catch trout all across Canada by imitating their favourite food—mayflies, caddisflies and stoneflies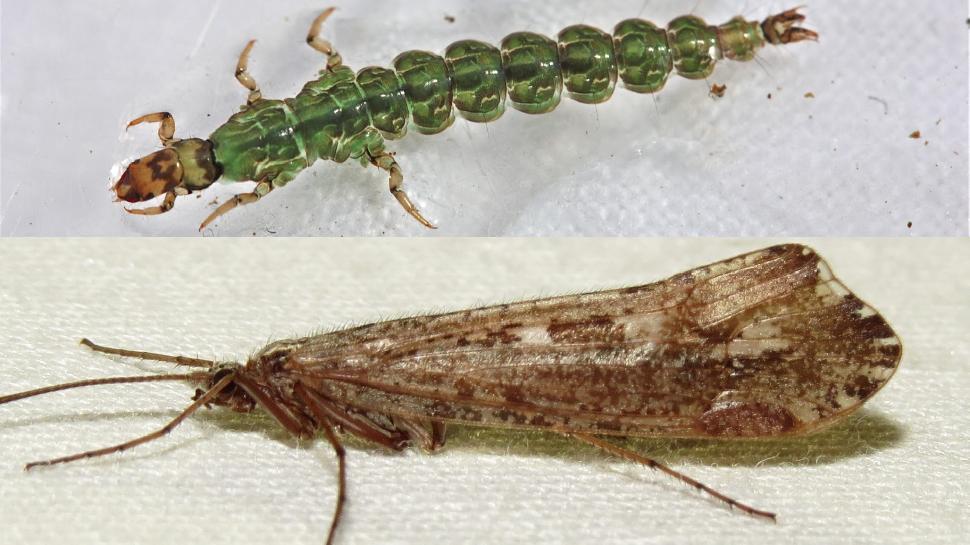 Caddisflies
In Canada, caddisflies are more common and widespread than mayflies, yet receive much less attention—despite being a key, season-long trout food. Caddis can also tolerate warmer and less-pure water that's unfit for many other aquatic insects, making them crucial in rivers subject to farm or municipal runoff. That includes such blue-ribbon rivers as Alberta's Bow and Ontario's Grand.
Also sometimes called sedges, caddisflies begin life as tiny wormlike larvae (above, top), rarely longer than a centimetre. The larvae then form cocoon-like structures, emerge as pupae and rise to the surface, drifting long distances as they struggle to emerge into adults. When the adults (above, lower) finally do emerge at the surface, they quickly take flight. In both appearance and flight, caddis closely resemble moths. They're easy to recognize by their tent-like wings, which fold down along their body when at rest.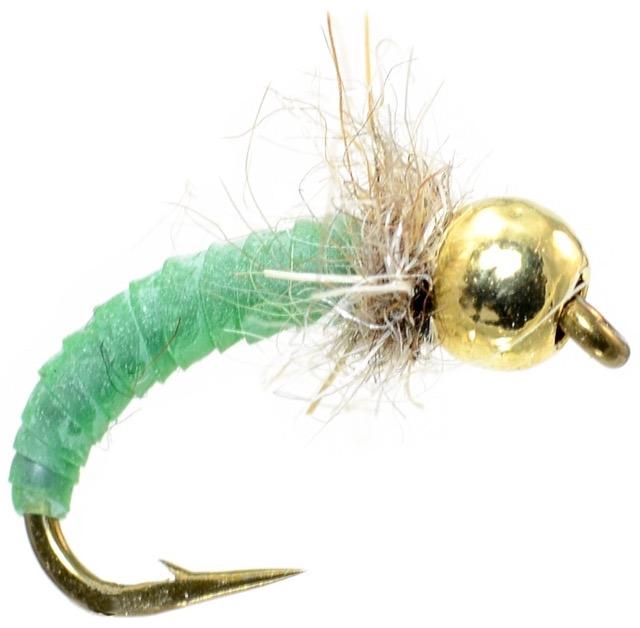 Choice Flies
Larvae: Green Weenie, Simple Caddis Larva (above)
Pupae: Ian's Crunchy Caddis, La Fontaine Sparkle Pupa, Leadwing Coachman, Partridge and Orange, Hare's Ear Flymph
Dries: Elk Hair Caddis (below), X-Caddis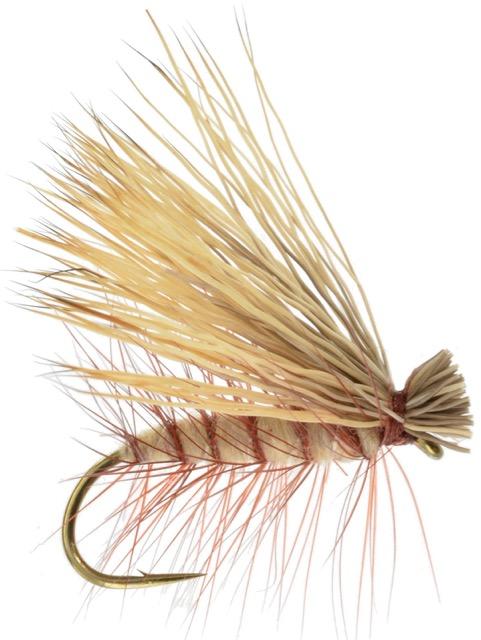 Strategies
Much like mayfly nymphs, caddis larvae are best fished on the dead drift, usually with an indicator. But the helpless emerging pupae, which are chunkier than larvae, are often more attractive to trout. Like larva flies, pupa flies can be dead-drifted, either deep or near the surface. You can also use the time-tested wet-fly swing to imitate emerging caddis.
Unlike mayflies, when caddis finally break the surface as adults, they take flight quickly. But while attempting to lift off, they often hop across the surface a few times, prompting trout to chase them like a dog after a ball. So, dead-drift a caddis dry fly, but when it stops floating naturally and starts to drag, let it move across the surface in little skitters. This can produce explosive strikes.
A significant number of caddis also fail to properly emerge, and drift in the surface film towing their shell. These injured bugs really fire up the fish, and that's the idea behind a "trailing shuck" caddis dry fly such as the X-Caddis. I rarely see anglers fishing caddis patterns in tandem, but a pupa fly below a dry fly can be a lethal combination.