Hardwater helpings
These easy-to-make fish dishes will warm up your day on the hardwater
Bacon Catfish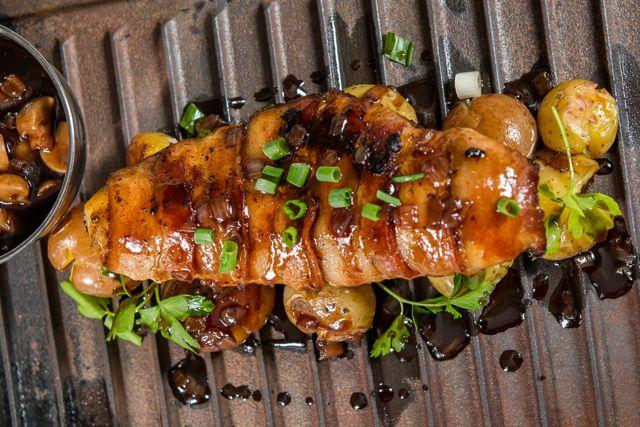 At home
2 oz butter
½ yellow onion, finely chopped
5 oz sliced mushrooms
¾ cup red wine
1½ cups beef stock
1 rosemary sprig
Salt and pepper, to taste
20 baby potatoes
On the ice
8 bacon slices
2 tbsp chopped basil
Cajun spice
1½ lb catfish fillet, skin removed
2 tbsp olive oil
Salt and pepper, to taste
3 green onions, chopped
At home
Melt butter in a sauté pan over medium heat; add onions and mushrooms. Cook for five minutes, then add wine, stock, rosemary, salt and pepper.
Reduce heat to low and simmer sauce for 15 minutes; let cool and place in travel container.
Boil baby potatoes until tender; let cool and place in travel container.
On the ice
Lay bacon on cutting board, sprinkle with basil and lightly season with Cajun spice. Tightly wrap bacon around fillet, using toothpicks to hold strips in place.
Heat camping stove to medium heat; using a grill plate or frying pan, cook bacon-wrapped fish on all sides until golden brown (approximately 10 minutes).
Heat olive oil in sauté pan, add potatoes, season with salt and pepper and cook until golden brown; in the meantime, heat sauce.
To serve, top potatoes with green onions and bacon-wrapped fish, then pour sauce over everything.