Hardwater helpings
These easy-to-make fish dishes will warm up your day on the hardwater
Thai Chili Pike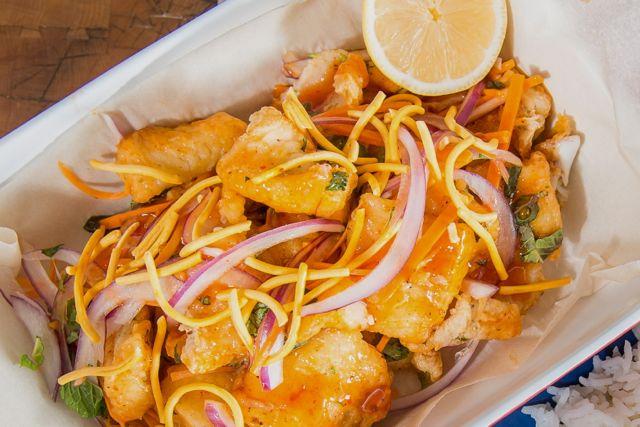 At home
¼ red onion, thinly sliced
½ carrot, cut into thin strips
3 tbsp roughly chopped basil leaves
3 tbsp roughly chopped mint leaves
½ cup flour
¼ cup cornstarch
Salt and pepper, to taste
1 cup Jasmine rice
On the ice
2 L vegetable oil
2 pike fillets, cubed into two-inch pieces
1 tbsp sesame oil
4 oz sweet chili sauce
4 lemon wedges
At home
Place cut vegetables and herbs in separate travel containers.
Combine flour, cornstarch, salt and pepper; place in travel container.
Cook rice according to directions and place in travel container.
On the ice
In a heavy-bottom pot, heat vegetable oil to 350°F (use a high-heat thermometer).
Coat pike cubes with cornstarch and flour mix; shake off excess.
Carefully place coated fish in oil and cook until golden brown (approximately 1½ minutes); remove and place on paper towels.
Heat sesame oil in frying pan, then add cooked fish and sweet chili sauce; carefully toss to coat and caramelize the fish.
Reheat cooked rice and spoon fish on top; garnish with red onions, carrots and chopped herbs.
Every Friday this winter we'll be sharing Outdoor Canada's top ice fishing tips for 2016. Check back regularly to learn about the latest tackle, tips and techniques for icing more walleye, perch, northern pike, lake trout, crappies, whitefish and even burbot.