Fish with someone special!
Celebrating National Fishing Week with a rod-and-reel combo giveaway
I was doing my weekly Fish Talk With The Doc segment on the Outdoor Journal Radio Show with Angelo Viola a couple of weeks ago on Father's Day weekend, and out of the blue Ang asked if I was doing anything special to commemorate the occasion.
To be honest, I hadn't given it much thought, given that my dad passed away several years ago. But as soon as Ang asked the question, it opened up a vault of memories that flooded out.
The first, and I've never confessed this before, is that I was a royal pain in the rear end when I was a kid growing up. Some folks will tell you that I've stayed that way, but if there was trouble to get into, well, let's just say I got into it. Looking back on those early days now, I am certain I caused more than my fair share of my mother's grey hairs.
Back then, too, it was a daily occurrence for your elementary school teacher to call you up to the front of the class and wail away on your outstretched hand with a wooden ruler whenever you acted up. I couldn't tell you the number of yardsticks I had broken across my hands, with a hidden smirk on my face, as the number was like a badge of honour amongst your buddies. And acting up included what nowadays would be regarded as doing something cool. Like slipping on a ball cap in the middle of class, let alone turning it around backwards.
Fortunately, there was something else I could never get enough of and that was spending time outdoors. I know I've told this story before, but I can honestly remember sitting on the curb of the street I grew up on, in downtown Toronto, during a rain storm, holding a branch from the maple tree that grew on our front lawn, around which I had tied some string and a paper clip, honestly believing that I was going to catch a fish.
A few years later, my parents bought a cottage in the Haliburton Highlands and it was, in two words, life changing. This was real water and these were real fish.
For years on end, I headed up to the cottage the day after school ended in June and didn't come home until the day before it started back up in September. You should have seen the length of my hair at the end of summer. I had a mop top before the Beatles made it fashionable.
I also kept a detailed diary of every day I spent on the water, tallying up the number of bass, walleye, speckled trout and muskies my brother and I caught, the number we kept and released on each lure, plus a detailed account of the daily weather conditions.
And here is the point, I know for a fact, although we never ever discussed it in later years, that my parents bought the place as much for me as they did for them.
Fishing and hunting can save your soul.
Like so many others, my dad was the person who got me started fishing. And while he loved spending time out on the water, he was just a regular Joe. No big boats, no high performance outboards, fishing sonar hadn't been invented yet, a pair of oars were our trolling motor and no fancy tackle – well, okay, maybe the Hawaiian Wriggler was special.
But none of this mattered—either then or now.
I still remember using a flashlight to catch nightcrawlers in the backyard after we watered the grass and the sun went down, the night before a fishing trip. And a two-pound walleye—okay, he called them pickerel—was a glorious sight to behold.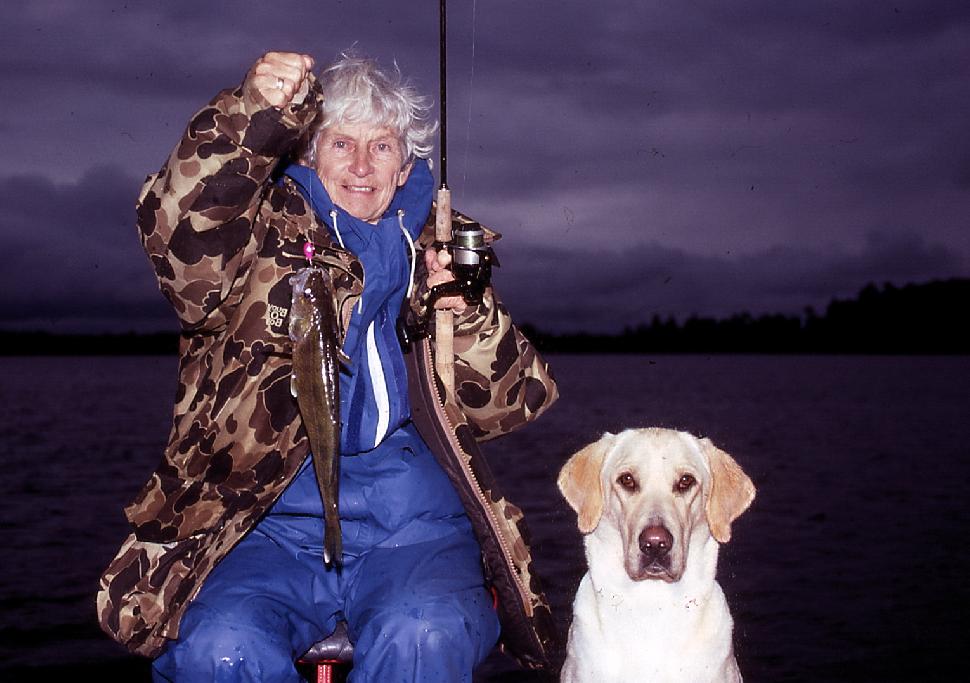 I was fortunate in later years, though not nearly smart enough, to be able to return the favour to my mom (who may have been the best angler in the family) and dad when they came up for a visit in the summer. We always enjoyed a special shorelunch somewhere out on the lake that I cooked over an open wood fire.
But you cannot imagine what I would give today to be able to take them out just one more time, on one last fishing trip down the lake.
That tradition is what came flooding back, when Ang asked me the Father's Day question. I realized that I can't do what many of you can.
So don't let the opportunity pass you by.
This upcoming week is National Fishing Week across Canada. From June 30th until July 8th, there are events planned in many provinces and special days when you and your friends and relatives can fish licence free. Don't let the opportunity pass. Don't think that you can put off until next week, next month or next year, taking those special folks in your life fishing, because you can't.
I know what it is like to receive the phone call, in the middle of a fishing tournament, no less—how ironic is that—that your dad has suffered a severe stroke and that you better get on an airplane fast. Or that your mom, that angel of a lady who stood by you through thick and thin, the person whose hair you caused to turn prematurely grey, now has Alzheimer's and can't remember your name.
So be part of the tradition—join the tradition—take them fishing this National Fishing Week and never stop.
And now, I am going to make it easy for three people to do just that—by giving away three Zebco rod-and-reel combos in celebration of National Fishing Week. To be entered into the draw, simply tell me in the comment section below, who you plan to take fishing this week or would love to take fishing, if you had the chance to do it.
I will announce the winners on Monday, July 9.
Good luck!