GUNS & AMMO
Expert advice, appraisals and the fascinating stories behind your firearms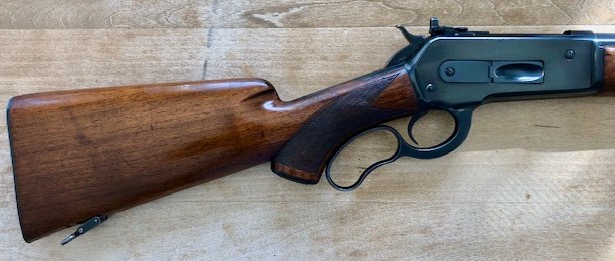 I have a 1938 Winchester Model 71 in .348 Win (above). The metal and barrel are pristine, and the wood is very good (except for some finish on the fore stock). The rifle still has the original swivels and peep sight, but the front hood is missing. I would like to know what it's worth and how best to sell it. Thanks very much.
RICK GROSUL
ALBERT, ALBERTA
That's a beautiful rifle you have, and it would certainly be of interest to Winchester collectors. The Model 71 was essentially a Model 1886 with improved steel and heat treatment. It was made from 1935 to 1957, with a total production of 47,254 units. The quality of the workmanship was always first rate.
Your rifle has some particularly desirable features, starting with the fact it's a pre-Second World War model. It's also a Deluxe model, with a checkered pistol grip stock and the long tang found on earlier models. As well, it has the bolt-mounted peep sight, which adds considerable value all by itself. Overall, the rifle looks to be in very good condition, with almost all of its original finish on the barrel and receiver; the screw slots are straight and undamaged, too.
On the negative side, there does seem to be some issue with the finish on the forearm. Then there's the missing front sight hood—finding an original one as a replacement could take some looking. Finally, most of the Deluxe 71s I've seen had a leather sling; if you think you might still have yours, it would be worth finding it.
While those factors may reduce your rifle's value somewhat, there will still be considerable collector interest. On a U.S. website, I saw a Winchester very similar to yours—but not in the same good shape—with an asking price of US$3,495. That doesn't mean it will actually sell for that price, but it is indicative of the potential value.
Collectible firearms generally sell for more in the U.S. simply because there are a great many more collectors. Of course, no dealer who wants to stay in business is going to pay you US$3,500, go to the time and expense of importing it, then (maybe) resell it for the same amount. I think the best way to get the most for your rifle would be to sell it through a Canadian firearms auction (see www.outdoorcanada.ca/gunauctions).
When possible, collectors prefer to personally examine a firearm before bidding serious money. Quite a few years ago, for example, I was almost ready to buy a standard Model 71. Upon closer examination, however, I discovered the rifle had been reblued, and I lost interest. I don't think your rifle has been reblued, but when the finish looks too good to be true, it's something collectors will want to check.