The magnificent 7
Keep yourself busy this winter by restocking your fly boxes with these essential western trout patterns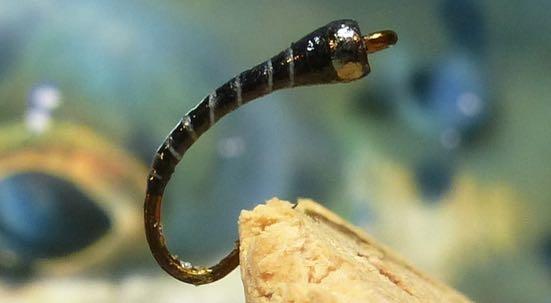 ZEBRA CHIRONOMID
Full disclosure: I hate fishing with a chironomid. To me, nothing is more boring than mindlessly casting one out, waiting several minutes for it to sink, then bringing it back to the surface a painstakingly slow inch or two at a time. But I'm also smart enough to appreciate that other anglers have success with this technique, and I'm not too proud to use it when conditions dictate. While the Zebra Chironomid is simple to tie, the hard-shell coating of superglue causes distress for some tiers. Just be sure to apply enough glue to saturate the thread, but not so much that it drips and runs.
Chironomid flies have become popular thanks to their success on the big Kamloops rainbows in the lakes of central B.C. The trout there can be finicky, and this subtle technique is often the only means to hook them. But the Zebra Chironomid in particular has now become a perennial favourite across the West. This is a great fly for hot summer afternoons when stillwater action slows to a crawl. And though it was originally meant for rainbows, the pattern is ideal for any lake-dwelling trout that feed on midge larvae. (Special thanks to the team at flyguys.net for sharing their Zebra Chironomid image.)
HOOK: Scud, size 12
BEAD: Black 3/32 ounce
BODY: Black tying thread, size 8/0
RIB: White tying thread, size 6/0
SHEEN: Superglue
Long-time Alberta contributor T.J. Schwanky is also our western view opinion columnist.