Guns & ammo
Expert advice, appraisals and the fascinating stories behind your firearms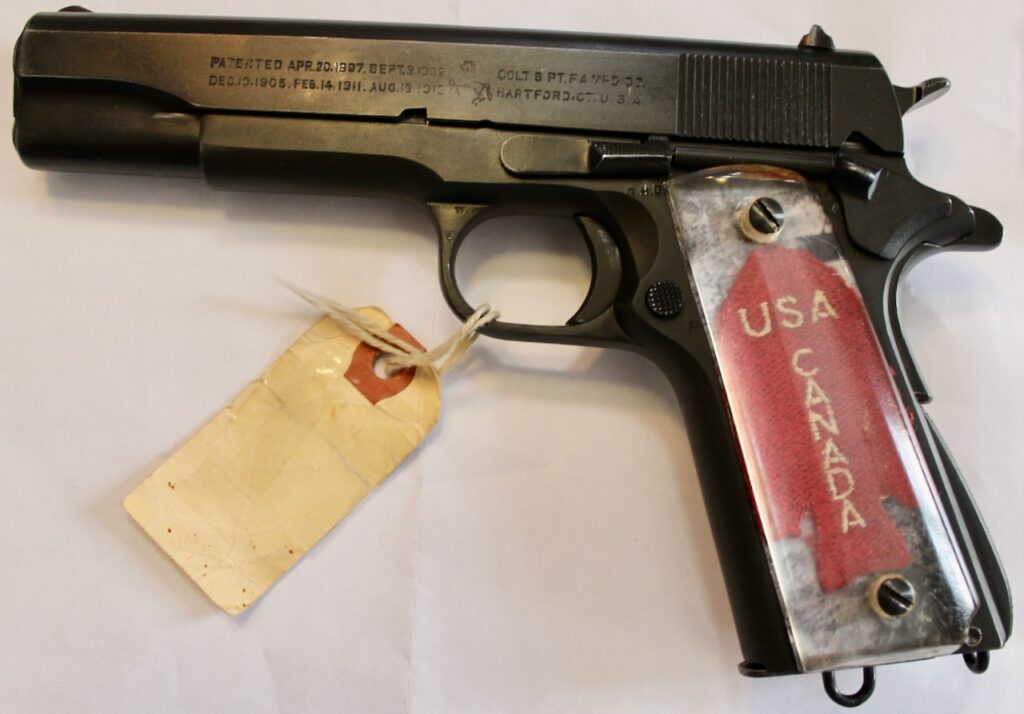 My Colt 1911-A1 (above) has a bit of history to it. It belonged to Battery Sergeant Major Douglas William Libby with the First Special Service Force (FSSF). He was from Brome, Quebec, and fought in Italy. The pistol has clear sweetheart grips, through which you can see two arrowhead-shaped patches of the FSSF. When I pulled the grips apart, I found a photo of a woman under each patch.
I bought the pistol from a friend, who says he purchased it in the late 1980s from a gunsmith in B.C. He never fired it, and nor will I. My friend says he spoke to Mr. Libby on the phone in the early 1990s. The vet told him the photos were of his two girlfriends at the time, and that the clear grips were made from the window of a German plane shot down at the Anzio beachhead. Considering this history, the photos and the arrowhead patches, I'm wondering what this pistol is worth.
NAME WITHHELD BY REQUEST
Your pistol is certainly of historical interest, and it would be valued by military collectors and historians. It should also be of interest to museums featuring Canadian history. You have done a good job of documenting the pistol's history. From what I can read online, your information is supported by official military records. The First Special Service Force (1942 to 1944) was an elite joint Canadian-U.S. unit trained for special operations in rugged terrain and harsh conditions.
Most of the unit's equipment and weapons were provided by the U.S., so the "United States Property" marking on your pistol would be correct. FSSF equipment also included Johnson light machine guns; the soldiers were apparently trained to maintain and use captured enemy weapons, as well. The unit was initially based in Helena, Montana, where members could be trained in parachute jumping on the flatlands, and in mountaineering and skiing in the nearby mountains. One source says Norwegian ski troops were among the instructors.
The FSSF served with distinction in the Aleutians, Italy, France and Germany, earning several unit and personal honours for exceptional service. I remember watching the 1968 movie The Devil's Brigade, which was based on a book of the same name about the FSSF. Some sources say the 1966 book was not very accurate, and that the Devil's Brigade name was never actually used by the unit. Other sources say German soldiers referred to FSSF commandos as Black Devils because they blackened their faces for night operations.
The plexiglass grip panels on your pistol are most interesting. I've seen photos of other 1911 pistols from that era also sporting plexiglass panels over photos and other mementos. Putting a value on your pistol is really just speculation, as such items are rarely sold and there are no comparable sales to use as guides. Any military 1911 or 1911-A1 pistol has collector value; with its well-documented connection to an illustrious unit, your gun should be worth even more. At a well-publicized auction, I'd be surprised if it didn't bring in at least $2,500 to $3,000, but I stress this is no more than an educated guess—it could sell for even more. Congratulations on taking good care of this historical artifact.