Late summer just wouldn't be late summer for my grandson Liam and I without spending at least one day on Manitoba's mighty Red River with good friend Todd Longely, the owner of City Cats Guide Service.
And while Todd likes to bill himself as the "Rock and Roll Angler," which he definitely is, "King of the Red" is how I like to regard him. And here is the reason why.
The channel cat fishing is so phenomenal on the Red River between the Lockport Dam near Selkirk and Lake Winnipeg a few miles downstream, that it lulls most anglers and guides into complacency. They're content to drive their boats up into the fast water below the dam, which blocks the cats from journeying any further upstream, pitch out the anchor, lob out their baits and wail away on the fish. And make no mistake about it, they catch plenty of giant channel cats doing it.
Todd, on the other hand, isn't like most other guides and anglers. As anyone who knows him will tell you, they threw away the mould when they made this channel cat catchin' character.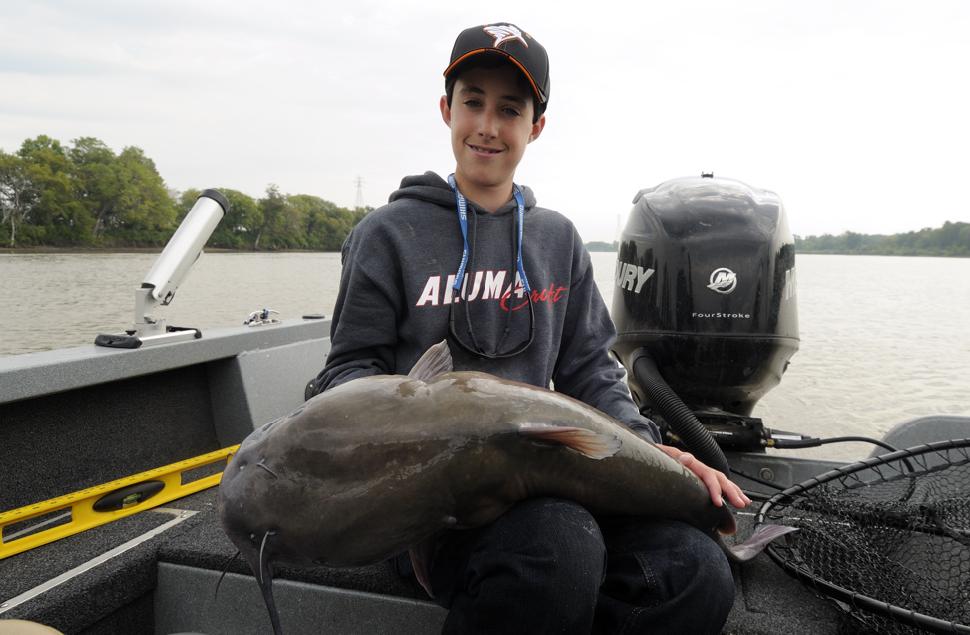 "There are too many boats and there's too much fishing pressure below the dam for my liking," Todd says, as we sit under the protective cover of a picnic pavilion in Selkirk Park, waiting for a prairie thunder storm cell to end its impressive light show, complete with ear drum splitting claps of thunder and torrential rain. "Over the years, I've been able to find several subtle channel cat locations—isolated pockets and deep holes that are rimmed with rocks. My sense is that the folks who fish with me catch many more and much bigger fish."
The words were no sooner out his mouth than the storm cell passed and we were launching the Kingfisher.
"I've got to warn you, though," Todd said, looking skyward at the still ominous swirling black clouds, "thunder has a tendency to put down channel cats. I don't know if it is the rumbling or the change in pressure, but storms like this affect them negatively."
Well, if what Liam and I experienced over the next three-and-a-half hours was slow, then all I can say is that I like "thunder cat" fishing. Are you ready for this?
After a short boat ride up the river we dropped anchor at one of Todd's secret subtle spots and within the first five minutes— five minutes—Liam and I enjoyed two double headers on channel cats that were all Manitoba Master Angler award-winning fish. That is, four giant channel cats in the 17- to 30-pound range, within five minutes of throwing out the anchor.
And the action continued like this, non-stop for the rest of the morning, with Liam and I battling so many huge fish at the same time that we honestly lost count of the double headers. We also stopped counting the number of channel cats that bettered the 34-inch minimum length for Manitoba Master Angler Award winning status, although we conservatively reckon that it was at least 30 of the 40 fish we landed.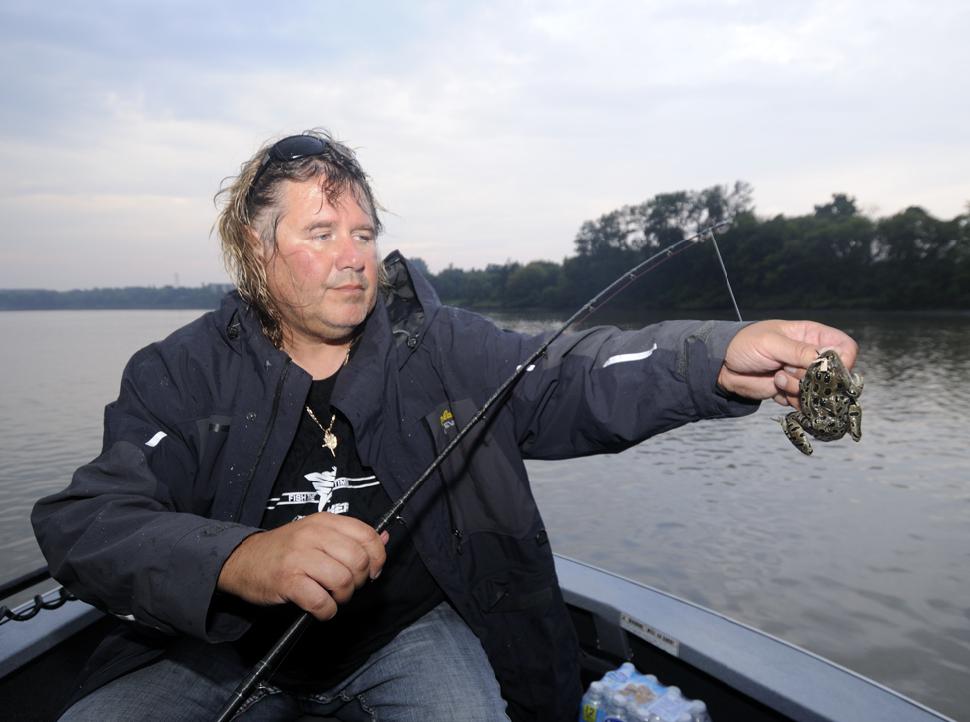 The reason for our success, of course, was being in the boat with a guy whose blood doesn't run red like the rest of us, but rather muddy brown like the colour of the river that he knows so intimately well.
And what a learning experience.
"I stop using cut baits, shrimp, squid and all of the other good catfish baits by mid-summer," the Cabela's Canada Pro Staffer said, carefully going through a bag of freshly thawed leopard frogs. "I pay the local Hutterite kids 50 cents a frog, and let me tell you, by the end of the summer, some of them are rich.
"They're also smart," he chuckled. "They always put one giant frog in each bag along with a bunch of standard size ones. And I love fishing with giant Frogzillas."
Indeed, as Todd showed Liam and me, if one Frogzilla is good, two are better, and three or four are a channel cat's dream buffet table come true. Rigging the multiple Kermits on one of his signature series Reel Bait Catfish Rigs, featuring an almost impossible to find 7/0 Gamakatsu barbless circle hook, and then pitching it into a downstream hole rimmed with rocks, was nothing short of supernatural.
The key to hooking so many fish, however, was ever so gently sliding the rod out of the holder when the tip signalled another giant cat was mouthing the bait, so that no slack was ever given that would have caused the current to wash it away from the fish. Then, we reeled down slowly, as we lowered the rod tip, until it was almost pointing straight at the fish. One or two head shakes later, Todd would holler "take him now" and the rest was history in the making …. literally.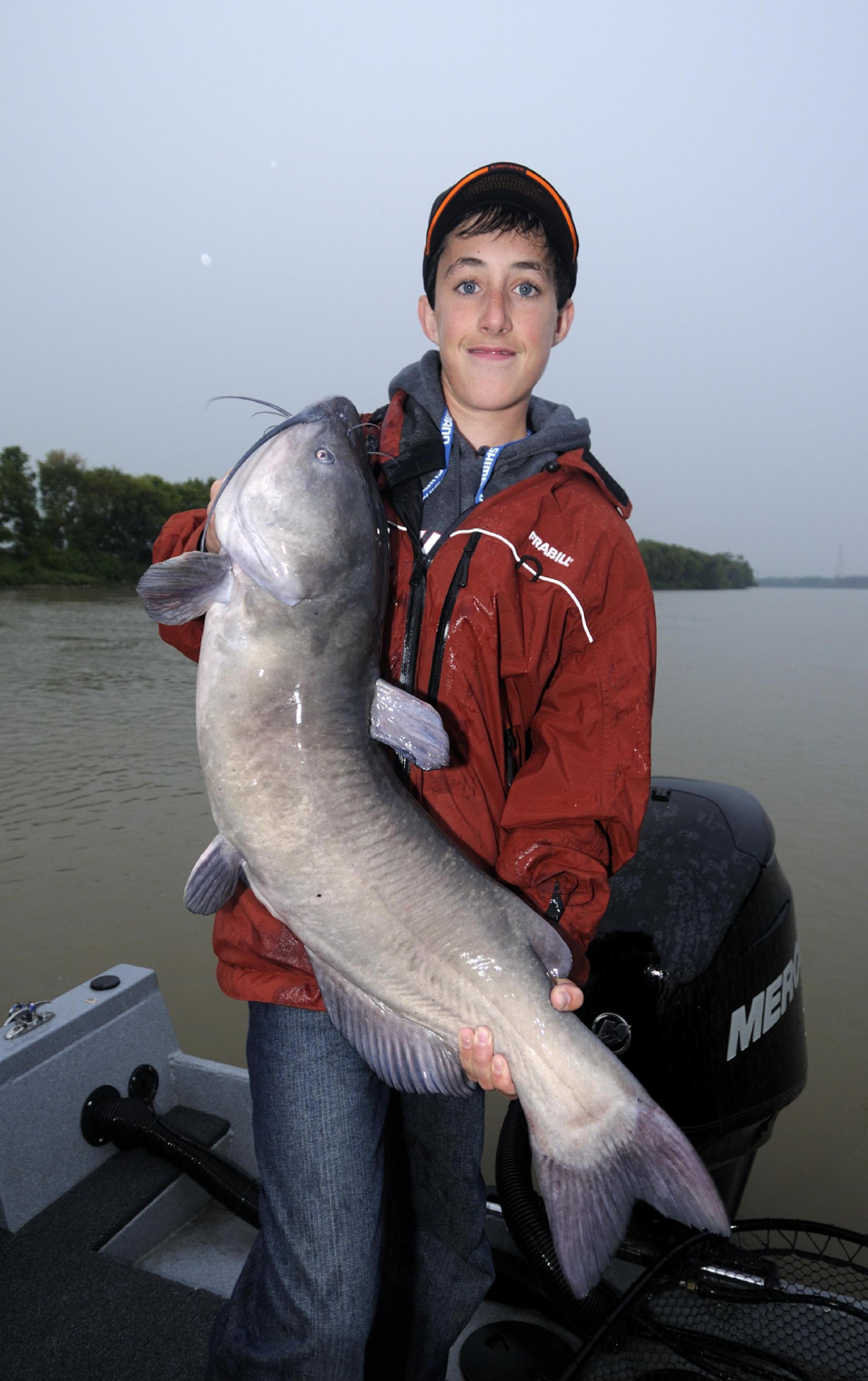 "I don't know how many Master Anglers you guys caught this morning," Todd said, as we put the Kingfisher back on the trailer at high noon, "but there is no question that it was more than anyone else has ever caught in a half day of fishing with me. I guess I am going to have to rename the company Thunder Cats!"