THE SIX
Canada's top ice-fishing lures, and how they can help you catch more winter walleye, trout, whitefish, pike, panfish and burbot
#2  BASS MAGNET ICE TUBE
Ice anglers have landed more lake trout on 3½- to five-inch silver and white tube jigs than with all other lake trout lures combined. I also rely on the same soft-plastic when I'm targeting whitefish, rainbow trout, brook trout and splake. And a diminutive 1½-inch tube is deadly when you jig it for crappies and yellow perch, or use one to cover the hook of a Meegs or Badd Boyz whitefish lure. My favourite model of tube is Bass Magnet's Ice Tube, which is designed specifically with softer plastic to give it more action in colder water.
Like the Jigging Rap, the tube's appeal is its versatility. When you stuff your jig inside the soft-plastic, keep a quarter- to half-inch of space between the lead head and the nose of the bait. That way, it will descend in a death-defying spiral. If you attach the jig outside the tube and flush to the nose, on the other hand, the offering will function like a swimbait.
With both rigs, always be sure to use a small swivel to prevent line twist while providing maximum lure movement. My favourite set-up is to use a main line of six- to 12-pound-test (depending on the size of the fish) Sufix Ice Fuse, to which I attach a bead swivel. Then I knot on a three- to six-foot Maxima Clear monofilament leader of the same strength. Some folks prefer using fluorocarbon for its invisibility, but I want the slight stretch of mono.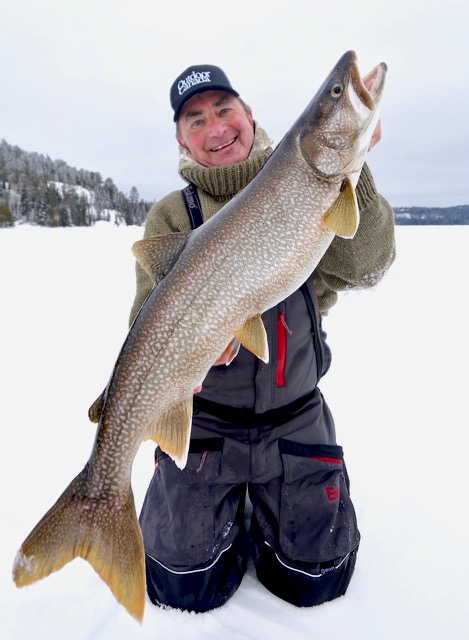 Most days, too, I tease fish into biting by taking the tube away from them when they chase it. On the rare occasion this tactic stops working, I get fish to commit instead by holding the tube dead still, shaking it only enough to quiver the squid-like tentacles.
ALTERNATIVES TO THE BASS MAGNET ICE TUBE
Bass Magnet Tinsel Tube
Bass Pro Shops Tender Tube
X Zone X-Tube
Angler's Choice Tube
Lunker City Lunker Tube