Tank tuna
Hitting the water with TV's Fish'n Canada Show
By Angelo Viola & Pete Bowman
Looking to catch the biggest fish of your life? Of course you are. Well, the waters off Nova Scotia and P.E.I. are definitely the place to fulfill your giant fish fantasy, because that's where the Atlantic bluefin tuna reigns supreme.
We are very proud of our many fishing accomplishments, complete with great memories about six- to seven-pound brook trout, 12- to 14-pound walleye, 25-plus-pound pike, a pair of 50-pound muskies on the same day and even sharks weighing hundreds of pounds. But those catches are dwarfed compared with the bluefins we've caught on the East Coast—our biggest fish to date tipped the scales at more than 900 pounds!
Globally, overfishing and poaching have harmed bluefin populations, but around P.E.I. and Nova Scotia, the numbers appear very healthy. On our limited trips to Canada's tuna heaven, we've seen literally hundreds, if not thousands, of these awesome fish on a daily basis.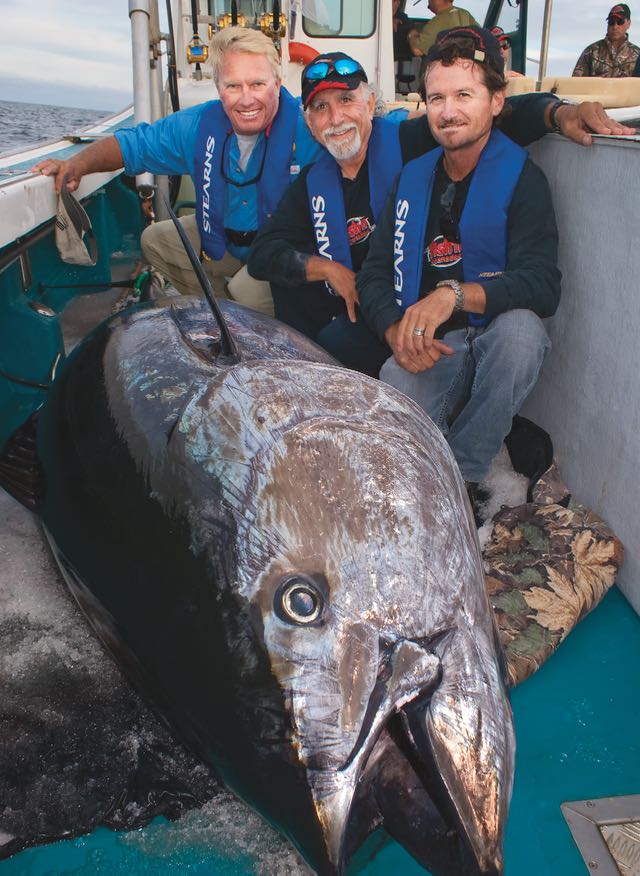 One of the best ways to take in this aquatic spectacle is to head to where the commercial herring boats set up their rigs. The tuna will be right there, anticipating easy meals of herring fluttering to the ocean floor. It's like watching a bunch of dogs waiting for treats. Smart charter captains, such as Jeff MacNeill of P.E.I. Tuna Charters (www.peitunacharters.com), take full advantage of this behaviour to get right on the tail of these herring-eating giants.
The East Coast bluefin fishery lasts into October, and it's mostly a catch-and-release sportfishery. Some boats have tags to retain tuna, as was the case on one outing we had with our special guest, American angling legend Roland Martin (see photo, above). On that trip, the proceeds from the sale of our catch of the day went to Nova Scotia's Millbrook First Nation. To us, though, the best part about tuna fishing is watching an almost 1,000-pound fish return to the depths of the Atlantic to fight another day.
Visit www.tourismpei.com and www.novascotia.ca/fish for more information on East Coast tuna fishing.
For a complete guide to Fish'n Canada Show episodes, TV channels and show times, go to www.fishncanada.com or www.facebook.com/fishncanada.